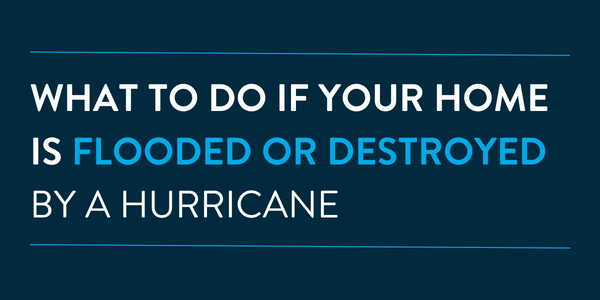 If you, your family, or your loved ones have been impacted by the recent hurricanes, our hearts are with you. We encourage you to make the best decisions for your safety and well-being as information becomes available for you and your family. Storms such as this demand our respect and attention.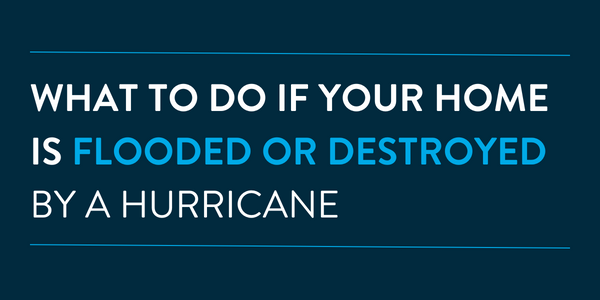 Please know that we will be working without interruption to provide ongoing service. If you currently have a loan in process, third parties may have timelines affected by business closings, which can potentially affect closing dates and turnaround times on loans in process. As these events unfold, we'll communicate with you quickly to plan for any unexpected changes.
If you are wondering what to do next if your property is destroyed or damaged, we've provided guidance to take as much guesswork out of the early days as possible.
Who To Notify
If your home was fully or partially destroyed in the hurricane, the first step is to contact your insurance company or agent.
You should also notify your mortgage servicer.
Hurricanes and Home Insurance
You will first want to read your homeowner's insurance policy (or policies) to learn what it does and does not cover.
Some policies partially or completely exclude wind-related damage. If coverage is provided, you will need to determine what coverage limits will apply to your home's structure and personal belongings.
Private homeowners insurance policies typically do not cover flood damage (unless you purchased a separate flood insurance policy). However, if a hurricane wind damages your roof, and rain gets in as a result, you may find that homeowners insurance offers some protection if your policy includes coverage for wind.
Read your insurance policy carefully and contact your local insurance agent with questions about your specific circumstance.
FHA Disaster Relief for Hurricane Victims
If your home is located in a Presidentially declared disaster area, you may qualify for the FHA 203(h) Disaster Relief Loan.
The FHA 203(h) mortgage may be used to finance the purchase of a new home with no down payment and favorable terms. If you plan on purchasing a new home, the new home need not be located in the area where the previous house was located.
What To Do About Your Current Mortgage
If your home was damaged, you should continue to make your mortgage payments.
If your mortgage loan is being serviced by American Pacific Mortgage, don't hesitate to contact us directly for assistance: 855.585.4666.
If you decide to repair or rebuild your home, there will be no changes to your loan terms during or after the rebuilding process. After the home is repaired or rebuilt, you can refinance or sell the property.
We appreciate you trusting us to help in this time of need. Please feel free to let us know if we can help in any way.