When you are looking to purchase a home in a highly desirable market, or you've outgrown your current home and need something a little larger to fit your family, you may need a Jumbo loan to get you there. Here's some things you need to know about these larger loans, and what you'll need to qualify for one.
What is a Jumbo Loan?
To put it simply: a Jumbo loan is also known as a nonconforming loan, because it exceeds conforming loan limits.
Do I need a Jumbo or Conforming Loan?
There are three main factors that determine if you will need a jumbo loan or a conforming loan, including:
Loan type

: FHA and Fannie Mae/ Freddie Mac loans have different limits compared to conforming loans. Your loan type will factor into whether or not you need a jumbo loan.

Location

: Conforming loan limits can vary by county. For example, the conventional loan limit for a single family home in San Francisco County, CA is $625,000. However, the conforming loan limit for a single family home in Klamath County, Oregon is $417,000.

Home type

: Conforming loan limits may vary depending on the type of home you are purchasing. A single family home may have a conforming loan limit of $417,000, but a 2-unit, 3-unit, or 4-unit home in that same county may have limits up to $801,950.
Your mortgage advisor can help you look at these three factors to determine if a jumbo loan works for you.
What Types of Jumbo Loans are Available?
Jumbo loan programs allow for fixed, adjustable, and even interest only programs. ARMs often offer more attractive rates compared to jumbo fixed rate programs, making it one of the most common jumbo loan type.
Jumbo Loan Requirements vs Conforming Loan Requirements
Jumbo loan requirements are often more stringent compared to conforming loan requirements, due to the increased risk lenders take with larger loan amounts. Here are some examples of how jumbo requirements can vary compared to conforming.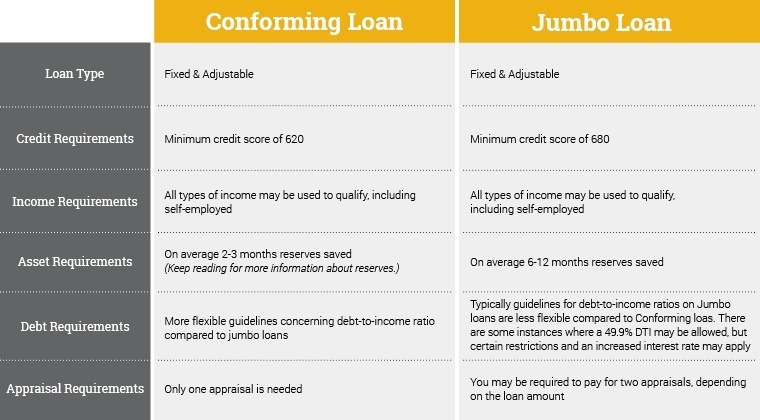 What are Reserves, and What Do I Need to Save for a Jumbo Loan?
Jumbo loan programs may require you to have a certain amount of reserves, the amount of liquid assets you have available after your mortgage has closed and you have paid for your down payment and closing costs.
One month reserve = one mortgage payment, includes taxes, insurance and any assessments.
Jumbo loan reserve requirements may vary from 6 months reserves to 12 months reserves or more. Reserve requirements may vary from one loan program to the next, and may depend on other factors such as your credit score.
There are many reasons why you may need a jumbo loan. You might be purchasing in a highly desirable area with high property values. You may need a larger home for your growing family. If you do need a jumbo loan, the experienced mortgage loan advisors at American Pacific Mortgage can help you find the loan program that suits your needs. When you need a larger loan to fit your larger dreams, a jumbo loan may be the answer.