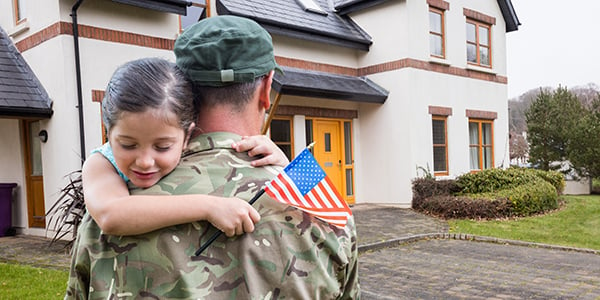 There are so many VA home loan benefits that make this the ideal lending vehicle for service members, veterans, and surviving spouses. But you can't use these benefits to buy a home if you don't understand what they are—or who qualifies for them.
So let's get right to it.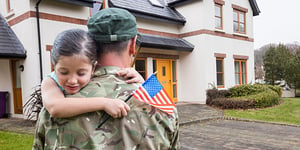 Who Qualifies
As we mentioned, active-duty service members, veterans, and spouses of service members who have died in the line of duty or as a result of a service-related duty are eligible for VA home loan benefits.
Individuals who have completed the following are also eligible to take advantage of VA home loan benefits:
90 days of active duty during wartime

181 days of active duty during peacetime

At least six years of service in the National Guard
How to Qualify
The VA home loan process begins by submitting a Certificate of Eligibility (CoE) to a trusted VA-approved mortgage lender (your lender can also help you get a CoE). Haven't applied for your CoE yet? You can do so here.
Qualifying spouses can also obtain a CoE if any of the following conditions are met.
The active-service member or veteran:
Is missing in action or a prisoner of war (POW)

Died while in service or from a service-connected disability (and the surviving spouse didn't remarry)

Died while in service or from a service-connected disability and the surviving spouse didn't remarry before the age of 57, or before December 16, 2003

Was disabled at the time of death, even if the disability was not the cause of death (in certain situations)
Once your CoE has been received, your lender will need to verify your income, assets, and debt-to-income ratio (how much money you owe versus how much money you make). The lender will also request a VA appraisal, inspection, and proof of homeowner's insurance on the home you wish to purchase.
Like a traditional loan, you can even pre-qualify for a VA home loan.
APM has helped thousands of service members find the home of their dreams thanks to VA home loan benefits, and we're happy to do the same for you.
Ways to Use a VA Loan
Purchasing a home or condo is just one way to use the VA home loan benefits.
A VA loan can also be useful if you're:
Building a home

Refinancing an existing home loan

Renovating, upgrading, or improving your existing home
The VA home loan benefit allows you to purchase a one- to four-unit primary residence. This type of property may be perfect for service members who want to supplement their income through real estate investments.
VA Home Loan Benefits
We've already discussed several VA home loan benefits, and there's more! Did you know that you can utilize your VA home loan benefit more than once? Your VA home loan benefits are a lifetime benefit and go into effect once you meet the service requirements we shared with you in this blog.
Here's how it works: eligible service members and veterans can seek to have their full entitlement restored once the original loan is repaid in full. Restoring your full entitlement before you purchase another home is especially helpful and is often necessary in a high-cost area.
If you did not use your full entitlement amount on your original purchase, you may be able to use your existing entitlement to purchase another home while owning two properties at the same time. Veterans will still need to meet the VA's occupancy requirements. VA loans require you to purchase the property with the intent to occupy it as a primary residence.
Additional VA home loan benefits include:
No expiration on entitlement

100% financing with no down payment necessary

No set loan limits (your loan limit is determined by your entitlement and any down payment)

Closing costs can be paid by the seller, lender, or through a gift

No monthly mortgage insurance

The one-time VA funding fee can be financed into your loan

No pre-payment penalties

Flexible underwriting guidelines

Home purchase is possible two years after a foreclosure or bankruptcy

Basic Allowance for Housing (BAH) can be applied to your mortgage payment
Other Things to Know
There aren't too many complexities attached to the VA home loan, but there are a few.
As we mentioned above, VA home loans do carry a VA funding fee. This is a one-time charge, equal to 2.3% of the loan amount when you use the benefit for the first time (this fee varies if you put more money down or are using your VA home loan benefit subsequent times). But don't sweat it; the VA funding fee can be financed into the loan and amortized over the life of the loan.
Private mortgage insurance (PMI) is required if a traditional borrower's down payment is less than 20% of the home. The PMI fee can range from 0.55% to 2.25% every year, oftentimes resulting in an extra couple hundred dollars a month. Your funding fee is paid one time, not monthly.
It's also important to keep in mind that you cannot use certain types of income, such as the GI Bill, to qualify for a loan through the VA home loan program.
So let's recap how a VA home loan may benefit you. You can qualify for a home easier thanks to looser lending standards, you don't have to put any money down, and your entitlement never goes away and can be used multiple times, even if you've faced a foreclosure or bankruptcy. If that's not enough, there may be help available for closing costs, your VA funding fee can be financed, and you can apply your BAH to your loan.
Umm…sign us up! These VA home loan benefits are amazing—and they're only available to the well-deserving men and women who are our military heroes (or their spouses).
Nothing can repay your sacrifice for your country, but we hope these VA home loan benefits can make it a little easier to find the perfect place for you and your family. It's the American Dream at its best, and we can't wait to serve you.
Contact a local APM loan advisor near you today to hear more about these VA home loan benefits and how to qualify.
Disclaimer: Rates, terms, programs and underwriting guidelines subject to change without notice. This is not an offer to extend credit or a commitment to lend. All loans subject to underwriting approval. Equal Housing Opportunity