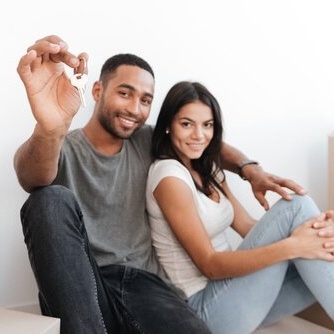 Are you wanting to buy a home but are afraid you might not qualify for a loan? Or have you tried to get a home loan and been denied due to a recent credit event, or because you are self-employed, or have not yet sold your existing home? Then get ready to make this the year you purchase a home with APM's Expanded Access Program! Our Expanded Access specialty loan program opens the door to borrowers who need access to financing but don't fit the standard guidelines.
Specialty Loan Program: Expanded Access
How can the Expanded Access program help you? The Expanded Access program may help borrowers who:
Are self-employed, earn seasonal income or have tax returns that might not reflect their true ability to handle a mortgage loan

Have a recent credit event such as a mortgage late, short sale/foreclosure, or a bankruptcy (with 12 months seasoning)

Have a departing residence that has not yet sold and need to exclude the departing residence payment to qualify for a new home purchase

Have a higher

debt-to-income ratio

- up to 50% (up to 55% on an exception basis)
Helpful Feature of Expanded Access Program
One feature of our program is the way we handle your departing residence when you qualify for a new home purchase. If you have a home that you plan to sell (with at least 20% equity), but that is not yet under a sale or lease contract, you can exclude that mortgage payment from your debt-to-income (DTI) calculation. This is a huge benefit when you want to sell the house you currently live in, but need to wait until you find a new home you want to purchase. You will not be penalized for being in-between buying and selling homes.
Expanded Access Program Qualifications
Will the Expanded Access program work for you? Let's take a look at some of the borrower qualifications:
Loan amounts available from $100K-$2.5M

Up to 90% Loan-to-Value (LTV) with full documentation or up to 85% LTV with bank statement documentation

Minimum FICO credit score of 620

Recent credit events allowed including mortgage lates, settled housing events, and 12 month seasoned bankruptcies

Multiple loan terms available

Owner-occupied, 2nd homes, and investment properties allowed
How Does Expanded Access Benefit You?
Our Expanded Access program can benefit you by helping you qualify for a home loan when you thought it wasn't possible.
If you have had difficulty obtaining mortgage financing for a home, 2nd home, or investment property due to a recent credit event or financial hardship, this program may be the answer. You can qualify for financing in as little as 12 months after bankruptcy. We are able to help you get qualified with flexible income documentation requirements. Being able to exclude the mortgage payment of your departing residence from your debt-to-income can also help you qualify.
Since Expanded Access offers different loan types, you can consider our interest only ARM loans if you need lower monthly payments for an initial period of time. APM offers multiple specialty loan programs, so if Expanded Access isn't exactly right for your situation, we've got plenty of options.
We are dedicated to help more people every year achieve homeownership and our Expanded Access specialty loan program is another way to get you to your goal! Don't assume that you can't qualify to purchase a new home - contact one of our knowledgeable loan advisors today to show you how we can help!