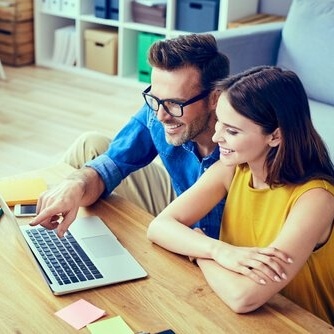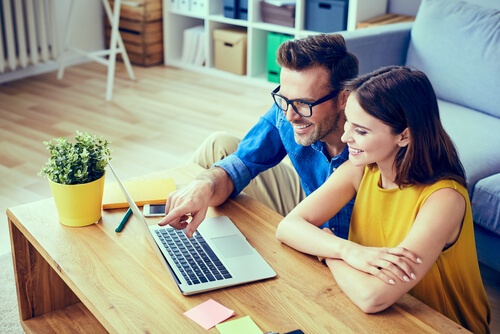 Fixed rates or adjustable rates? What's the difference between these terms and how do they affect you? It's a question you may be asking as you begin thinking about your home loan process.
What is Your Mortgage Interest Rate?
Interest is the fee charged for borrowing money. Your initial mortgage interest rate is the original interest rate of the mortgage at the time of closing. This rate can vary according to the type of loan program you choose and your credit score and other qualifications.
Whether or not the rate remains the same throughout your loan term depends on if you get a fixed-rate or adjustable-rate mortgage. Let's compare the two types:
Fixed-Rate Mortgage
A fixed rate on your mortgage means that the initial rate at the time of closing remains the same through your entire loan term, never adjusting up or down.
Pros
You know what to expect each month. Your monthly loan payments will stay the same, making it easy to plan out your finances.

If interest rates are relatively low, it can make sense to take advantage of lower interest rates as long as you plan on living in your home long-term.

Fixed rates are simpler to understand for new borrowers and can make it easier to consider your financial commitment.
Cons
If rates go lower during the loan term, then borrowers would need to refinance to take advantage of competitive interest rates.

Initial interest rates for a fixed rate mortgage are most likely higher than adjustable rates. Therefore they may be harder to qualify for and more difficult to afford monthly payments in early years of the loan term.
Who Should Consider Fixed-Rate
Borrowers who plan to stay in their home more than 5-7 years.

Borrowers who have stable finances and prefer to keep monthly payments simple.
Adjustable-Rate Mortgage (ARM)
An adjustable rate mortgage, also known as a "hybrid ARM" or "fixed-period ARM," is a home loan beginning with a fixed interest rate for a set period. After the introductory fixed-rate period expires, the interest rate becomes adjustable for the remainder of the loan term.
The interest rate during the introductory period is often lower, which could mean a lower starting monthly payment. However, at the end of the introductory fixed-rate period, the loan's interest rate will adjust to a fully indexed rate, and your rate and your monthly payments may adjust up or down based on the index. There may be rate caps that prevent it from raising a certain percentage at once and/or during the life of the loan.
Pros
ARM loans are popular because they can provide qualified borrowers with a competitive

interest rate.

They work well for buyers whose plans match those of the loan's fixed-rate period.

If interest rates drop during the loan term, the loan rate may also drop without the borrower needing to refinance the loan.

If borrowers plan to live in the house 5 years or less, they may be able to save money by having the initially lower interest rate in the early years of the loan.
Cons
Loan rates and monthly payments may rise by a large amount over the life of the loan, sometimes making payments more financially difficult if household income has not risen by the same proportion.

Certain adjustable loans may have negative amortization, which could lead to borrowers owing a higher amount on the loan than they did at closing. Though the initial rates may be temptingly low, this is not recommended for most standard home buyers that plan to stay in their home beyond the adjustable rate period.
Who Should Consider Adjustable-Rate
First-time home buyers and borrowers who need a lower initial rate in order to qualify for a home loan.

Borrowers who plan to live in their home for fewer than 5 years.

Borrowers who want to save and invest the dollar savings from the initially lower rates and payments.

Borrowers who anticipate future stock option vesting/payouts or large bonus income that can be used to pay down principal.
Mortgage Rate Resources
APM has even more helpful info so you can make an educated decision about mortgage rates. Check out our free resources for more information:
3 Essential Tips For Comparing Home Loan Interest Rates
Which Mortgage Loan is Right For Me?
If you want to understand a bit more about fixed-rate and adjustable-rate mortgages, our helpful APM loan advisors are here to help you sort through the facts and decide which loan type is a fit for you.