Which mortgage loan works for you? If you are a first-time buyer, you may want to consider an FHA loan. FHA loans are designed specifically to help first-time buyers achieve their goal of homeownership with benefits such as lower down payment requirements and more lenient qualifying guidelines compared to other loan options.The more lenient guidelines of an FHA loan make this loan program a useful tool for many first-time buyers.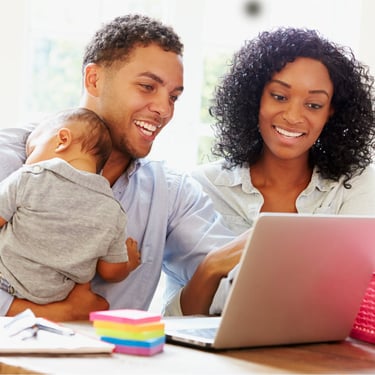 Benefit of an FHA Loan
FHA loans are insured by the Federal Housing Administration, and FHA qualifying guidelines and low down payment requirements make it possible for more people to realize their dream of homeownership.
FHA loans are available as both fixed-rate and adjustable rate mortgages, giving qualified buyers even more options to get the loan that best fits their financial goals.
FHA Credit Requirements
To qualify for a FHA loan, you will need to have at least one line of credit and generally speaking a minimum credit score of 580. Depending upon circumstances, some lenders will allow for a 600 credit score.
FHA Debt-to-Income Requirements
Lenders typically make your debt-to-income (DTI) ratio one of the qualifying factors for a home purchase loan, and an FHA loan is no different.
To calculate your DTI, you will take your total monthly debt and divide by your monthly income. The monthly debt calculation will include what is found on your credit report combined with the monthly payment on your new home including taxes, insurance, homeowner's associations dues (if applicable), and any payments on secondary financing.
FHA guidelines generally require that your total DTI not exceed 43%. Your mortgage loan advisor can help you determine if you can use other compensating factors, such as documented cash reserves, a larger down payment (10% or more), or a demonstrated "conservative" use of credit to help overcome any DTI challenges you may have.
FHA Loan Down Payment Requirements
FHA loans offer a low down payment option for buyers who don't have a substantial down payment saved up to purchase a home. The minimum down payment requirement for a FHA home loan is 3.5%.
Gift Funds Allowed
Gift funds may be used for 100% of your down payment. You may receive gifts from relatives, friends, and even your employer. If you want to use gift funds for your FHA loan down payment, ask your mortgage advisor for details.
Do I Need Mortgage Insurance?
FHA loans with a down payment of less than 20% will require you to carry mortgage insurance for the life of your loan. Mortgage insurance protects lenders from the possibility of default, and makes it easier for borrowers to obtain home loans without saving a substantial down payment first. Mortgage insurance is generally paid as an upfront premium that is included in your closing costs, as well as a monthly premium payment. This monthly premium is included in your DTI ratio.
For first time buyers who want the benefit of more lenient qualifying guidelines and a low-down payment program which allows gift funds, FHA loans are a great tool to help make the goal of homeownership possible. To find out if an FHA loan is right for you, meet with a loan advisor near you to see how much house you can afford, discuss your financial and homeownership goals, and select the right loan program to help you meet them.