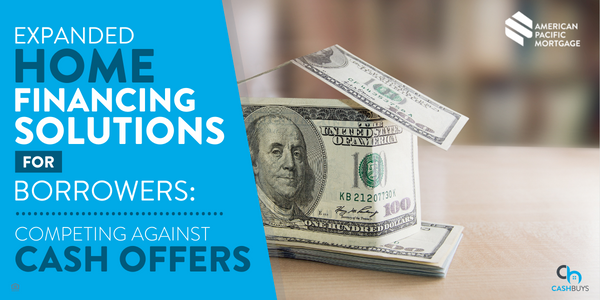 It's tough out there, we know. Today's competitive housing market can keep you trapped in a vicious cycle: Find a terrific house, make an aggressive offer, get your hopes up, get outbid, start over. Rinse and repeat. Some of the biggest competitors for homes on the market today pay cash, which can make it tough when YOU don't have cash to buy the home outright yourself.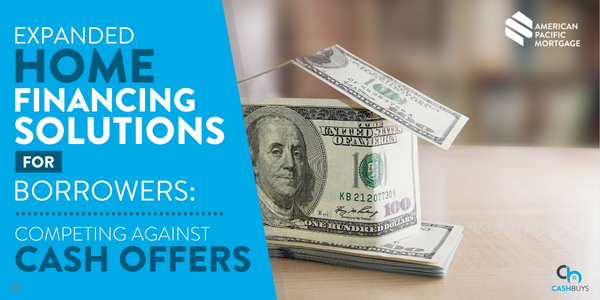 Sellers love all-cash buyers because they're ready to go. There's no financing and sometimes no appraisal to worry about: The buyer simply shows their proof of funds and—boom—they're buying a home. You can see why it's hard to compete with that!
But what if you could be one of the cash buyers? You don't have to win the lottery or receive an unexpected inheritance—you simply need APM's CashBuys program when buying a home.
How It Works
With the CashBuys program, APM will start the process with you first, providing an underwritten and conditional loan approval before you shop for a house. Once you've found your dream home (but before you've made an offer), let your APM Loan Advisor know you want to use the CashBuys option. They'll provide a certificate to include with your offer.
Your offer can then be submitted, waiving financing and appraisal contingencies, and a commitment to come with cash—think of it like an insurance policy. When your offer is accepted, APM will work diligently to secure your financing before your close date.
If that doesn't happen, no sweat! The CashBuys program will kick in, and the property will be purchased for cash and then resold to you—at the same price—as soon as your financing is ready to go. This is what allows you to compete among the cash buyers…the fact that you are one!
It really does come down to just three easy steps:
Compete as a cash buyer.
CashBuys lets you submit a cash offer with no financing or appraisal contingencies.
Get noticed.
Submitting a CashBuys offer is stronger than a typical cash offer, because the seller has a guarantee and doesn't have to worry that you could back out or wait on your financing.
Close.




APM will jump on your financing, but if it doesn't go through in time, you're still set. CashBuys is ready to go: Your home will be purchased for cash and then resold back to you (at the same price!) when your financing is ready.
How to Qualify
The CashBuys program may be used to purchase a primary or secondary home, and it requires only a 660 credit score. There are some program and down payment requirements as well, but your Loan Advisor can give you more details, or you can visit our web page for more information.
These benefits come with a small fee. It's important to note that you'll pay a 3% deposit fee (of the sales price) to use the program. If your financing closes with APM by the close of escrow, you get 2% of that deposit back.*
Perks of the CashBuys Program
You get to decide how you want to use the program. You can have the CashBuys approval, giving you the ability to stand out and get your offer accepted. Or you can choose the fast track and go for a short-close and utilize the cash purchase.
And since the purchase of your desired home won't be delayed, you're still able to move in on the same timeline you would have. That's because you can move in and live in the property right away—and for up to six months if necessary. You will, of course, be making lease payments during that time, but this can be a huge benefit if you've already sold your house!
Want more information on CashBuys, how you can qualify, and what it can do for you? Click here to locate an APM Loan Advisor in your area.
* No refund if you close with another lender, or if the cash option is used.
CashBuys is a registered Service Mark of American Pacific Mortgage. Program is managed by Power Buyer LLC. American Pacific Mortgage is not affiliated with Power Buyer LLC. Terms and conditions subject to Power Buyer Product Agreement. For program details and fees, visit www.apmortgage.com/cashbuys.