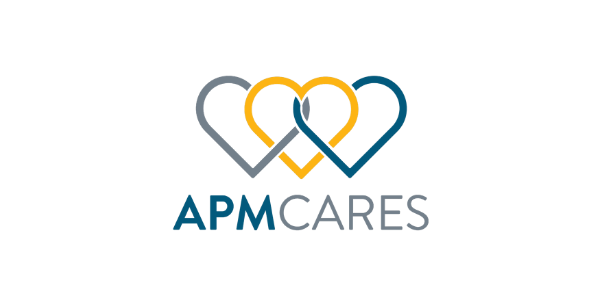 2020 was quite a year in every way, and one where community organizations and charities around the country needed our help more than ever. In addition to very high levels of need due to the economic effects of the pandemic, organizations also had to adapt to how they operate to keep everyone safe.
All of this created a perfect storm, with organizations desperately needing more support than ever. As a company, we're proud of our team members' continued efforts and focus on the communities they serve during these challenging times. With their help through donations and nominations, APMCares, our nonprofit, was able to give back in a big way in 2020.
Here are some of the highlights of this past year:
A record $641,550 raised in employee donations.
Donations helped over 105,000 people in need in 2020.
We supported 109 organizations in the communities where our employees live and work.
APMCares was able to expand our reach and support crisis services, shelters, food banks, veteran organizations, and more.
Employee volunteers served over 2700 meals to the homeless with Loaves & Fishes in Friendship Park.
In December, the company wanted to do something big to help with the overwhelming need this year. We offered to match, dollar for dollar, any donations made to food banks of the employees' choosing—and the employees rose to the occasion! APM employees donated $202,076 in just over 3 weeks. With the matching funds, we were able to donate a total of $404,152 to food banks in the neighborhoods we live at a time when the need was critical.
We also were able to extend our support to our APM Family. APMCares has an employee assistance branch that helps those in our company who are dealing with a medical, bereavement, or financial hardship. In 2020, we were able to help 57 people in our company with over $70,000. It's an honor to be able to help each other and care for each other as family.
APMCares was founded to advance our social responsibility initiatives by organizing and providing the means for our employees and partners to serve our communities through financial and time donations. Our mission is to serve individuals, families, and the communities where we live and work, furthering our core belief that people are truly what matters.
Since the inception of APMCares, our foundation has helped more than 226,000 people and families. This is further proof of the impact we can have by working together towards a bigger cause.
APMCares continues to look for ways our company, employees, and partners can give back, and we're looking forward to serving our communities for many years to come.
To learn more about APMCares, click here.