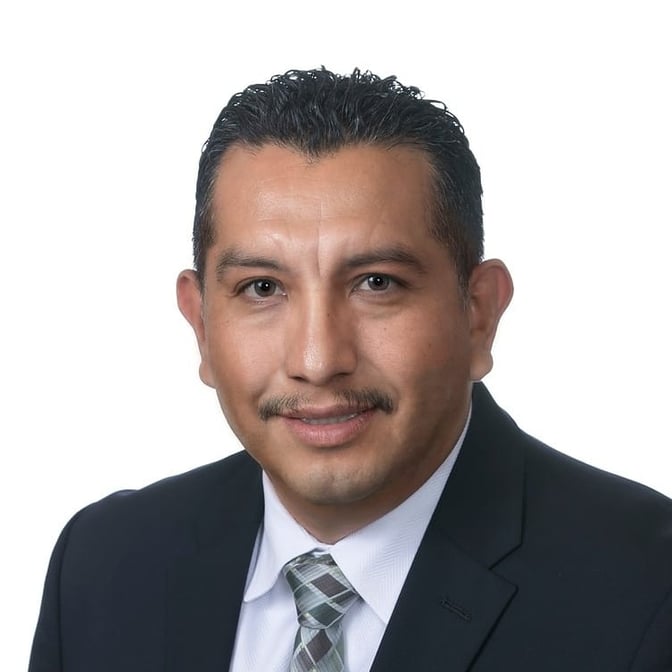 For Hispanic Heritage Month, APM celebrated all month long by highlighting some of our Hispanic team members who are going the extra mile to make our company and the communities we serve better places to be. We're so grateful for everything these team members are doing and want to thank them for sharing their stories with us.
Oscar Mora, Branch Manager at Treehouse Mortgage
Oscar Mora is the branch manager at Treehouse Mortgage in Monterey, California. He spent his childhood years growing up in the Salinas Valley of California, where his still lives with his wife, Sheila, and their 3 kids (Priscilla, Oscar Jr, and Faith). As part of an immigrant family, his parents born in Mexico, Oscar and his 3 brothers started working in the fields at a young age to help his parents save for a down payment on a home.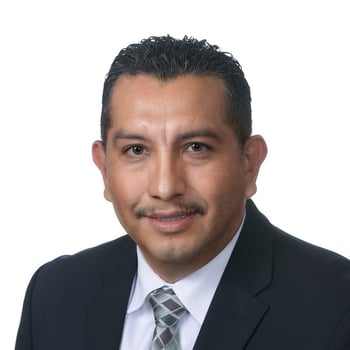 Oscar's Background
At the age of 10, Oscar negotiated his first real estate transaction by translating for his parents on the purchase of their first home. This ignited his passion to learn more about the industry and study real estate in college, which ultimately led Oscar to a career in the mortgage industry.
In 2019, 86% of Oscar's business was dedicated to helping minorities achieve their dreams of homeownership and their financial goals. Oscar prides himself on removing the language barrier for his Spanish-speaking clients and first-time home buyers to make the home-buying process less intimidating. As he said, "I understand where the breakdown in communication happens in the loan process, and my team and I do our best to use terms that are common in our culture to simplify it the best we can. With our first-time home buyers, we work hard to ensure every client knows, understands, and feels comfortable throughout the entire process." Oscar's clients often say they've never had someone explain the process of getting a loan in Spanish the way he's explained it to them.
Question: What does your Hispanic heritage mean to you?
"Being a Chicano (Mexican-American) means a lot to me; it's who I am. Being able to speak, write, and present myself to both English- and Spanish-speaking clients means the world to me and is something I am very proud of. I am honored to be able to serve and give back to my roots and heritage."
Emelda Miranda, Branch Manager at Northwest Home Loans
Emelda Miranda is the branch manager of Northwest Home Loans in Yakima, Washington. She is a top producer and President's Club winner at APM. She always stands out for her unwavering commitment to serving the minority community in her area. Here's her story.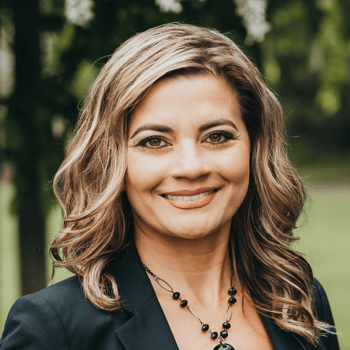 Emelda's Background
Emelda grew up working in the fields of Yakima Valley with her parents and six siblings. She was the first to graduate from high school in her family and went on to get a master's degree in education while working full-time with a daughter at home. Her first career out of college was an elementary school teacher, and she loved every minute of it. In fact, Emelda credits her experience teaching with her success in the mortgage industry today.
Emelda's first glimpse into the mortgage industry happened when she refinanced her home for the first time. In fact, it ended up being a life-changing moment for her.
"It was a challenging transaction, but the way the loan officer handled herself left a lasting impression. We were sitting in escrow, and I told her she had done an amazing job and I'd love to help people the way she did someday. Right then, she invited me to join her for the summer to work in her business, and I agreed. Needless to say, I never left. That was 15 years ago. Once I started building my own business, I vowed to be what she was to us, to every client."
95% of Emelda's business is serving minority clients in a variety of complex situations.
Q: What does your work mean to you?
"I understand the culture. I come from it. I've done that work myself and my parents just retired from it, so I understand what our clients are experiencing. When I see a borrower with 40 w-2s for 2 years, I know the work that went into that and I can't walk away from it. In fact, I have built my team around it so we can better serve our clientele and be their go-to resource. My team all come from the fields, and they all speak Spanish, so we need to be able to connect and have compassion for our clients. We don't see what we do as a numbers business; we see it as an opportunity to serve and get a family into a home that possibly wouldn't have been able to without our help.
Growing up as a worker in the fields, I almost felt like we were invisible in many ways. Now, I am able to celebrate my upbringing and give back to those who may be feeling the same. There really is no better feeling. The Hispanic population brings so much to the table, and this is my opportunity to show people that they matter, that their dreams matter, and that we can help make them come true."
Joshua Cuevas, Branch Sales Manager at APM Pomona
In 2019, 87% of Joshua's business was dedicated to serving minority clients in his community and helping them achieve their dreams of homeownership. We interviewed Joshua about how he got into the mortgage business and how he's helping the Hispanic community, and here's what he said.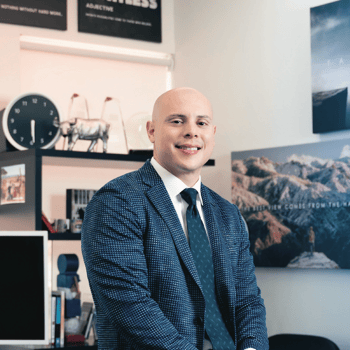 Question: Describe your passion for serving the minority community.
"There is a genuine satisfaction that I get from serving the Latino community. I am here to serve the Hispanic people because I feel like they've been misrepresented and taken advantage of by the mortgage industry. To give you an idea, 60–70% of our clients don't speak English. It's my responsibility to protect and serve them with integrity and transparency. Everyone deserves proper guidance when it comes to the mortgage process, and my team and I have made this our number one priority."
Question: Share your upbringing and how you got to where you are today.
"My parents came to the United States when they were in high school. My dad is Mexican and my mom Colombian. They worked hard to make a living and create a life in the U.S. My dad got an opportunity in the auto industry, which led him to a lucrative career and the ability to provide an amazing life for our family.
Up until the age of 10, I'd classify our life as living the American dream. Then it all abruptly changed. My parents ended up divorcing when I was 10, and we went from having it all to what felt like nothing. By the grace of God, I graduated from high school, but college was not an option at that time. I knew I had to get a job to help support my mom, who was working two jobs just to get by and keep food on the table for my younger brother.
I followed in my father's footsteps and set out for a career in the auto industry. Within three months, at the age of 18, I had set a Memorial Day weekend record with 11 cars sold. My boss at the time, Eric Perez, assured me that I would never have to work the car lot again. He took me under his wing as he started his own mortgage brokerage with Amstar Mortgage, and that was my entryway to the mortgage world.
At the age of 19, I had a six-figure income and was providing for my family with cars, a house and roof over our head, and food on the table, and I had no idea that this type of success would ever end. With the mortgage crash of 2008, like many, we lost it all, and my family was torn apart once again.
My cousin got me an entry-level job at a local law firm, and within a short time, I was promoted to the regional director of client services. Still not where I wanted to be, but I got to do some fun things like commercials and radio spots and was thankful for the opportunity. In 2012, that law firm unexpectedly, and with no notice, shut down, and I found myself once again starting over.
I went back to the mortgage industry, working on loan modifications, but always knew there was something bigger and that I just needed to keep my eyes open for the opportunity to present itself so that I could get back on my feet.
At that time, my mom was the receptionist for my current branch manager, Marcos Granda. I remember Marcos always being a great guy. In fact, when we were at our lowest, I was about 15 years old, and he bought our family a Christmas tree so we'd have some holiday cheer in an extremely hard year.
My mom said he always asked about me, and when he found out I was down on my luck, he told her to send me in to have a conversation. Marcos ended up being a mentor to me and offered me a job in 2014. I had to re-learn the industry and the new regulations. In 2015, I got licensed to do mortgage loans again, and that year I was awarded the Rookie of the Year award in our office. Last year, I was promoted to branch sales manager and closed 20 million in loans."
Question: What does your Hispanic heritage mean to you?
"It means hard work, a humble heart, and dedication! And, of course, food! The food is just as amazing as the culture is."
Jessica Lopez, APM Payroll Supervisor
As our payroll supervisor, Jessica has supported our payroll department and served in various roles for the past 15 years. She is a valued member of our family, and we're honored to spotlight her.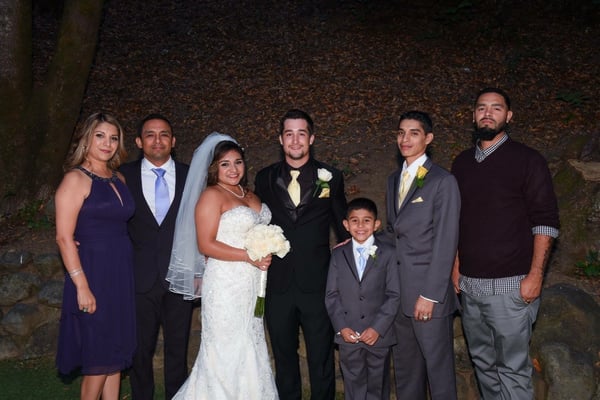 Jessica's Background
Jessica was born and raised in South Bay, California. Both of her parents were born in the United States; her grandparents emigrated from Mexico.
Jessica's career in accounting started out working for a distributor, and then she moved to a company where she held the role of the HR and Payroll Specialist. Jessica's family eventually relocated to Rocklin, CA, to avoid a long commute, and she was hired by APM through a temp agency in the payroll department.
Jessica was mentored by Christine Tarr, who has since passed but left a lasting impression on Jessica and her career. "When I first started with APM, it was just me and Christine in payroll, and the company was only about 50 employees. To be a part of this company and watch it grow to a company of over 2000 employees has been a great experience."
Question: What does your Hispanic heritage meant to you?
"The main thing I love about the Hispanic culture is the value placed on family. Family ties, respect for your elders, and staying connected are all very important in our heritage. I have four sisters with whom I have a tight relationship, and I have tried to pass on that value to my four children. "
Thank you to all of our team members for sharing their stories and for helping us understand more about what their heritage means to them. Thank you for going the extra mile to help those in your communities and to make our company better. We appreciate you!