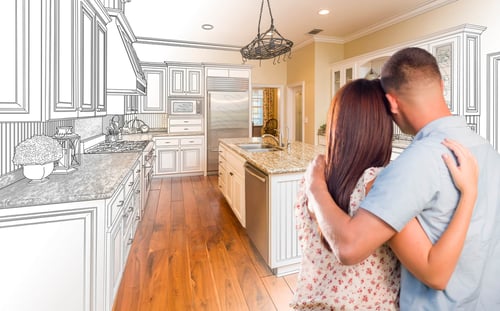 Do you enjoy watching Chip and Jo tear down the walls and turn messy homes into gorgeous ones on HGTV's Fixer Upper? If you have the desire to demolish kitchen cabinets and create your own beautifully designed space, then our Dream Home Renovation program could be just what you need.
What it is
Our specialty program, also known as the FHA 203(k) Rehab Loan, allows potential buyers to create the home of their dreams through renovation and repairs rather than buying someone else's ready-to-move-in property. With our Dream Home Renovation program, you can purchase the property of your choice, even if it needs some renovation, and you'll save time and money by financing the purchase with the cost of the repairs already included in your mortgage loan.
How it works
You can get a loan for your own fixer upper so you have the funds to purchase the home and put in the necessary work. The loan amount is based on the future assessed value of the home. Our specialty program allows you to take advantage of properties that have great bones and are in desirable locations but just need a little TLC.
Qualifications
In order to qualify for the program, a minimum credit score of 640 is required. Additionally, properties must be completed within six months. Property types can be single-family detached homes, single-family attached townhomes, and condominiums. The FHA program will also allow buyers to add a new level to a single-story home, or demolish a home and build a new one in its place. Current homeowners can also use the loan for refinances.

Before you venture out to start looking at rehab properties, check out our Mortgage loan application checklist. Our guide has everything you need to know including documents you'll need to gather, how to get pre-approved, and more. If you want to put your own mark on your next house, then speak with one of our loan advisors. We can see if you qualify for this specialty program and get you started on creating your dream home today.