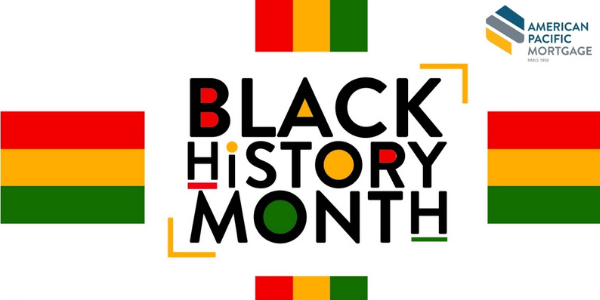 At APM, we feel that the best way we can honor the heritage of our APM family members during Black History Month, is by listening and learning from the stories they share.
Meet Donnet Swaby, Loan Advisor for APM—Katy, TX
Donnet Swaby acquired a love of hospitality and entrepreneurship early in life while growing up in Jamaica. Family time was all about cooking, storytelling, and pursuing your passion—whatever that passion was. Raised by her grandparents on the island until she was 12, Donnet saw firsthand the value of hard work and pursuing goals. Her grandfather was a farmer and a butcher, but spending time with him was pure freedom, Donnet said: "He never cared what you did … as long as you pursued something that excited you."
Donnet took these lessons and her Christian faith with her when she moved to America. Today, she works tirelessly to make sure her family and clients understand how to obtain credit, build wealth, and use homeownership to their favor.
Knowing firsthand what these goals can do for her clients, Donnet is passionate about making sure everyone has a similar opportunity. She believes in having the honest, sometimes-tough conversations, but always instills that if there's a will, there's a way. Her can't-stop-won't-stop approach to getting borrowers in homes is admired throughout APM.
Donnet also knows that homeownership is less prevalent among Black and other minority communities. Rather than focus on the negative, however, Donnet prefers to point out how high these numbers have risen. She reframes problems with solutions in mind; this is simply another opportunity to educate, advocate, and assist.
Patience has been one of Donnet's biggest virtues, as she knows that for some clients buying a home is nothing like buying a car, even though it should be. Donnet is happy to be as patient as her clients need her to be while they make this all-important decision that could impact not just their financial future, but also that of succeeding generations.
Sitting around the dinner table now with her own grandkids—decades removed from her upbringing in Jamaica—Donnet is thrilled to impart the hard-work habits her grandfather taught her, as well as the financial lessons she's learned as a success in this industry.
Meet Vance McGhee, Branch Manager for APM—Atlanta, GA
A new year brings old traditions for Vance McGhee and his family. He and his two teenage children start every January 1 with a serving of black-eyed peas, collard greens, and cornbread. It sets everyone on the path to success for the year, Vance says, and success is what he wants for his family and his clients.
Growing up in a rural area of North Carolina, Vance saw the effects of poverty and single-parent households. This instilled an appreciation for his own parents, who provided a good life for him. The lessons he learned from them, as well as from his Baptist church, kept Vance humble, empathetic, and compassionate to others' situations.
Today, Vance sees himself as an educator within the minority communities, many of whom distrust large national institutions. He wants them to know that when information comes from him, it's information they can trust. Vance also makes sure his clients know he is there for them long after their loan has closed—that he's an ally in times of trouble. All they need to do is pick up the phone.
Having been in the mortgage business since 1989, Vance is happy to see how diverse the industry has become, but he thinks there's more work to be done. At APM, Vance is particularly appreciative of the diverse underwriting staff and hopes more companies will adopt similar initiatives. He notes that it's difficult to champion diversity if your company isn't going to back that up with a workforce that's reflective of society.
One of Vance's favorite things about APM is the ability for loan officers to bring new down payment assistance options to the company. The more programs that can put people on the path to homeownership, the better. Vance is also passionate about using appraisers who live within a home's community, noting that all too often an appraiser who has to travel 50 miles or more won't be familiar enough with the neighborhood to make an accurate assessment.
Vance is a true champion of homeownership among minority communities, and we couldn't be prouder to have him as part of the APM family.
Meet Rayburn Munyui, Underwriter for APM—Washington
Growing up in Kenya until he was a teenager, Rayburn Munyui learned about the American dream firsthand. He got a degree in finance, watched his father invest in real estate, and saw his parents' dream achieved when they retired back in Kenya.
Rayburn worked hard to put himself through school and to build credit, which he knew would be important when he and his wife were ready to buy their first house. That happened in 2020.
Though Rayburn is currently living his own American dream, he knows it can be difficult for others. This is particularly true of immigrants, he says, who are learning about a new culture and a new way of doing things. Through his own experience, Rayburn has become passionate about early education. He believes that high schools and colleges should go the extra mile to make sure students understand the value of credit, a good education, and the ability to purchase real estate.
Today, Rayburn and his sister talk often about upcoming investment opportunities. This includes properties they can partner on, as well as initiatives back home in Kenya. A cousin may need to start a college fund, for example, or a widowed aunt may need work done on her home. Whatever the need, Rayburn has learned that an investment in others is an investment in everyone, and he is eager to give what he can.
Rayburn has come a long way since his first piggy bank—a metal can with a hole in it that his dad used to demonstrate the lesson "It's not how much you make; it's how much you save." But he knows not everyone was as lucky as he was. He welcomes the chance to pass on lessons like these to others and fully believes everyone can be successful regardless of their start in life. To Rayburn, "There's only one race, and it's the human race."