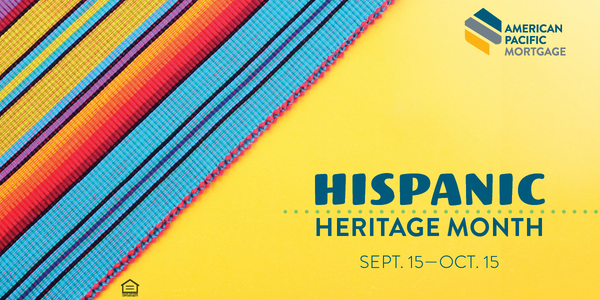 Each member of our APM Family comes from a unique background and has a story that's waiting to be told. From their upbringing to family values, cultural celebrations, and work in the mortgage industry, we're sharing some of their stories with you in celebration of Hispanic Heritage Month.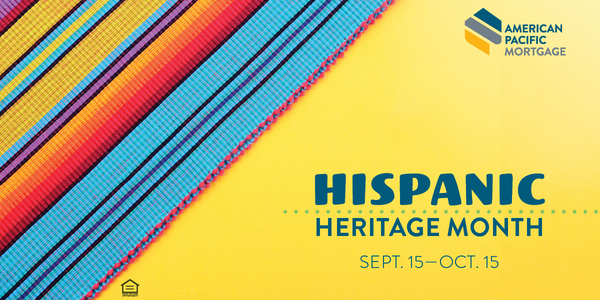 David Garcia, Loan Advisor for Vault Mortgage a dba of American Pacific Mortgage, NMLS #286883
As a first-generation Mexican American, David Garcia grew up learning the value of hard work. His parents immigrated from Oaxaca, Mexico, in the late '60s, with his working relatives taking up "labor" positions to get by, as David calls it. This, he says, has been the greatest blessing of his life.
Watching a generation of family members work as plumbers, painters, and gardeners instilled a strong work ethic in David. He carries that lesson with him today as a Loan Advisor in Los Angeles, which has a large Latino community.
Though David welcomes all races, ethnicities, and types of borrowers, he has a special place in his heart for the Hispanic community. Many of these families remind him of his own—with multiple generations living together and a sense of bonding and loyalty above all else. For these reasons, David strives to ensure that his borrowers understand their options—in either English or Spanish—which may include multiple families purchasing one property.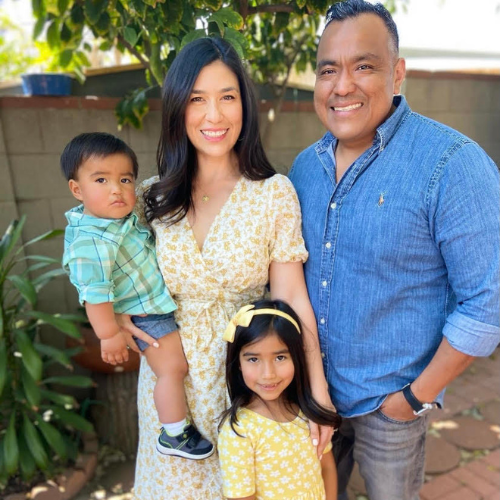 David also knows that he didn't get to where he is alone. Reciprocating the opportunities that were afforded to him is a major motivator. Whether face to face or on social media, David is determined to help as many American dreams come true as possible.
He understands the value and challenges associated with creating generational wealth, particularly among the Hispanic community, and vows to do what he can to make that dream a reality for all families. David seeks out hard situations and deals that need to be explained because he knows the opportunities these doors can unlock once a loan is funded.
David thoroughly enjoys working with self-employed borrowers and small-business owners, who have already invested so much to achieve their dreams. As someone who is living the life he always dreamed of, David is honored to be the one to help these individuals and families reach the next step on their journey.
Luz Lluncor, Branch Manager for New World Mortgage Branch a dba of American Pacific Mortgage, NMLS #227914
Though there are many paths to success, Luz Lluncor believes education is the cornerstone that can help anyone achieve their dreams. That's why she's taken it upon herself to make sure her borrowers and the larger Latino community she serves understand the value of learning.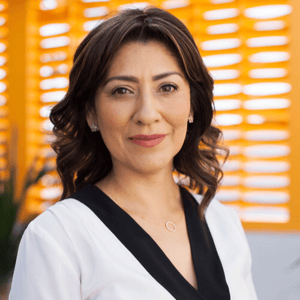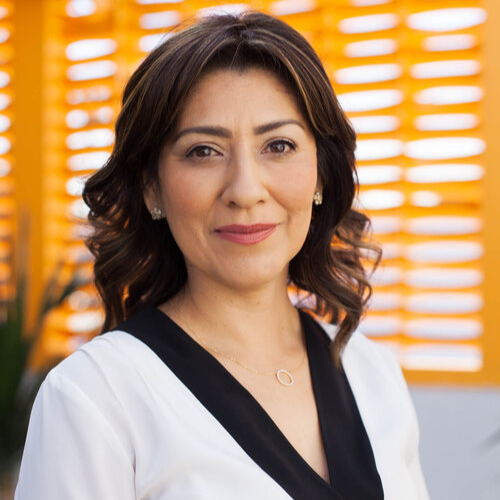 Now in her 22nd year in the mortgage industry, Luz learned early on that education was the key for her borrowers. She was trying to discover what would make her stand out among a crowded industry when she realized that what was lacking was the opportunity to learn more about homeownership, finance, mortgages, and generational wealth. This was especially true among her local Latino community in the Los Angeles suburb of Downey.
Luz is very proud of the workshops she hosts. They're always on her calendar, and they've never stopped, even during the pandemic. These workshops are so important to her because Luz knows that if just one person listens, they can see the benefits homeownership can bring to them and their family—and family is front and center for Luz.
Luz's mom and two siblings immigrated to the United States from Peru when Luz was 7. She didn't speak English at the time, a language that the culture and school system highly emphasized over Spanish. Luz not only learned English, but soon found it to be her dominant language, both inside and outside the home.
Luz made a conscious effort not to lose her first language, though, and is proud to say that she remains fluent in Spanish without a trace of an American accent. The language, large family gatherings and Peruvian cooking motivate Luz to never lose sight of where she came from. She knows other Latinos feel the same and appreciates that, collectively, the culture embraces their community, family, and social events.
Luz also wants her community to keep learning, pursuing higher education whenever possible. She believes this will help close the wage gap that so often exists between Hispanic borrowers and others. As education continues, opportunities arise and advancement materializes. Luz knows homeownership can be a part of that advancement, which is why she'll continue educating her community until she retires.
Jean Diaz, Branch Manager for APM Urbandale Branch, NMLS #523264
Jean Diaz has a passion for education that he attributes to his father. Jean moved with his parents and four siblings from Venezuela to Des Moines, Iowa, when he was 14 and instantly saw the value in education.
The United States held new potential for him, and he knew he wanted to pass the opportunities and education he received on to others within the Hispanic community. This continues to be Jean's goal as a branch manager at APM. Jean understands that one of the biggest roadblocks to homeownership that Hispanics face is simply a lack of knowledge about where to begin. These roadblocks can turn into inaction, and that can lead to the Hispanic community being overlooked and underserved when it comes to buying a home.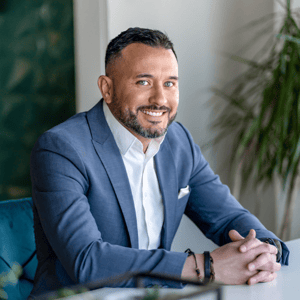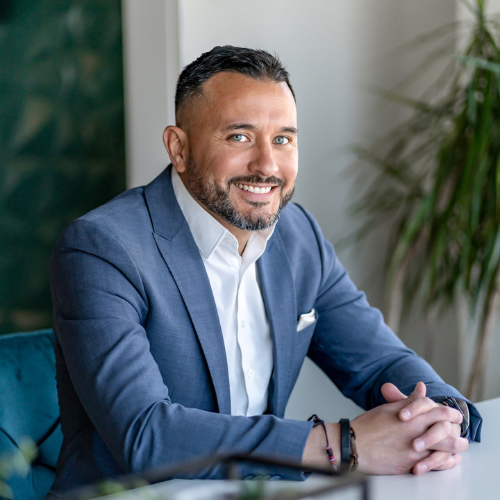 That's why Jean focuses on outreach, education, and resources for this community. Whether they're ready to buy a home today, four months from now, or two years down the line, Jean ensures that the Hispanic community knows the options available to them. He does this in person through seminars, as well as on social media, where he maintains a steady following—particularly on Facebook, a favored platform of this community.
For Jean, succeeding in his career isn't just about sales and loans, but making an impact on someone's life, especially if they never thought the dream of homeownership was within reach. Success is also about personal fulfillment, which is why Jean plans to travel back to Venezuela in the next four months. Since he hasn't been back in more than 12 years, Jean is looking forward to a time of celebrating his culture every day, particularly through food and family get-togethers.
Most of all, Jean is excited to embrace the face-to-face gatherings that his community so enjoys. He remains connected to the local Hispanic community in Des Moines and can't wait to reconnect with his native Venezuelans.
Michelle Eubanks, APM Loan Advisor, NMLS #2096042
For Michelle Eubanks, embracing her Mexican roots while being a successful Loan Advisor is all about meeting people where they are—both figuratively and literally. Being based in Houston and having immigrated to the United States when she was 14, Michelle appreciates that the Hispanic population sometimes has its own ways of doing things. This includes face-to-face meetings and even invitations to dinner or a child's birthday party.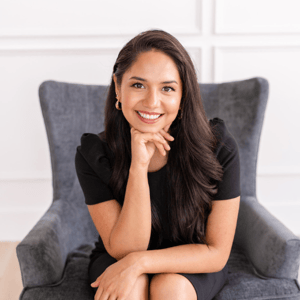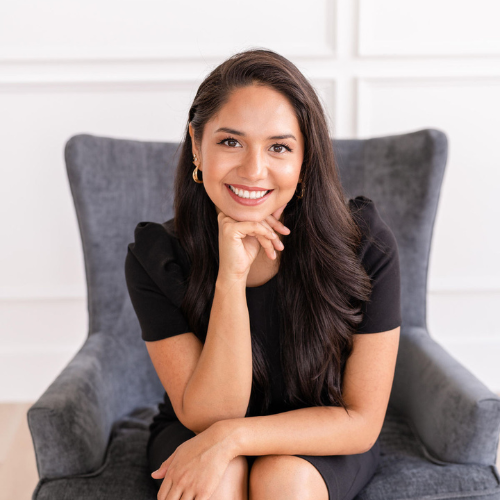 For these reasons, Michelle remains open to doing business however the client feels most comfortable, which sometimes involves a festive get-together or an intimate meal shared among new friends. Meeting in person and being able to touch and feel the documents involved are important to this community, Michelle says. This is why she ensures that all her marketing materials are available in English and Spanish, and has numerous realtor partners who are bilingual. Michelle also produces social media videos in both languages.
Michelle views her mom as her hero for having raised three children on her own in a new country. To Michelle, this is a true example of the American dream: resilience paired with hard work, lots of love, and strong family values. Michelle is also very proud to note that her mom owns her own home outright, with no debt.
In her free time, Michelle loves to travel back to Mexico. She has a fondness for exploring new places within the country. This affords her the opportunity to learn even more about her roots while still feeling like she's on vacation and seeing the world.
Travel also allows Michelle to return home to Houston refreshed and with an even greater understanding of Mexican culture. Michelle's door is always open, and she's more than happy to review any documents, checklists, or part of the mortgage process that might make homebuying easier for one of her clients.
Marlyn Martinez, APM Loan Advisor, NLMS #1397191
Marlyn loves the Pacific Northwest and its tight-knit Hispanic community. Her Washington roots were laid down by her parents, who immigrated to the eastern portion of the state from Mexico. They met at a party and worked at the same apple farm.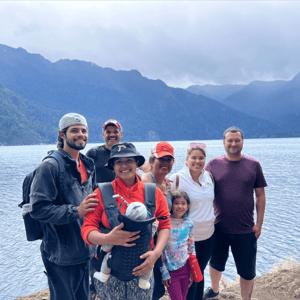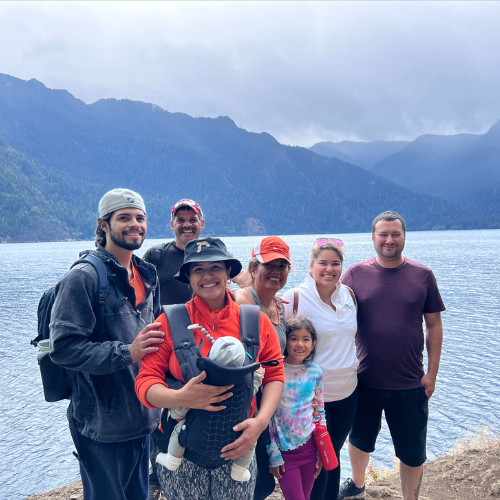 Though her mother was convinced that she would return to Mexico after making a little money, she soon found herself with a husband, a daughter, and her own version of the American dream playing out. Now a mother herself, Marlyn lives only half an hour from her parents. She and her family visit them at least once a week, especially for her dad's famous margaritas.
Marlyn knows that hard work, sacrifice, and family are the cornerstones of the Hispanic culture, which is why she embraces all three. In her experience, Marlyn has found that many Hispanics don't realize they can buy a home with less than 20% down, or that they don't have to be a citizen to qualify for a mortgage.
Her outreach efforts strive to dispel these myths while arming this community with the tools, resources, and information they need to buy a home. This includes a Spanish-speaking team of realtors, title representatives, insurance agents, and home inspectors who can walk borrowers through every step of the process. Marlyn finds that explaining each step, including why certain documentation is needed, really helps Hispanic borrowers feel comfortable.
Being as community-oriented as they are, Hispanic borrowers often refer their friends and family to Marlyn and her partners. This in turn arms even more would-be borrowers with the tools they need to achieve their American dream.
When Marlyn isn't working, she can be found visiting with her very large extended family, as both sets of grandparents had 14 children each. Some are in the Pacific Northwest, making family gatherings that much more special. Others still live in Mexico, which presents endless opportunities to visit the country and stay connected via Zoom. This connection is especially cherished on holidays like the Day of the Dead (Dia de los Muertos), when Marlyn and her immediate family could partake in festivities in Washington while watching her relatives in Mexico observe the holiday as well.