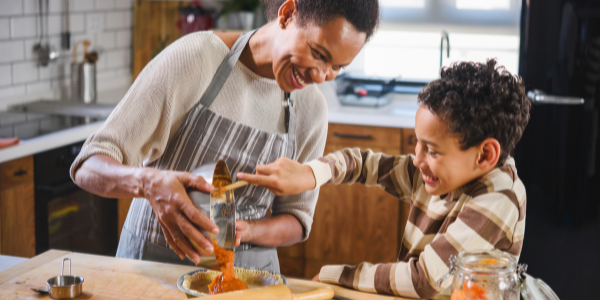 The holidays are HERE! And what better way to celebrate than curled up with a few yummy dishes and the ones you love? Our APM family once again came through—sharing all their favorite holiday appetizers and sides with us.
Passing recipes down from generation to generation—or coming up with new recipes that beget new memories and traditions—is one of the best things about the holidays. Regardless of what holidays you celebrate, the food, love, and family and friend time are what it's all about.
So we're sharing a little food, love, and family with you, our extended APM family. We hope you enjoy the recipes—and the holiday season!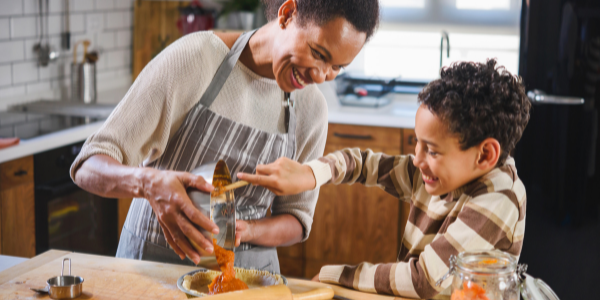 FALL SLIDERS
Ingredients
Hawaiian dinner rolls
Mesquite smoked deli-sliced turkey (can sub any deli meat and cheese combo)
Sliced provolone cheese
Stuffing (already prepared per instructions on box)
½ cup butter
1 tablespoon stone-ground mustard
1 tablespoon Worcestershire sauce
1 tablespoon poppy or chia seeds
⅓ cup brown sugar
Directions
Preheat the oven to 350 degrees. Assemble the sandwiches: Slice rolls in half. Layer turkey, 1 tablespoon of stuffing, and the cheese. Arrange in a baking dish. In a saucepan on medium heat, melt butter; add Worcestershire, mustard, poppy seeds, and brown sugar. Bring that to a boil, then reduce to a simmer. Lightly drizzle or brush onto sandwiches. Bake for about 10 minutes.
Submitted by: Dana, Accounts Payable
HOLIDAY CHEESE BALL
Ingredients
3 (8 oz.) packages cream cheese
1 lb. grated cheddar cheese
4½ oz. can devilled ham
½ cup chopped pimiento stuffed olives
1 tablespoon prepared mustard
1 teaspoon dried mustard
1½ teaspoon chopped chives
½ teaspoon dried celery seed
½ teaspoon cayenne pepper
½ teaspoon salt
Directions
Blend all ingredients. Form into 1–2 cheese balls or 2 cheese logs. Wrap in plastic wrap and chill for several hours. Serve with rice crackers or Ritz crackers. Makes 5½ cups.
Submitted by: Amanda, Licensing Specialist
PUMPKIN PIE DIP
Ingredients
15 oz. can pumpkin puree
¾ cup brown sugar (unpacked)
1 teaspoon vanilla extract
⅛ teaspoon cinnamon
⅛ teaspoon pumpkin pie spice (or more to taste)
6 oz. 0% Greek yogurt
8 oz. Cool Whip (frozen whipped topping, thawed)
Cut-up apples (for dipping)
Graham crackers or gingersnaps are good, too!
Directions
Mix pumpkin with brown sugar, vanilla, and spices. Blend well. Mix in yogurt. Fold in Cool Whip and chill in refrigerator until ready to eat. To serve, transfer to a serving dish or hollowed-out pumpkin.
Submitted by: Donna, Credit/Scenario Team Supervisor
CANDIED SWEET POTATOES
Ingredients
6 medium-size sweet potatoes
½ cup butter
1 cup brown sugar (packed)
2 tablespoons of honey
½ cup of orange juice
Small marshmallows (optional)
Directions
Preheat oven to 375 degrees. Scrub potatoes, skin/peel, and cut into thick slices lengthwise. Brown well in butter. As potatoes brown, place them in a casserole dish. When done, put brown sugar on the top and add the honey and orange juice. Bake covered for 30 minutes, uncover and spoon brown sugar liquid on top of the potatoes. Leave uncovered and bake another 20–30 minutes. If you really like it sweet, you can also add marshmallows to the top and place under the broiler for a few minutes. Keep an eye on it because the marshmallows burn easily.
Submitted by: Kathy, Funder
BUTTERNUT SQUASH SOUP
Ingredients
2 lb. butternut squash
4 oz. olive oil
2 oz. honey
4 oz. butter
1 medium onion (dice small)
4 cup (1 quart) chicken or veggie broth
1–2 potatoes (8 oz.) (dice small)
Salt and pepper to taste
Directions
Toss diced squash in oil and honey. Roast at 375 for 30–40 minutes until softened. In a large saucepan (4–5 quarts), sweat the onions in butter on low heat until translucent. Add roasted squash, broth, and potatoes to onions. Bring to a boil. Simmer until vegetables are tender, about 30–40 minutes. Puree or immersion blend, and season with salt and pepper to taste. You can top it with fresh herbs, or add coriander or cayenne pepper to the squash while roasting.
Submitted by: Denise
DISAPPEARING ROASTED BRUSSELS SPROUTS
Ingredients
4–6 slices bacon (2 lbs.)
Brussels sprouts (cleaned and rinsed)
½ onion (diced)
Salt and pepper
Olive oil
Your favorite balsamic vinegar (I typically use regular or fig)
Directions
Cook bacon in a pan. Set to cool and drain, reserving the bacon grease in a pan. Add 1–2 teaspoons of olive oil, add onion, and cook until translucent. Stir in Brussels sprouts; salt and pepper to taste. Cook until the sprouts turn bright green (1–2 minutes). Transfer the entire contents of the pan into a baking dish and bake at about 350 degrees for 25–30 minutes. Finish with your crumbled bacon and balsamic.
Submitted by: Elizabeth, Closing Documents
MOM'S SUPER SPINACH CASSEROLE
Ingredients
4 (10 oz.) boxes frozen, chopped spinach
2 cups small curd cottage cheese
¼ cup refrigerated butter, cubed
1½ cups cheddar cheese, cubed
4 eggs (if doubling recipe, use only 6 eggs, not 8)
¼ cup flour
½ teaspoon salt
Directions
Defrost frozen spinach under hot water in a colander. Squeeze out water from the spinach until it's as dry as you can get it. Put dried spinach into a large mixing bowl. Dump cottage cheese into a colander, rinse and drain. Add cottage cheese, cubed cheese, and butter to spinach. In a small bowl, beat eggs. Add flour and salt to the eggs. Beat until smooth. Add egg mixture to the spinach and cheese. Mix with your hands until blended. Butter the inside of the crockpot. Pour in mixture, and cook on low for 4–5 hours. You can also put this in a buttered casserole dish, in which case bake at 375 degrees for 45 minutes. You can always add chopped onions, or try with Swiss cheese or cooked chopped bacon.
Submitted by: Halee, LaunchPad Program Manager
---
Need something sweet for after the main event? Check out APM's holiday-themed dessert recipes here.
Whatever fills your serving bowls this holiday season, we hope your table is filled with joy, love, and laughter. Happy holidays from American Pacific Mortgage!