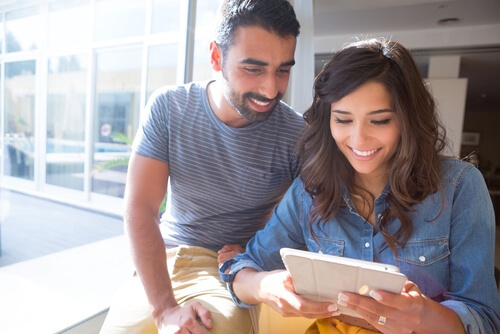 As you start to consider purchasing a home, you may want the convenience of technology to help you through the process. We've got a list of the some of the top apps that can enhance your home buying journey.
Apps for House Hunting and Buying
Homebuyers are calling for more technology in their home buying experience, and these apps are bringing more knowledge to your fingertips. Bonus - these apps are all free!
APM Mobile

:

The APMobile Application can help guide you through the entire loan process with real time updates and communication to all parties involved. It includes education to help you understand mortgage terms, calculators so you can figure out monthly payments and more, and even secure document transfers during your loan process.
Zillow Real Estate App:

This app has everything you need to find a home on the go. It includes browsing homes for sale, searching top-rated schools and neighborhoods, and saved searches with instant notifications.
Realtor.com Real Estate App:

A home sales app that sources directly from 99% of MLSs. You can browse photos, draw your own search area on the map, get open house times and directions, as well as save and share your favorite listings.
Homesnap App:

This app is powered by the same real-time data that licensed realtors are using. Get access to real-time updates on home listings, connect directly with your real estate agent, and use the in-app messaging to discuss specific homes with your agent or family members.
CrimeReports App:

An app that gives you real-time access to neighborhood level crime and sex offender information. The CrimeReports app accesses the largest crime mapping and sex offender website in the world. You can filter crime by location, date, and type of crime all the way down to the neighborhood level.
Walk Score App:

This app calculates the walkability of any location and includes a map of nearby businesses. You can get a Walk Score, Transit Score, and Bike Score of a location. You can search by commute time and near public transit.
HOMESTYLER App:

Use this app to see how new furniture and decor items will look in the rooms of homes you're looking at. Take a picture of any room to create your own 3D interior design. Get design trends and tips from community users.
Now that you've got a bundle of free apps to help you with house hunting and buying, check out some additional websites that can give you even more information without leaving your couch!
Additional Website Resources for House Hunting and Buying
Not every helpful website has an app ready for you to use, but they still give you a virtual way to increase your knowledge during the home buying journey. Try these two additional sources as you house hunt:
Google Earth:

As you consider homes to look at, look up addresses on Google Earth to get a satellite view of not only the home, yard and street but also to get an overview of the neighborhood and general area.
AreaVibes:

Enter in any address, neighborhood, zip code or city to find good places to live in and around that location. The Livability Score uses a unique algorithm with characteristics in 7 different categories including nearby amenities, cost of living, crime rates, education, employment, housing and weather.
Taking advantage of technology and apps for house hunting can definitely further improve the process, but there's no substitute for a live, personal connection with a knowledgeable loan advisor by your side to answer your questions and guide you through the process.
Download our APM app and contact one of our loan advisors today to help you take the next step!