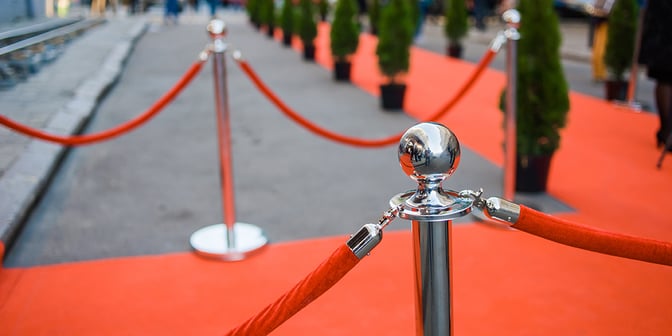 It's fun finding reasons to throw a party and celebrate! Whether that be casual or formal, two guests or twenty, a seated dinner or a variety of appetizers and beverages, incorporating a theme makes it fun. The Oscars are just around the corner and this is a perfect reason to throw a party and offer a fun theme as well! Here are some ideas on how to throw a party to remember: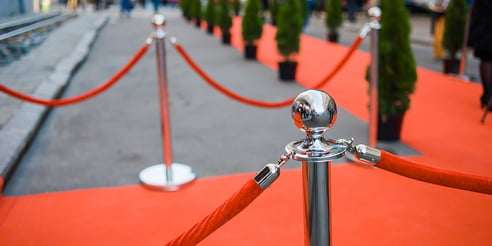 Invitations
The invite is the first impression of the nature and tone of the event. Since the date of the Oscars is already set far in advance, you could send a save the date to let friends know your intent to host, and then follow up a week or two prior with an official invitation and details. Be sure to note dress attire if you are planning to have a red-carpet entrance, or lounge wear if it's a more casual event. Evites or paper invites are both great options and allow you to have fun with the design. Send an envelope with a ticket inside or include the list of nominees that are up for the award!
Set the Stage!
A little can go a long way if you tie it altogether. Choose your theme colors to incorporate into all décor including tablescapes, napkins, flowers, etc. Take advantage of those New Year's decorations that are likely on clearance and stock up… most of them are filled with glitter, black and gold. Be sure to hit up the dollar store for simple yet festive decorations such as red table runners (to emulate the red carpet), and glittery stars to scatter across the table and/or countertops etc. Take photos on your "red carpet" and include with a quick thank you note to attendees after the event. You can also post photos to social media and even have your own hashtag (#LaurasOscarParty anyone?).
What are you wearing?
You can absolutely make it a casual gathering, but if you want to take it up a notch, really dress the part! The walk down the red carpet announcing the label they are wearing is one of the biggest moments and most talked about part of the evening. It may be a bit much to order a custom gown for a home Oscar party, but perhaps pulling out that cocktail dress that still has the tags on it and has just been waiting to be on display, or that bridesmaid dress you paid that pretty penny for would be red carpet appropriate, not to mention a great ice breaker and conversation starter!
The food
When it comes to the menu, think variety, easy, and elegant. Foods that are easy to serve, but more importantly, easy for guests to enjoy without missing a heartfelt acceptance speech. Heavy appetizers are ideal, so no one goes hungry. You can definitely go with chips, dips, nachos, etc., for a casual event, but if you are hosting a more elegant evening, take those appetizers up a notch with finger foods such as chicken skewers, stuffed mushrooms, bacon wrapped dates, and/or mini quiches, just to name a few. Same goes for desserts! Individual servings are the best bet for a successful evening of "munch and mingle". Try chocolate covered strawberries, fruit tarts, and/or cupcakes with gold edible glitter.
Open the bar
Keep it simple, but have a handful options when it comes to the beverages paired with the menu. Champagne and/or sparkling cider is a must for the Oscars, and a signature cocktail that can also be modified as a mocktail is a great way to simplify your bar menu for the night and accommodate everyone. It's fun to greet guests with a beverage, however, be sure to allow them to feel comfortable serving themselves throughout the night. Have several bottles of wine chilled and open at all times, and all drink glasses out and accessible. Keep all other beverages such as beer, soda, and water in an elegant ice bucket, keeping them chilled and accessible.
The votes are in!
Printable Oscar ballots are accessible online, and many are free. Customize with this year's nominees for each category and hand to each guest upon arrival. Be sure ballots are turned in before the award ceremony begins, then prepare a small prize for each category tucked in a fun gold envelope. Think movie tickets or even a Starbucks card. The friendly competition is sure to add fun and laughter to the evening!
An Oscar Party is a great reason to get together with friends while enjoying great food, beverages, and discussing this year's flops and/or hits that made it to the big screen. Just a bit of planning around a fun theme can make this a night to remember that could likely turn into an annual event for years to come!
-Written by Laura Clavero, APM Retail Processing Manager