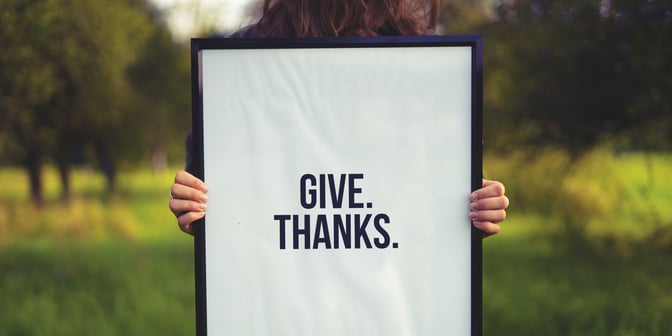 This time of year, many of us gather for a holiday meal with family and friends… sometimes on several occasions. It's a time of showing gratitude, but sometimes it's difficult to find ways to show gratitude as a family, especially if you have little ones. Here are some ideas of things you can do during the holidays – or even year-round.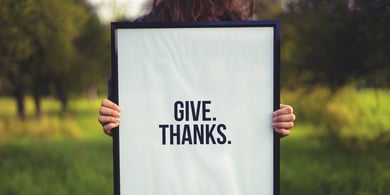 Create a gratitude jar. This can be a terrific family tradition and can be utilized year-round. You can start this any day of the year, but for the holidays starting November 1st is ideal. Get the kids involved by letting them decorate a jar and pick out some festive note cards or paper and a pen. Place the items together in a central location where everyone has access such as the kitchen or entryway. Anytime there is something in the day to be grateful for, write it down, drop it in the jar. Each day brings more gratitude and the joy of watching your jar overflow with blessings. On Thanksgiving, set aside some time to read each of the cards aloud together. You can even incorporate them into your tablescapes or decorations around the house. What a beautiful tradition and reminder of how much there is to be grateful for everyday!
Find a children's home or shelter to donate clothes and toys. Take one day on a weekend as a family to go through your personal belongings and find items to donate - whether that be clothes, toys or household items. It forces us all to think about what we have, how much we really need it and the blessing it could be to someone else. For kids, it's nice to get them involved in deciding what they are giving and why. Sometimes, hesitancy to give something up is more about the control and feeling forced. You may be surprised at what they are willing to part with if they understand why and if you have had a conversation about your family's many blessings.
Honor your local first responders. Serving our citizens and working hard to keep us all safe is the most selfless, and many times, thankless job. Whether store bought or homemade, put together a basket of goodies to take to your police or fire department along with homemade thank you cards and notes. You may even consider donating a few essentials such as hand warmers, hand sanitizer, travel size tissue or even pens to carry when on duty! It seems simple enough, but it will be sure to make their day. What a great way to also teach your kids to appreciate and respect the people that work to keep our communities safe.
Sponsor a family for the Holidays. This is a great way to get the whole family involved in giving. Whether you buy gifts or prepare a wonderful holiday feast everyone in the family can play a part. Go shopping together and break up the list so each member of the family has a list of items or a member of the sponsored family to shop for. Many local organizations including schools and churches can help locate a family that you can sponsor. What a wonderful way to involve the kids in the whole process and take advantage of the opportunity to count your blessings together!
Volunteer at a food bank. One of the greatest gifts we can give is our time. Taking time to think of others, give back and pay it forward works ANY time of year, but is a great way to show gratitude as a family during the holidays. A friendly smile along with much needed nutritious food can change someone's day, week and life! You never know what an impact one small gesture can make.
Volunteering and supporting those that need a little help works any time of year, and is a terrific way for kids to learn more about the world around them, as well as taking a moment to realize just how fortunate they are. With younger kids, it's sometimes difficult to get the concepts across without plunging them into something they can relate to… a kid their age in need.
For teens, anything that gets their nose out of their phone and their eyes looking at the community around them is a win! Today's youth is more engaged than any other when it comes to activism, so giving them a concrete way to participate often helps them interact in a positive way and sets the stage for showing gratitude in the future.