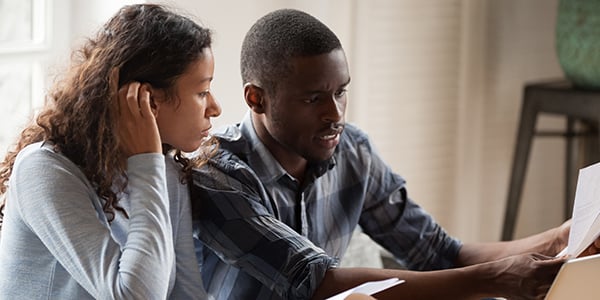 New Year, new you, right? This mantra doesn't just apply to fitness goals—it encompasses all the resolutions you commit to tackling in 2021 with renewed purpose. For many, those resolutions take the form of financial goals (hey, new year, new home does have a nice ring to it!).
Whether you're looking to make a big-ticket purchase, plump up your savings account, or embark on a trip around the world once COVID-19 is history, establishing a few financial goals will ensure your wallet and heart are on the same page.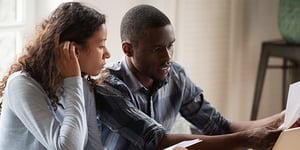 Just like fitness goals, financial goals look different for everyone. Establishing the goal is only step one, of course. The real work begins once you have to make real-world decisions about how to spend, save, and replenish all that cash.
So let's get right to it. You can't achieve your financial goals if you don't know where to start!
Overcoming Debt
It's hard to fantasize about what your money can do for you if debt is hanging over your head. Though it may not be the glitziest of all the financial goals, reducing or eliminating debt can open so many doors for you—not the least of which are financial independence and credit.
If your financial goal is to get out of debt, the first thing you have to do is stop accruing it. Yep, this means cutting up the credit card, placing it in the freezer, or enacting whatever breakup scenario you see fit that will result in zero contact between the two parties. You can keep a credit card safely tucked away for emergencies…just make sure that emergency is not a venti non-fat latte.
If conquering debt is your number-one financial goal, you'll want to work hard to pay down that debt. That means diverting funds from other non-necessities (i.e. entertainment, subscription services, eating out) to put as much as you can toward your debt obligations. If you're paying off multiple loans or lines of credit, start with the one that has the highest interest rate. Consolidating your debt can also make this process easier and more streamlined.
Creating a Budget
You don't have to be in debt or eyeing a large expense to set financial goals in the New Year. Many people are spurred into financial action when they see their end-of-year statement and realize that money came in and money went out, but they have no idea where all that money went.
If this sounds like you, a budget may be just what you need. It creates accountability and provides assurance that you know exactly where your money is (and isn't) at any point. After that, what you do with the money you didn't spend frivolously is entirely up to you. Spoiler alert: this is a great problem to have!
A budget begins by making a two-column list.
Column A is all forms of income, including:
Wages (and/or self-employment income)
Commissions
Bonuses
Child support
Alimony
Money from any other sources
Column B is—you guessed it—a list of all your monthly obligations, including:
Rent or mortgage payment
Credit cards
Student loans
Auto loans
Utilities
Health, auto, and homeowners/renters insurance
Any additional obligations (including child support, alimony, etc.)
Now here's the not-fun part. Make a list of what you spend on essentials like groceries and on non-essentials like travel, entertainment, streaming services, eating out, and food delivery options. Use your online bank and credit card statements, along with cash receipts, to log every charge.
Once all this is in order, you'll have a clear picture of where you can pare back on spending—and how much. You don't want to eliminate every non-essential expense. Instead, you want to come to a happy medium where you understand where your money's going, you're happy with what you're getting in exchange for that money, and anything that isn't an 8 or above on the happiness scale can be reduced or eliminated altogether.
You can create the final budget in one of two ways: either calculate all you can cut and settle on that budget, or determine how much you want to allocate for various monthly expenses and cut anything that falls outside of that number.
Building Savings
Eliminating debt and creating a budget are two financial goals that can definitely help you achieve this next one: fattening your savings account. It's easy to watch your money grow when you're not paying for past expenses or wondering if you should really buy lunch out (if you have a budget, you already have your answer to that).
The good news is there are plenty of ways to build your savings even if you've already achieved these financial goals. The easiest way is to make more money. Sounds obvious. And not so easy. We know. But this is actually simpler than you think. The roaring 2020s are all about the side hustle. You don't have to be an Instagram influencer to rake in extra dough.
Websites like Etsy and NextDoor allow millions of Americans to advertise their goods and services. Then, there's the gig economy. Rideshare and home-share apps let you earn money on items you already own like your car or home. Freelancing sites like Fiverr can turn your hobby—say, poetry writing or graphic design—into a mini-business in no time. Poshmark, Mercari, eBay, and even Facebook can open up a huge marketplace full of buyers for your unused electronics, clothing, home goods, and more. Selling items you already own also helps you organize and declutter, all without having to pay someone to do it!
Naturally, if you really want to accelerate your savings, investments may be the way to go. Assuming your retirement account is fully funded, there are stocks, bonds, mutual funds, cryptocurrencies, and certificates of deposit (CDs) that can churn out some money for savings. Aside from CDs, all of these carry risks, including loss of principal, so find a qualified financial advisor or do your homework to ensure you've given yourself the best chance to grow your investments.
Buying a Home
It's one of the ultimate financial goals—and for good reason. Buying a home provides stability, as well as a chance to watch your investment appreciate over time. If you've achieved the first three financial goals, then you're well on your way to this one. Just a few more steps, and you'll be signing on the dotted line in no time.
Lots of savings and low/no debt are great when it comes time to buy a home, but unless you're planning to pay all cash (in which case, we applaud your massive savings efforts and deem you goal-worthy), you'll need to qualify for a mortgage. This is where credit comes in. Pull your credit report from all three bureaus (Equifax, TransUnion, Experian) and ensure their accuracy. Then continue to chip away at any debt while saving or earning as much as possible. This will influence your debt-to-income ratio, another tool loan officers use when determining how much house you qualify for.
Speaking of qualifying, getting pre-approved can take the guesswork out of the home buying process. Once you feel you're ready, a trusted APM loan advisor is happy to walk you through the pre-approval process. It's much easier to narrow down the neighborhood, size, and type of house you're looking for when you know the parameters you're working within.
At this point, you can set up a housing budget. This is different than your monthly budget in that it will encompass all the expenses that come with owning a new home. This includes the mortgage payment, private mortgage insurance (if you're putting less than 20% down), HOA fees, homeowner's insurance and property taxes. This number may be more or less than what you're paying now, but whatever number it is, you should begin setting those funds aside each month to see how this impacts your bottom line. For example, if your rent is $1,200 but your new housing payment would amount to $1,480, set aside the extra $280 a month and see how your budget feels. Do you have plenty of wiggle room? Would you be scraping to get by? Whatever the case, adjust as needed until you settle on a figure you can comfortably live with.
Get a free copy of our guide to buying your first home by clicking here.
Financial goals are a fabulous undertaking any time of year, but the New Year is always particularly inspirational. With a little hard work and foresight, even the most daunting financial goal can become achievable. You just have to believe in the math…and in yourself!
APM is here when you're ready to turn those goals into reality. If there's anything we can do to help reach your home goals, reach out to one of our Loan Advisors to get started. From our family to yours, APM wishes you a bright, prosperous new year.