It's beginning to look a lot like…vacation! The skies and flowers aren't the only things opening up. Now that we have a vaccine(s), Americans are itching to spread their wings and hit the open road. And how can you blame them after the past year we've all had?
If this sounds like heaven to you, you're not alone. With that in mind, you may want to put some extra planning into this year's excursion to ensure a safe, healthy, and fun time for your family.
Here are a few tips to get you started.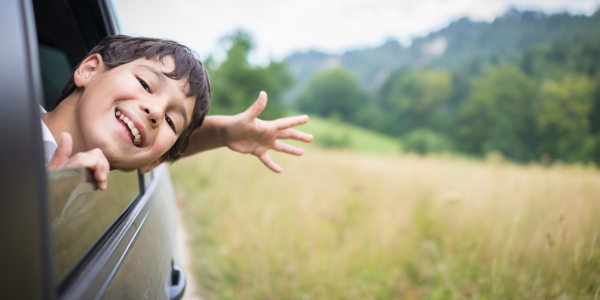 Be Proactive
Everyone is itching to get out and go on an adventure, so do your research ahead of time. Check local restrictions in the areas you plan to visit, as well as in any places you want to stop along the way. Then, double check again right before you leave.
Keep in mind that destinations like national parks and some theme parks are requiring advanced reservations. A little homework can save you a lot of headache before you hit the open road.
Aim to Maintain
Speaking of headaches, it never hurts to check your car before you log a few hundred (or thousand) miles. Bring it in to a trusted mechanic at least a month before your departure so you have plenty of time to fix any issues.
Renting a vehicle? Make sure you're up to speed on how it functions. This is especially true if you're renting an RV, camper, or a different type of vehicle than you're used to (say you're a sedan driver but you've reserved an SUV). Practice driving, practice parking, and don't forget that ever-important reversing. It's a whole different ball game if you're in a significantly larger vehicle or if you're towing something like a pair of jet skis.
Create a Budget
Hi, we're APM, and we know a little something about budgets. Whether you're embarking on a home or a grand adventure, it's always good to know your parameters. Once you know how long you'll be gone, take a little time to create a budget. This can include allotments for things like lodging, dining, and activities, though remember to work in the cost of transportation since, you know, this is a road trip!
Don't forget to add a little cushion for unexpected expenses as well. These can range from car maintenance to fun items like a random stop at a waterpark.
Pack Appropriately
There are all the road trip must-haves, including snacks, toiletries, games, electronic devices, home comforts, outdoor gear, and more. Then there are the supplies you may need this year to remain healthy as we continue to combat the pandemic. This may include hand sanitizer, gloves, masks, extra toiletries and towels (depending on whether hotels along your route have suspended these services), and additional food if you're planning to limit your restaurant visits.
If you feel comfortable, it's certainly reasonable to venture out this summer. However, a little prevention can go a long way toward ensuring that your family is at the top of the game for whatever adventures you have in store.
Remain Flexible
Even the best-laid plans can fall victim to outside forces. No one knows that better than the people who booked trips in 2020! A plan is a very good idea if you're embarking on a summer road trip this year, but a flexible attitude will certainly come in handy if things get derailed.
It might be a good idea to have alternate hotels, restaurants, rest stops, and activities in your back pocket just in case something doesn't work out the way you thought it would. This list doesn't have to be exhaustive. Maybe just one or two spots or ideas in a general area can save you a lot of time and hassle if option #1 is suddenly off the table. You don't want to spend a whole day scrambling when an extra 10 minutes could've saved the day.
Plus, it's a road trip! Spontaneity is practically required! See a delicious-looking ice cream stand? Hit it. Hear that this trail continues to a waterfall if you just turn left up ahead? Go see. Planning is prudent and super important, but so is fun! You don't have to deny yourself one in favor of the other.
Go Where You Want to Go
You've been cooped up for a year, and you definitely deserve a break! So make this one count. Though every family's different, some places to consider include beaches, national parks, amusement parks, and historical monuments. You could even design a road trip around a theme, such as wineries, lighthouses, or ballparks. The sky's the limit!
Since getting there is half the fun, it's always great to opt for the scenic route whenever possible. This means seeking out overlooks, bridges, coastal towns, waterways, and lush areas that can take you straight through nature—just remember to keep your eyes on the road. Deer, bears, and other animals don't understand the concept of summer road trips.
Fortunately, Americans have been enjoying road trips since, well, America's had roads. If you don't have any particular destinations in mind, there are many famous journeys that allow you to simply pick up and go.
California has its famous Highway 1 (Pacific Coast Highway, or PCH, to locals) drive. Virginia's Blue Ridge Parkway will take you through multiple national parks. The scenery in Washington's Olympic Peninsula is just begging for a little hiking, while Arizona's red rock country is an off-roader's dream.
More of a city person? That works, too. You can still get the feel of a road trip while navigating to and from major hubs like Chicago, St. Louis, and Los Angeles via Route 66.
Whatever you do this summer, make sure you have fun! Best of luck on your adventures.