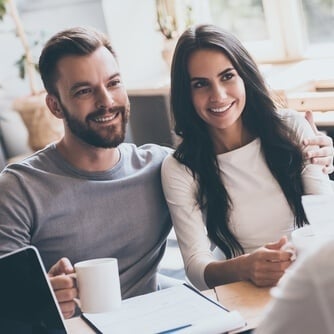 Is it your time to buy? Time to buy the home that really fits your family; time to make your backyard into an oasis; time to experience the peak of home ownership. American Pacific Mortgage can help you realize those dreams with new home loan programs. Our brand new Peak loan programs can make buying a home more affordable and help you get access to the equity you need.
Peak Home Loan Programs - How Can They Help?
According to a recent Zillow survey, saving for a down payment was named the top barrier for homeownership. Don't let that hold you back another moment. You can buy a home with just5%* down with our new Peak 1st Lien program! You can even extend your loan term to 40 years, with the first 10 being interest-only payments.Less money up front and less money per month means savings in your pocket and the ability to buy a home sooner than you expected.
What if you're in a great home, but you lack the funds to make the upgrades that you planned on? Then the Peak 2nd Lien loan program can help. It allows you to pull money out of your equity and use it toward home improvements or even debt consolidation. As a stand-alone second mortgage, it doesn't require you to refinance your existing first mortgage. It's a great way to get access to the equity you may have built up in your home.
Will Peak Loans Fit my Needs?
You should consider Peak loan programs if you're looking to buy a home with 5% down, or looking for an interest-only option. If you need to pull cash out of your home and want a standalone option, then Peak loan programs may also be the answer.
Peak loans allow:
Loan amounts up to $2.5 M with Peak 1st Lien
Purchase, Rate & Term, Cash-Out options
Up to 50% Debt-to-income ratio
2nd Lien to be combined with any Fannie Mae loan program or to be done standalone

Are you ready to reach your Peak of homeownership? Our expert loan advisors are ready and waiting to help you achieve your homeownership goals with our many new home loan programs. Contact us today!