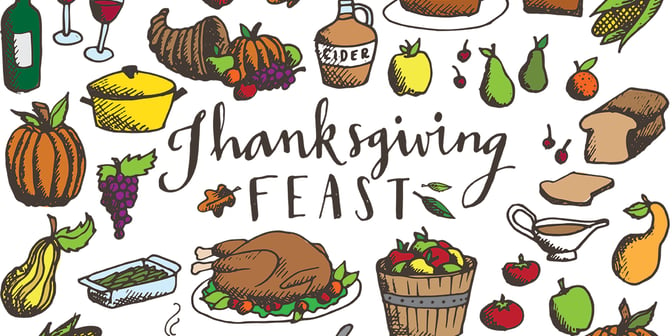 Whether a dinner for four or thirty, timing everything just right and bringing everything together can be stressful. With just a bit of planning, a simple timeline and a detailed shopping list, you can be sure you have everything you need when you need it. Here is a suggested timeline of events to pull off a fabulous Thanksgiving feast that will have your friends and family begging you to host for years to come!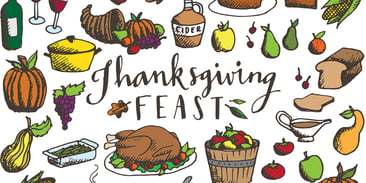 Three weeks ahead
Finalize the guest list. Knowing how many you will be hosting for dinner early on is key to planning out the rest of the details including the menu, shopping list, and cook times you will need for your holiday feast. This may also determine if you will be preparing for a seated or buffet style dinner and if you will need to bring in additional chairs, tables etc.
Plan your menu. Start with the main dish – turkey in many cases – and add in all of your family favorite dishes and desserts. Don't forget about beverages and appetizers – these are good things to assign to guests to bring. Think of how many kids may be joining to include drinks and snacks they will love as well, and even consider making a signature cocktail to include at your mini-bar/beverage station that you can make in a large amount and put it in an elegant beverage dispenser!
Get those orders in. If you special order your turkey or any other side or ingredient(s) for your meal, now is the time to get them in! If you want to include special bottles of wine you would like to serve for dinner, consider ordering those ahead of time as well.
Two weeks ahead
Take a full Inventory. This includes dishes, pantry, fridge and freezer. Do you have enough serving platters? Baking dishes, pie plates, and/or pans? Next, take an inventory of the pantry and be sure you add anything to the list that you may be low on. For instance, you may only use poultry seasoning once a year, so that's something to check, along with other items that you use infrequently.
Create your shopping list. Break your shopping list into perishable and nonperishable and start stocking up on nonperishables well in advance. The perishable list is what you'll be working from the week before and will include anything you plan to pick up last minute. When in doubt, grab an extra… no one enjoys having to make a dash for the supermarket on Thanksgiving morning!
One week ahead
Purge your fridge and freezer. Create the space you need for those refrigerated items you will be picking up this week at the store as well as the "make ahead" dishes or sauces to freeze.
Pull the dishes. Be sure all platters and baking dishes are easily accessible and clean. This is a great time to pair them with the serving utensils for each dish and set aside until it is time to put them to use.
Create a food prep timeline and plan of execution. Whether you have five ovens or one, you can absolutely pull of a fabulous feast! Think through the prep and cooking time & temp for each dish to determine what will go in and when. If you have two dishes that will need to go in the oven at the same time, but one is to be set at 400 and one at 350, go with 375 degrees and check it more often, rotating racks if necessary. Be sure to think outside the oven… can you use your pressure cooker, slow-cooker, grill, or smoker for any part of the meal? Desserts can be made a few days ahead and simply reheated during or just following dinner. Just a bit of planning will relieve the stress and give you a great strategy of execution for your fabulous meal!
Deep clean the house. Don't add hours of house cleaning tasks to your already packed checklist come Thanksgiving morning. Do a good deep clean the week before and then just do quick maintenance cleaning thereafter. Get the family involved with a quick spruce up the day before guests arrive. If you have a hired house cleaner, ask if they will come in "off schedule" for a deep clean on Tues or Wed.
One Day Before
Get a jump start. Cut, dice and set aside! Spend a little time pre-cutting bread for stuffing, vegetables for salad or casseroles, and store in airtight containers or zip-top bags. Prepare any make-ahead dishes you can, such as casseroles and pies, and throw into the fridge.
Move it and Map it out. Rearrange furniture as necessary to make room for your guests. Bring in and set up any additional chairs and tables, and identify where everything will be including beverages, appetizers, drop zone for coats, shoes etc.
Set the table. Pull out those place settings, seating charts & place cards, silverware, napkins, candles etc. Bring your tablescape to life with natural greenery from your yard, local florist, or supermarket, making sure that arrangements are low for easy conversations over the table. These details are fun and take a bit more time to play with to get it just right, and time is something you won't have to perfect this on the big day. To avoid dust collecting on the plates, you can simply flip them over until hours before dinner.
Clean as you cook. Have the dishwasher, trash bins, and sink completely empty before you start cooking. Dinner prep will be much less stressful if you can quickly declutter your working area as you go.
Thanksgiving Day!
Alexa, please remind me! With so many details coming together at once, it is easy to get distracted and forget about basting or throwing something else in the oven! Refer to your timeline you created and set a timer to keep you on track!
Prepare for quick clean up. Having an empty dishwasher & trash bin makes for quick clean up after dinner while you are reheating those wonderful pies and desserts to enjoy!
Be our guest. The smell from the oven that will be filling your home will make for a wonderfully inviting first impression! Help complete your welcoming atmosphere by turning on a relaxing play list, lighting some candles and greeting your guests with some tasty appetizers and a beverage.
SLOW down and enjoy it! Let's not lose sight of what this is all about. Time with family and friends spent reflecting on the many things we are grateful for. Be sure to pause and soak it in. The table is where stories are shared, laughter is abundant, and memories are made!
Day after Thanksgiving
Kick back! Now is the time to kick up your feet, grab a cup of tea or coffee, pull out your smart device and hunt for some great recipes to use up all those wonderful leftovers!