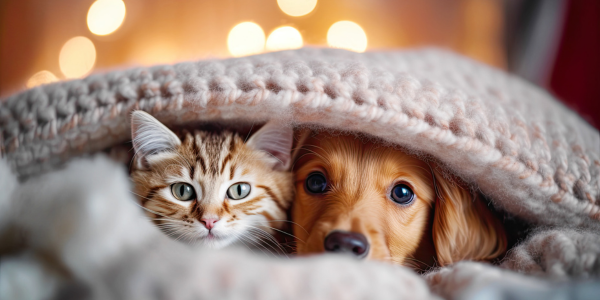 Our four-legged loved ones are always there to share in the merriment, and the holiday season is no exception. Unfortunately, their enthusiasm can sometimes lead to mischief and mayhem.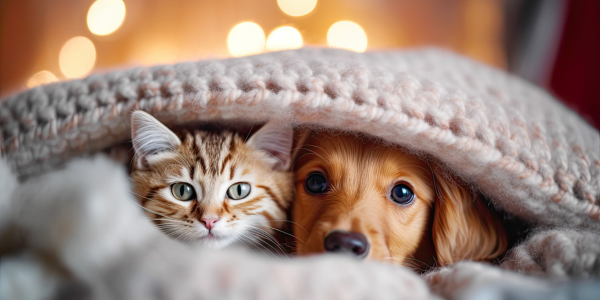 That doesn't mean your dog or cat has to sit out the festivities, however. There are pet-friendly holiday decorations and plenty of fun ways to celebrate with them. Let's jump into the best ways you can celebrate the holidays with your furry friends this festive season.
1. Secure Your Christmas Tree.
The tree is often the centerpiece of Christmas holiday decorations. For your dog or cat, though, that tree all but has a flashing "Play with me" sign on it. Ensure that the Christmas tree is securely anchored so it doesn't topple over from pets getting too excited by the holiday spirit.
While we're on the subject, a pet-proof tree skirt adds an extra layer of protection for your furry friends. One made from sturdy materials can deter pets from digging under the tree.
2. Opt for Pet-Safe Christmas Decorations.
Always use pet-friendly holiday decorations when you're decking the halls to keep your dogs and cats safe. Avoid glass ornaments and delicate decorations that can easily shatter. A few pet-safe alternatives include holiday decor made of wood, fabric, or plastic. These materials are less likely to cause harm if your pet does knock over the tree.
3. Visit Santa Paws.
Many retail stores have grown to appreciate how much our furry friends mean to us. They not only offer pet-friendly holiday decorations, but some even bring in Santa especially for the animals. Grab an elf outfit or reindeer headband and hit these pet-friendly events while you're doing your holiday shopping.
4. Place Breakable Decorations High.
The holiday season can feature many cherished family keepsakes passed down from generation to generation. Do yourself and your pets a favor by keeping glass ornaments and delicate holiday decorations out of reach. Hang them high on your tree or place them where a dog or cat can't go. That way you can enjoy their beauty while keeping everyone sane!
5. Decorate with Pet-Safe Plants.
Mistletoe and holly berries are classic symbols of the holiday season, but they can be toxic to pets. That's why artificial trees and holiday plants are such popular pet-friendly decorations.
You can also choose safe alternatives like cat-friendly grasses and pet-safe poinsettias to celebrate the holiday season without compromising your pet's safety. And minimize the tinsel and garland. They can cause serious health issues if ingested by a pet.
6. Light Up Your Home Safely.
Christmas lights add a warm and inviting ambiance to your home, but they can be a source of danger for pets. Make sure all cords are tucked away or covered to prevent your pets from chewing on them. Also, LED lights are safer and less tempting for a curious dog or cat to investigate.
7. Create Pet-Friendly Zones.
If you're worried that your furry friends might be overwhelmed or overstimulated by the hustle and bustle of the holidays, you can always create a pet-friendly zone. This allows them to escape from all the holiday spirit when they need a break—much like we do—from time to time. A cozy corner with their bed, toys, and water lets them be a part of the festivities from a safe distance.
8. Consider Pet-Themed Ornaments.
Incorporate your pets into the holiday decorating by including ornaments with their names or images. This adds a personal touch to your Christmas tree and reminds everyone that pets are family, too.
9. Do a Holiday Photo Shoot.
No time like the present (no pun intended) to get those holiday-themed photos of your dog or cat that would make for a great ornament. These keepsakes could even be a gift for your significant other. So be sure to include the pets in your festive photos.
10. Organize a Cookie Bake with Pet-Safe Treats.
Everyone likes a reason to indulge this time of year—and our furry friends are no different. Getting together to make cookies and other holiday treats is a great way to celebrate. This year, why not get the pets in on the action? You can bake special holiday treats and send everyone home with a "doggie bag."
11. Be Mindful of Candles.
Candles are a popular choice during the holidays, but they can be hazardous if knocked over. This is especially important for those celebrating Hanukkah. Lighting the menorah is a beautiful nightly tradition, but the open flame can be a problem. Ensure that lit candles are placed out of reach from your dog or cat.
You can also switch to flameless LED candles. They look just like the real thing but don't carry the fire risk—a plus if you have kids as well!
12. Support Pet-Friendly Businesses.
When shopping for holiday décor or gifts, consider supporting pet-friendly businesses. Many stores now offer pet-safe holiday items and can provide expert advice on how to keep your home beautifully decorated and safe for your pets.
While you're at it, make pet toys part of your holiday shopping. Our furry friends may not understand that it's Christmas Eve, but they sure get the concept of getting a gift!
We hope you enjoy the holiday season with your pack of two- and four-legged family members.