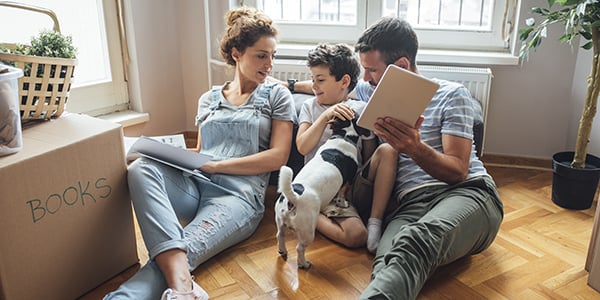 Identifying your dream home is an important step in the homebuying process – but you've still got to close the deal! Putting in an offer on a home can be nerve-racking. After all, once your offer is submitted, it's out of your hands and up to the seller. This is why you should do everything possible beforehand to ensure your offer stands out from the rest and looks as attractive as possible to the owner.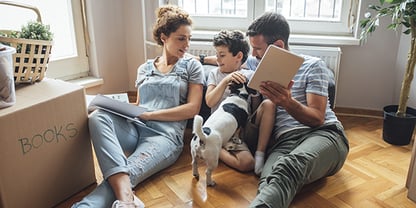 Here are nine home offer tips that can help you secure the keys to your new abode.
1. Get Pre-approved
Anyone can make an offer on a house…that doesn't mean they have the funds in-hand to back that offer up! That's where getting pre-approved for a mortgage comes in. Presenting a pre-approval letter to a seller shows the homeowner you are financially able to buy this home. In a competitive market, being pre-approved for a mortgage can make all the difference.
Some potential homebuyers mistakenly assume pre-qualification is the same as pre-approval. While a pre-qualification can help lenders establish what size mortgage you'll likely qualify for, it is not a formal pre-approval letter, and therefore not as valuable to a seller. Though you'll still have to go through underwriting even if you're pre-approved, closing your loan should be smooth sailing as long as you haven't had any drastic changes to your income, employment or debt levels. This is not the time to purchase a new car or apply for a new loan.
2. Understand the Seller's Motivation
Unless you're dealing with a corporate entity, there's a human on the other side of this housing transaction and the listing price – a human who has called your desired dwelling "home" for the past several years. Treating the seller like the person they are can go a long way toward having your offer accepted.
Though you may not be in direct contact with the seller when buying a house, your agent may be able to find out why the seller is, well, selling. Maybe they're relocating and need to close quickly, or they're awaiting the completion of construction on their new home, which may mean they need a flexible move-out day. Whatever the case, if you can find out their motivation, you can address their exact needs in your offer.
3. Keep it Simple
At best, contingencies bog a deal down. At worst, they kill it. Try to keep your offer as straight-forward and clean as possible. This means minimizing seller concessions, such as assistance with closing costs, or requests for personal property, such as the patio set. A contingent offer – one that is predicated on the sale of your home – may also be a turn-off to sellers who are entertaining multiple offers.
If you really want to keep your offer clean, you can even waive your inspection contingency if the seller has already provided reputable reports from a trusted agency. Your lender or a real estate agent or attorney should be able to review all your contingencies and points of negotiation before you make an offer.
4. Submit a Personalized Offer Letter
Let's stick with this "human" angle. Home offers are just that: a bunch of papers with numbers on them. These often lack the human touch that is so closely associated with loving homes, families, neighborhoods and communities. So let the seller get to know you. This happens by adding a brief, yet personal offer letter with your bid that introduces yourself, why you love their home and what you envision for their home. You can even include a family photo if you like.
While we can't guarantee this letter will sway sellers into accepting a lower offer, it can push the odds in your favor if everything else is equal (or close to being equal). Appealing to the human behind a transaction is rarely a bad thing.
5. Add an Escalation Clause
You really want this house. Like, a whole lot. But there may be other buyers who want it, too. That's where an escalation clause can come in handy. An escalation clause allows your bid to automatically increase if a competing bid comes in higher than yours. The beauty of an escalation clause is its set-it-and-forget-it nature, whereby you offer to bid, say, $1,000 higher than the highest bid, up to a certain amount. The downside to an escalation clause is that the seller will be able to determine the maximum amount you'd be willing to pay for this house, which could cost you some negotiating power.
Whether or not an escalation clause is right for you depends on a few factors, including how badly you want the house, how much you're willing to pay for it and how many other bidders are competing for the same property.
6. Bid More than Asking
An escalation clause can keep you competitive in a bidding war, but an above-ask offer can prevent that war from even starting. Offering more than the sticker price shows a seller you're committed to buying this home and are willing to go the extra mile to secure it. These offers don't have to be grandiose in nature. Sometimes a few thousand dollars over asking is all it takes to get the deal done.
Plus, you might be doing yourself a favor. That bidding war can quickly spiral out of control, adding tens of thousands of dollars to the final purchase price when a generous first offer might have nipped this in the bud. Just remember to factor these costs in before you finalize your offer. You want to make sure you stay within your pre-approved loan amount and your budget and talk the options over with your real estate agent.
7. Provide a Larger EMD
An earnest money deposit (EMD) is a good-faith effort the prospective buyer makes to show the seller they're serious about buying this home. An EMD usually represents 1%-3% of the home's purchase price, but offering more can demonstrate your commitment to the seller. This money is held in an escrow account until the sale closes, at which time the funds are applied to the home's down payment or closing costs.
A quick word about EMDs if the deal falls through: if the deal is killed due to a failed home inspection or a contingency in the contract, the buyer will receive their money back. If, on the other hand, the buyer decides to back out of the deal, the seller may be entitled to the EMD. Always check with your lender before submitting an EMD to ensure you understand the terms of your contract.
8. Choose a Lender that Can Close On-Time
Many sellers are looking to close their transaction as quickly as possible, but more than that, they want to close on-time without surprises. This sounds simple, but many lenders miss closing dates and cause undue stress on buyers and sellers. While you can't necessarily promise the closing date, your lender can. Choose to work with a lender that has you pre-approved and has the systems to get you closed on-time, or even early.
9. Confirm Your Offer is Complete
The devil is in the details, right? You've put forth all this effort to show the seller you love this home and mean business when it comes to buying it. So do yourself a favor and check that all your documents are in order before submitting your offer. This means all disclosures, EMDs and loan documents are complete and in order. Your lender can walk you through this process to ensure you've crossed every "t" and dotted every "i." If not, you could lose out to an offer that is complete.
Buying a home is an exciting time as you imagine your future and all the possibilities this new house will bring. You just have to get to the finish line first! That starts with presenting an offer a seller can't refuse.
APM's trusted loan advisors can help get you there. We're happy to walk you through the home offer process anytime. Give us a call to get started.