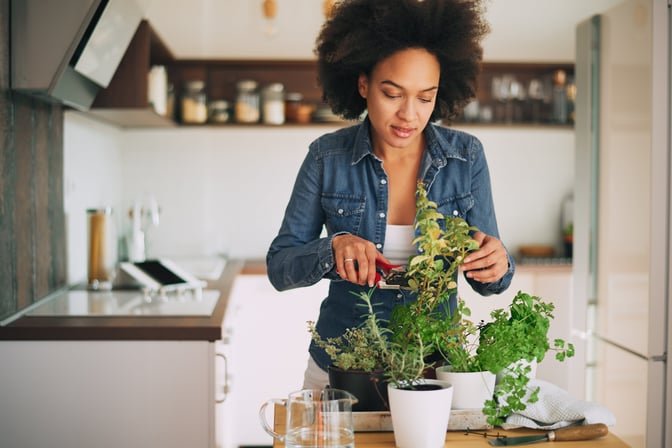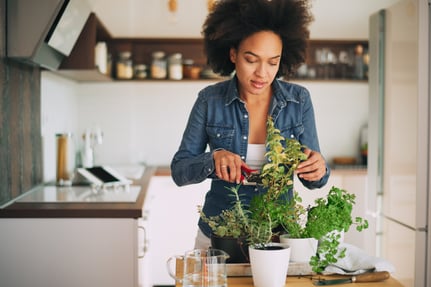 SPRING IS A SEASON OF NEW BEGINNINGS!
It's a time when the flowers are blooming, trees are budding, and birds are singing their happy songs! How do we bottle this up and bring it inside? You don't have to invest a lot of time or money to breathe new life into your home. Here are a few simple ways you can welcome the spring season indoors and create a cheery, peaceful space for you and your family.
GIVE YOUR PORCH A FACELIFT
The front porch is the first impression of your home. Hanging a new floral wreath on the door and adding a flower pot or two are simple ways to update your porch for spring. Try layering your basic welcome mat with a colorful or patterned outdoor rug underneath. A $5 can of spray paint can bring new life to an old flower pot, then can be finished off by planting a few pansies or tulips. Just a few fresh touches are a great way to create a festive and cheery entry to your home.
LET THERE BE LIGHT
The quickest and most effective way to breathe new life into your home is simple and FREE! Pull back those drapes, open the blinds and let the sunshine in. Natural light will immediately change the mood of your entire house. During the winter months, having the windows and curtains shut keeps the house airtight for warmth, but it can create stuffy, heavy air. A little sun and fresh air go a long way in improving mood and productivity, which we will need for this next tip.
TIDY UP
Spring is a season for cleaning and ridding ourselves and our homes of clutter. Sometimes this can feel overwhelming, but one trick is to stay focused on one area at a time. You will be surprised how fast you can work through your home using this strategy. Make a great playlist of your favorite hits and prep some meals for the day to minimize interruptions. Go through each room with cleaning supplies & trash bags to grab whatever is no longer needed or just taking up space, while wiping down every surface. Pick up small sample sizes of paint beforehand, to touch up any scuffs on the walls or trim. Sweep the floors, wash and freshen up the drapes, rugs, pillow covers, and bedding.
BRING THAT GARDEN INSIDE
We didn't weather all those April showers for nothing, right? Flowers are a simple way to keep every space in your home bright and cheery. You can even use what you already have by gathering flowers from the garden and filling vases to add to the kitchen counter, coffee & entryway tables, and even the powder room. If you don't have a garden, stop by a farmer's market or flower stand and grab something that catches your eye. Even just a few simple tulips in a small vase or cute pitcher goes a long way and adds positive energy to any space.
ACCESSORIES ARE KEY
I am a "less is more" kind of gal when it comes to fashion. I stick to basic classic pieces and colors but like to jazz it up by playing with scarves, shoes and jewelry. I do the same thing with each room in my home. I like to stick to basic neutral tones for the furniture and use trendy or seasonal colors in accent pieces. This makes it easy and inexpensive to adapt to each season – you can swap out those faux fur throws with a light cotton or linen patterned throw on the bed and sofa for a touch of spring. Consider changing up your lamp shades for a fun new pop of color or texture. Toss pillows are a wonderful way to make an impact but they can be expensive and hard to store, so I love buying fun, seasonal fabric to make my own pillow covers! Don't sew? No problem! Pillow covers are inexpensive, and you can find endless options online in every dimension you can imagine. On a side note, they also work great as packing cushion for that seasonal décor you're putting away. They aren't permanent so have fun with those patterns and colors.
SWITCH IT, CHANGE IT, REARRANGE IT
Sometimes just moving furniture around can change up your space enough to give you a breath of fresh air. By rearranging things in a room such as art, knick knacks on your shelves, photo walls, and mirrors, you can make small changes with a big impact, even if your furniture itself can't be moved because it only fits where it sits. Use what you have and don't underestimate the impact you can make by simply repurposing or moving things around.
You don't have to invest much time or money to capture and bring the magic of spring indoors – let the beauty of nature be your inspiration!
- Written by guest blogger: Laura Clavero, APM Retail Processing Manager