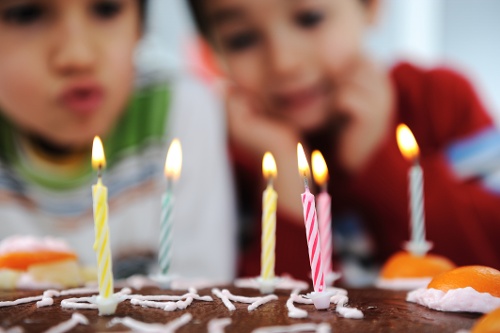 Let's face it, throwing a birthday party for kids these days can be a huge undertaking. Besides the fact that parties are getting out of hand, they're hitting our pocketbooks harder than ever. Here are 10 tips for kids' parties that can help create a fun experience without breaking the bank.
Choose the Theme: I love a great Casino themed party as much anyone, but your crowd of 5-year-olds may not show as much enthusiasm about poker chips and playing cards as they would about their favorite super hero or Disney princess. Crazy right? Just roll with it! Trust me, it is in your best interest! If the kids are having fun with the super hero themed games, it will make for a much more pleasurable experience for you as well! Remember, it's about the joy they experience and the memories that are created, not the fancy tablescapes. (Hey, I love a great tablescape too, but we can save that for a dinner party!)
Create a Guest List: Will you be inviting the whole class at school? What about family? Two parties or one? Before you send any invites, consider the venue, food and budget to be sure all can comfortably accommodate the number of guests attending! If you're planning on a large guest count, be sure to have reinforcements! Plan on having at least one extra set of helping adult hands for every 10 party guests.
Parents or drop off? Let's be honest parents, we love when we can drop our kids off at a party! That said, there are times it may be best to have other parents attend. For instance, if you throw a pool party, it's important to have parents stay for safety reasons alone. More eyes on the kids can mean less stress for you! Also, will you be taking them to an offsite activity and then returning to your house? You may feel cautiously optimistic about taking 10 tweens to a movie, but you may not own a bus to transport them home for cake. That may necessitate having a few parents along for the ride.
Send Invitations about 3 weeks in advance: If you send them too early, parents may forget about the party. If you send them later, some may not be able to attend on such short notice. Let's also talk about delivery etiquette while we're at it. Avoid sending invites with the kids to school. This will likely lead to hurt feelings for any classmates that were not on the guest list. Also, your child may come home with a list of friends that said they are coming, but you find out the night before that the parents had no clue (invites have a way of being swallowed up in backpacks). Whether electronic or paper invites, be sure it is sent to the parents directly and include an RSVP method!
Is it ok to request no gifts for my child's party? Short answer is Yes! The No Gift party seems to be trending these days and is understandable if you have family and friends already spoiling your child. That said, many parents feel awkward not bringing a gift for the guest of honor! A great alternative to consider is a "book or video game exchange" in lieu of a gift, or having your child choose a favorite charity or cause to support.
Food…keep it simple! A lovely sushi platter may sound delicious and appealing to you but could result in a group of hangry kids! Stick to the basics – you can't go wrong with pizza, cake, and ice cream. Another great option is a sandwich platter & chips. I recommend a party pack of single serving bags of chips with a variety of options. Stick with foods that appeal to the masses, are easy to serve and require minimal utensils.
Food… keep it safe! In today's world there are allergies and sensitivities all over the place. It's important to ensure that your party guests are safe. I would recommend staying away from nut products entirely, as no one wants a kid going into anaphylactic shock on their watch. Stick to basic foods and be sure to provide a few options that are easy for those with allergies such as a fruit plate or veggie tray, or even a big bowl of popcorn.
Activities and Games: You might be wondering how to keep these kids entertained without breaking the bank to bring in a Grammy Award winning singer or a clown that ends up sending half of the kids home in tears? Think outside the box and use what you have! Create a scavenger hunt for their goody bags! Kids of all ages love this. If your kids are a bit younger, you can use pictures for each clue. They will burn off some of that sugar and have a blast finding their treasure. You can also turn the food into an activity! "Create your own pizza" or "decorate your own cupcake" will likely keep them occupied and giggling over their fun designs! Plus, kids are more likely to eat something they made themselves!
Get Creative with Favors: I love finding budget and kid friendly favors that will be useful even after the sugar high has worn off that won't end up in the junk drawer. I think about the party theme or location. Spring birthday? How about a simple flower pot from the craft store and packet of veggie or flower seeds? You can even incorporate the activity by having the kids paint and decorate their flower pots! Party at a lake or beach? Check out the dollar store for colorful sand buckets and shovels! You can prefill with goodies or send them on a scavenger hunt collecting shells and rocks. You now have a useful party favor and activity all in one.
Gift opening – at the party or after. Taking gifts home to open in private is perfectly acceptable (and sometimes preferred). It's important to remind your birthday kid that if gifts are opened AT the party they take the time to appreciate and thank each gift giver along the way. If you decide to forgo opening at the party and take the gifts home, you can still involve your guests! Take a picture of your child opening each gift to show the joy on their face & send it with the thank you note. It doesn't have to be a high-quality print – just use your smart phone and print it on your printer at home.
Remember, you don't have to hire a party planner or break the bank to throw a wonderful party that your child and guests will truly enjoy! Keep it simple and have fun making memories!