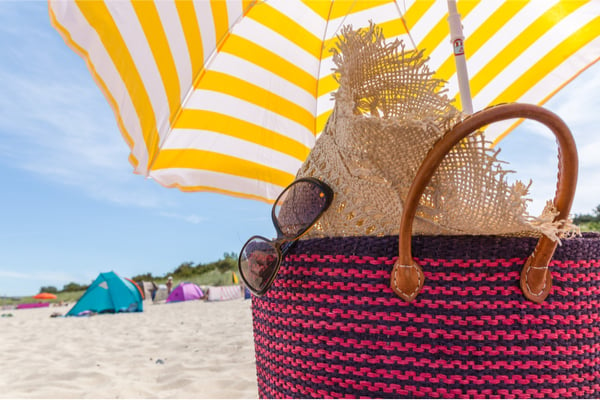 Summer is here, the sun is out… and the beach is calling your name! A day in the sun splashing in the water is just what you need to recharge and reconnect with friends and family! Here are ten must haves and a few hacks to add to your packing list that are sure to make the day stress free and all about sand castles, splashing in the water and relaxing in the sun!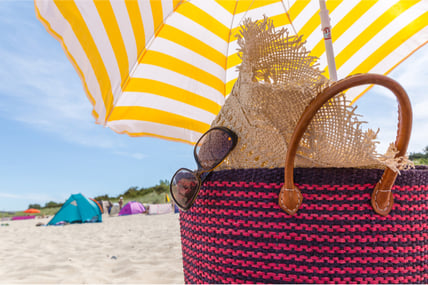 Sunblock: Goes without saying right? Take inventory and be sure you have a full bottle before you head out. For the kids, I prefer the sprayable option because it's quick and easy to apply. Throw the bottle in the cooler to keep it from getting too runny or hot, plus it's a great way to cool down as you reapply throughout the day!
Cooler: Be sure to bring plenty of food and drinks to keep the whole family fed and (perhaps most importantly) hydrated. The fuller the cooler, the longer it stays cold, so pack it in, and use frozen water bottles and juice pouches to double as ice packs. A slightly thawed juice pouch can be enjoyed as a slushy the kids will love! Premade sandwiches and individual containers of hummus and veggie sticks or fruit are great on the go and can be enjoyed on the sand, or in the car while you're waiting in the inevitable traffic on the way to or from. Frozen grapes are a favorite in our family because they're easy to eat, taste like a special treat, and provide refreshment on a hot summer day.
Extra Large Mesh Tote: An extra-large mesh tote has capacity to pack in all the beach essentials, and a little shake at the end of the day leaves the sand and dirt where it belongs! As a side benefit, it also gives easy access to see everything in the bag so you aren't digging blindly for that one item you know you packed.
Oversized beach towel with pillow: No more stuffing clothes or random bags under your head to try to get in a good nap in the sun. You can purchase these great towels with integrated pillows or use what you already own to make it yourself! Take an oversized towel and a small travel or bath pillow. Fold the top of the towel over the pillow and sew a simple seam and voila! You have created a perfect opening to slip your pillow in and out. Just roll the towel up around the pillow and stuff it in your bag for easy transport – and they're so easy you can make one for everyone in the family.
Outdoor portable umbrella: Breaks from the direct sun rays to cool down and rehydrate through the day are important to prevent sunburn and heat exhaustion. An outdoor umbrella that anchors into the sand is ideal to keep your shade from falling or blowing away and creates a sheltered area large enough for several people to take cover.
Inflatable pool: To keep those babies corralled, try an inflatable pool! It's a lot easier and much lighter to pack around than a portable crib. Not only that it's water friendly and easy to clean. You can use your umbrella to provide some shade, throw in a few favorite toys and you're good to go. Have a water baby? Try adding just a little water to let them splash around a bit.
Bluetooth waterproof speaker: If you are one to frequent the outdoors or one that enjoys a good karaoke session in the shower, this is a MUST. Enjoy that summer playlist while soaking up the sun with your phone safely tucked away from heat and predators looking for a free phone upgrade. Many speakers carry a charge for 8-12 hours – plenty of time to enjoy your tunes for the day.
Solar Powered Charger: Rocking out to your favorite tunes all day will most definitely drain your phone battery and watching your battery bars slowly die without access to power can be stressful! There are literally thousands of options available - be sure to choose a charger that is compatible with your device, and perhaps has multiple connections to charge other devices you'll have on hand. The great news is that you only have to lay the charger out in the sun to harness the power of solar and keep those electronic devices fully charged.
A Fitted Sheet: Yep, you read that right. Take a fitted sheet with you to the beach and use it as a beach blanket. Put shoes and other heavy stuff in the corners, with the elastic facing up so you have a premade "wall" around your area to keep sand and creepy crawlies at bay.
Waterproof phone or camera case: Capture these special moments and memories without risking water damage to your camera by encasing it in a waterproof case. You can find a great assortment of cases for phones and cameras on line and at major retailers – and some are super inexpensive. Just be sure whatever you choose won't interfere with photo quality and allows you access to your touchscreen. You'll be able to enjoy the memories of the day for years to come with photos that are crystal clear.
Enjoying time at the beach is a great way to spend a summer day, and if you're smart about what you bring, you'll have what you need to keep you (and the kids!) protected, happy, hydrated, and well fed.
-Guest Blogger: Laura Clavero, American Pacific Mortgage Processing Manager