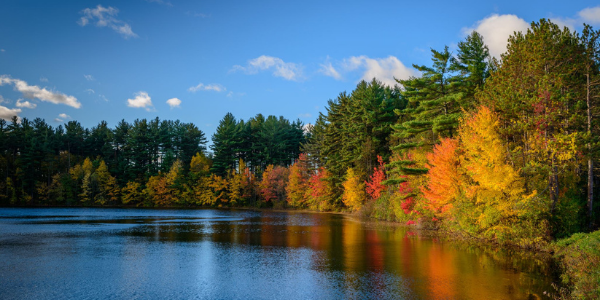 Fall is a fun season to be enjoyed regardless of where you reside in the country. Contrary to popular belief, you don't have to trek to New England or upstate New York to get a look at the beautiful fall foliage. There are opportunities all over the country—many likely within a day's drive from you.
Though plenty of leaf-peeping can be done outside of these regions, here are a few major players to get you started.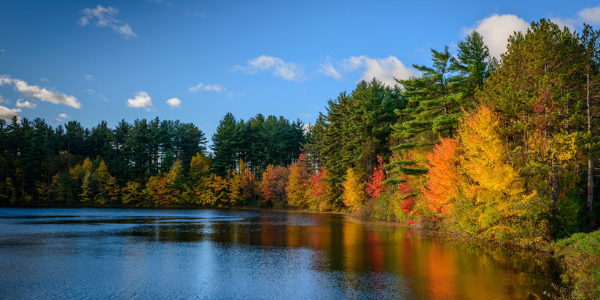 PACIFIC NORTHWEST
Chuckanut Drive, Washington
State Route 11 brings you along a beautiful, winding road where blasts of yellow and orange leaves pop against the green pines in autumn. Larrabee State Park in the Chuckanut Mountain region near Bellingham is a popular destination along this highway.
Columbia River Gorge, Oregon
Mount Hood is a great place to recreate all year long. But in fall? It's all about the colors! The best part is you can enjoy this picturesque scenery as you recreate. So grab your hiking shoes or bike and hit the trails.
THE WEST
Mono County, California
Few know about it, but if you're traveling to Mammoth or Lake Tahoe from Southern California along Highway 395, then you might have passed some of the prettiest leaf-peeping opportunities without even realizing it. Even from this Eastern Sierra highway, you can see bursts of Aspen yellows. Some of the best spots are right outside Bishop, Walker, and Bridgeport, though color can also be seen from June Lake and Mammoth.
Taos, New Mexico
This may be the most surprising entry on the list but, yes, fall colors even exist in New Mexico (we did mention that they're everywhere!). Head into the Southern Rockies, called the Sangre de Cristo Mountains, and you'll enter the Enchanted Circle Scenic Byway that boasts a beautiful fall display. It's known as one of America's most scenic drives. Continue on the byway and you'll hit the towns of Taos, Eagle Nest, Red River, and Questa.
THE SOUTH
Ozark Mountains, Missouri, and Arkansas
Fall colors in the Ozarks are split in two—gold and maroon. Many choose to catch these hues from the car, driving down Route 265 where they can take in Table Rock Lake, the Ruth and Paul Henning Conservation Area, and the Table Rock Lake Dam. There are also plenty of self-guided leaf-peeping tour options available in Branson.
Great Smoky Mountains, North Carolina and Tennessee
This region boasts more than 100 types of trees, so you can bet they light up like, well, a Christmas tree in fall. Have some fun and do something memorable by taking in the leaves from the Appalachian Trail or Looking Glass Falls. If you're visiting by car, you can always jump on the Clingmans Dome Road, Foothills Parkway, or Blue Ridge Parkway for a colorful journey.
MIDWEST
Upper Peninsula, Michigan
The Porcupine Mountains—known to the locals as "the Porkies"—encompass 60,000 acres, many of which glow with fiery-colored leaves in fall. Summit Peak and the scenic overlooks at Lake of the Clouds are popular places to take it all in.
Chain of Lakes, Minneapolis, Minnesota
Have a different type of leaf-peeping experience in the Land of 1,000 Lakes by viewing the fall foliage from a lake! Grab a boat and hit the waters or, if that's not possible (or it's too cold), just walk the shores that chain together Brownie, Cedar, Lake of the Isles, Bde Maka Ska, and Lake Harriet.
THE NORTHEAST
The Poconos, Pennsylvania
Minneapolis may have its lakes, but these Pennsylvania mountains have just about everything else you'd need to have a one-of-a-kind fall foliage experience. Wanna see the leaves from a train? They've got that. From the air? Yup, you can do that. With wine in your hands? Sure, why not? The Poconos is so fall-focused it even has the Poconos Fall Foliage Forecast, which tells you the perfect time to catch your train!
Catskill Mountains, New York
The Catskills capitalizes on its leaf-peeping options as well. This southeastern New York region hosts many festivals throughout the fall, with most focused on the foliage. If you're not feeling the crowded events, you can always take in the sights from the Hunter Mountain chairlift, or from the top of Mount Utsayantha, which provides a panoramic view of the season.
NEW ENGLAND
Stowe, Vermont
Stowe is a quaint little town up in the Green Mountains that is known by many as one of the best places to view fall foliage in the U.S. That's probably because it has all the colors. You can find the spectrum of leaf transitions from brown to red, orange, and yellow, making this tiny New England town a photographer's dream.
Lenox, Massachusetts
Like Stowe, the Berkshire County town of Lenox is known for its small-town appeal—and leaves! You can soak up the hues, then hit the town, or head into October Mountain State Forest for an immersive experience. Mount Greylock provides memorable overlook experiences, while those below can take in the sights from Woods Pond or Bartholomew's Cobble.
With visions of gold, burnt orange, and bright reds dancing around your head, now is the perfect time to research the fall foliage options in your area. You can practically smell the pumpkin spice in the air!