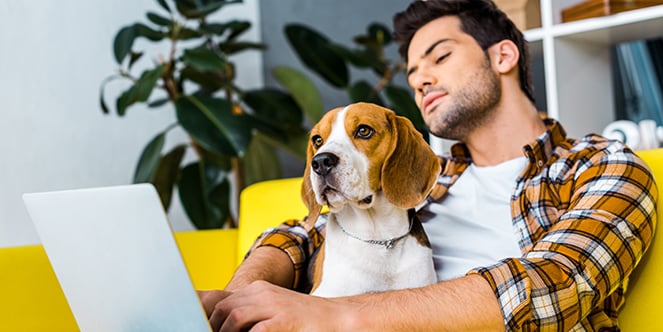 Working from home has become the #newnormal for millions of Americans as we try to contain the coronavirus. Some are thrilled to roll out of bed in their PJs as they tackle the five-second commute to their dining room office. Others may miss their familiar routines, office space and coworkers.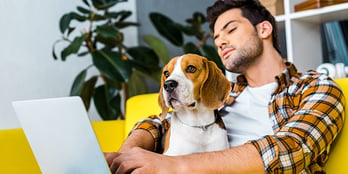 Regardless of which camp you fall in, there are plenty of ways to make this #newnormal an enjoyable situation. That starts with achieving a healthy, balanced life.
Stay Connected
Today's technologies offer more ways than ever to stay in touch. We've got email, text, phone, video chat, social media and a variety of messaging apps that ensure you don't miss a beat when you're working from home.
When it comes to your clients, it's always nice to reach out to them on whatever communication platform they prefer. Blanket emails work great for communicating broad messages, such as new sanitation policies or operating hours. Though time consuming, phone calls are typically the best way to communicate if a client had an upcoming appointment, meeting or project that will need to be rescheduled. Whatever platform you choose, be sure to let your clients know you're there for them and ready to answer any questions.
You also want to stay in touch with your teammates when working from home. Communicate with your team early and often. Most of us are navigating new waters in terms of where and how business gets done, so you want to make sure you understand all projects, goals and tasks you've been given. This is why it's so important to pay attention during conference calls or videos. This is the perfect time to air all your questions, comments or concerns to prevent any project delays. Remember, you no longer have the option of walking over to a co-worker's office for clarity, so group meetings are not the time to run the vacuum.
Your social sanity is also important, which means staying connected to friends and family, even if we can't hug them. Get into the habit of sending a few friendly messages in the morning, making one or two mid-day calls and asking a couple friends how their days went in the evening. This keeps us all connected while we practice social distancing!
Keep a Routine
This #newnormal means we have unbridled access to our fridges, our family is all together (All. Day. Long.) and we can't help but notice those home improvement projects we've been putting off. Then there's Netflix and chill, which has never sounded more tempting as we practice social media and news avoidance in an effort to keep our sanity.
What we're trying to say is…you need a routine. This gives your new work-from-home life a sense of stability, purpose and balance. You'll always know which projects and people have your attention at any given time.
Set your alarm and go about your normal routine as if you were going to the office. Then sit down to work – in the same designated work spot each day – at whatever time you'd normally get into the office.
Establishing a work flow will keep you on task. Create a schedule that dedicates time to answering emails and sending follow ups, reading news that's relevant to your industry, tackling projects and logging progress where appropriate.
Equally as important…don't forget to schedule breaks! Step away from your work space for at least half an hour to eat a healthy lunch, in addition to a few 20-minute breaks. This is valuable time that will break up the day – as long as you use it wisely. Take a short walk, engage in a stretch session, or accomplish one or two household tasks. Just be sure to keep an eye on the time. Picking up a few things around the house can quickly lead to dinner preparation, which can quickly lead to wine at 3 o'clock. You get where we're going with this.
Downplay Distractions
The distraction struggle is real nowadays, we know. Creating a work routine will definitely help, though you still have to contend with outside – or, as this environment would have it, inside – forces that want your attention. So be sure your kids have a routine that keeps them occupied. Their schedule should separate school time, free time and family time, just as yours does.
It's also important to establish separate work spaces. One person can take the home office or second bedroom, another can use the dining room and a third can take the kitchen countertop, for example. This ensures everyone has a place to be – and that place is not screaming into your ear in the middle of a conference call.
A little planning can also minimize the threats of distraction. In a perfect world, we would all have spotless homes. In the real world, not so much. Make a list of the projects you'd like to get done, such as cleaning the bathrooms, laundry, doing the dishes, etc., and put those on a schedule as well. You'll be less likely to take yourself away from work to clean the bathrooms if you know you can accomplish that task at, say, 6 p.m. on Thursday.
Stay Healthy
We know – the couch, those potato chips and that remote are so enticing when you work from home. We hate to say it, but none of those will do you any good in the long run. Maintaining a healthy outlook is only achievable if you stay physically and mentally sharp.
Take the kids to the park, walk the dog around the neighborhood, see the sunset with your spouse or go running on the trails (your city website can provide information on any recent closures). Many gyms, workout studios and fitness coaches are also offering free access to in-home workouts for the time being. Check with your favorite studios, download a fitness app or search YouTube to find a plethora of workout routines that fit your schedule and fitness level.
It's natural to want to stock up on non-perishable items like canned goods as we limit our exposure to the coronavirus. However, all that sodium can do a number on your system, so incorporate fresh fruits, vegetables and other healthy items when you can. Eat these items outright, use them in your favorite recipes, or work them into other mixtures like salad dressings and smoothies.
Working from home in this #newnormal is totally doable. It just requires some planning and discipline before you hit the ground running. An efficient workflow, busy kids, clean house, and happy and healthy you are all within reach when you make small, but tangible progress on these goals in the minutes, days and weeks to come!