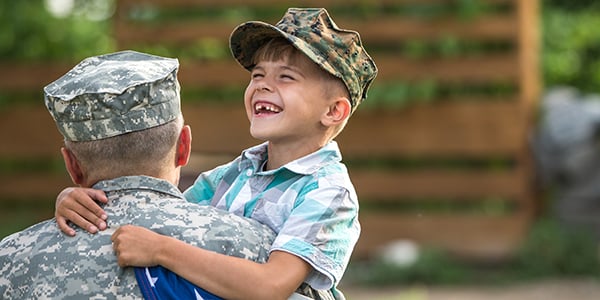 As an active-duty service member, veteran, or surviving spouse of a veteran, you've made your country proud and, now, we hope to do the same for you. That's why American Pacific Mortgage is honored to work with you to obtain affordable VA loans that can help our service members and their families achieve their American Dream.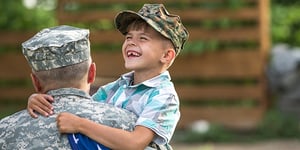 What is a VA Loan?
A VA loan is insured by the U.S. Department of Veterans Affairs and issued by VA-approved lenders. This loan program provides lenders with more flexible and lenient qualifying guidelines, which results in affordable VA loans for our military service people and their families.
Since the VA loan program was first created in 1944, more than 20 million veterans and their families have been able to achieve affordable home financing. APM is honored to continue that tradition of offering affordable VA loans.
Benefits of VA Loans
Affordable VA loans offer excellent benefits to our heroes. These include the possibility of 100% financing (meaning no down payment!), no mortgage insurance requirement, limited closing costs, and the option to finance the VA funding fee into the loan. It's important to note that the VA funding fee is waived for veterans with service-connected disabilities.
One of the biggest benefits of the VA loan is that your eligibility for this program does not expire. This means you can utilize affordable VA loans anytime you purchase a primary residence—even after a foreclosure! Veterans can even have up to two active VA loans at the same time in some instances.
Plus, affordable VA loans don't have pre-payment penalties, and active members who move on base and receive Basic Allowance for Housing (BAH) can apply their full BAH payment to their housing.
An additional program is available once you have a VA loan—a streamlined refinance program that allows veterans to reduce their interest rates without having to re-qualify.
We can't think of a loan program that has more benefits to borrowers, just as we can't think of a more deserving group of borrowers than our service people and their families.
How to Qualify for a VA Loan
To be eligible for a VA loan, you must have:
Obtaining a Certificate of Eligibility
If you don't already have one, applying for a Certificate of Eligibility can get you on your way to qualifying for affordable VA loans. You can apply for a CoE via snail mail or online through the VA website at www.ebenefits.va.gov. One of the advantages of working with a VA-approved lender is that they can also order this for you!
The CoE application lets your lender confirm your status as an active-duty service member, veteran, or surviving spouse of a veteran. This confirms your status as a qualifying service member to receive the VA home loan benefit, but you'll still have to meet the requirements to qualify with your income and credit.
Things to Know About the VA Loan
There are just a few more ins and outs of affordable VA loans that you should be aware of before taking advantage of this amazing program. The first is that you can borrow 100% of the home's value or more, and, better yet, affordable VA loans let you purchase a home with no money down! Even closing costs can be covered by the lender, by the home's seller, or by a gift from friends or family.
Another important note is that VA eligibility does NOT expire and can be used more than once, even after a foreclosure. VA entitlement may allow you to have more than one VA loan at a time as long as they comply with VA occupancy guidelines.
Here are some other fun facts about VA Loans:
There are no monthly mortgage insurance premiums with a VA home loan

The VA funding fee may be financed into your loan amount

There are no prepayment penalties with a VA Loan

Active-duty members are provided Base Allowance Housing (BAH), and that amount may help you qualify for a VA loan and offset your mortgage
While there are many types of income that can help you qualify for the home of your dreams using the VA loan, certain types—including funds from the GI Bill—cannot be used.
We are happy to sit down with you any time to discuss the benefits, qualifications, and process of obtaining these affordable VA loans. We're here to serve you whenever you're ready. To locate an APM loan advisor in your area, click here.
Disclaimer: Rates, terms, programs, and underwriting guidelines subject to change without notice. This is not an offer to extend credit or a commitment to lend. All loans subject to underwriting approval. Equal Housing Opportunity