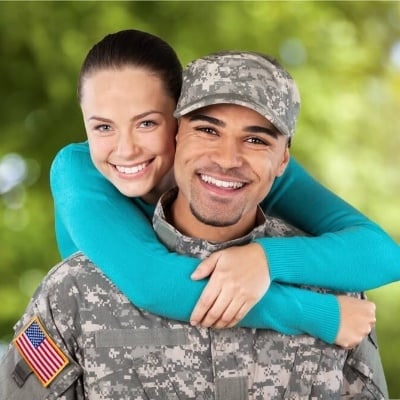 As an active duty service member, Veteran, or surviving spouse of a Veteran, you have sacrificed and served our country well. American Pacific Mortgage appreciates your service! We're here to thank you for your sacrifice and contribution with our VA loans. You deserve the home of your dreams and we offer the programs that can help you get there.
What is a VA Loan?
A VA loan is insured by the U.S. Department of Veterans Affairs and issued by VA approved lenders. This government guaranteed loan enables these approved lenders to lend with more flexible and lenient qualifying guidelines. Since this military loan guarantee program was first created in 1944, more than 20 million Veterans and their families have been helped with affordable home financing. American Pacific Mortgage is honored to offer VA loans
Benefits of VA Loans
VA loans offer excellent benefits to our heroes, such as the possibility of 100% financing, no mortgage insurance requirement, limited closing costs, and the option to finance the VA funding fee into the loan. There are programs for first-time home buyers that can include financing some costs of repairs and remodeling into the loan (up to 103.15%), as well as a streamlined refinance program that allows veterans to reduce their interest rates without having to re-qualify.
When it comes to getting a VA loan through American Pacific Mortgage, there are unmatched benefits and no drawbacks.
How to Qualify for a VA Loan
To be eligible for a VA loan, you must have:
Don't make any assumptions about whether or not your credit history or income level will qualify for VA loans. Let one of our knowledgeable American Pacific Mortgage loan advisors help you with determining how you qualify and if a VA loan is the program for your home loan needs.

American Pacific Mortgage salutes our military heroes and we look forward to working with you to help you realize your homeownership dreams today.