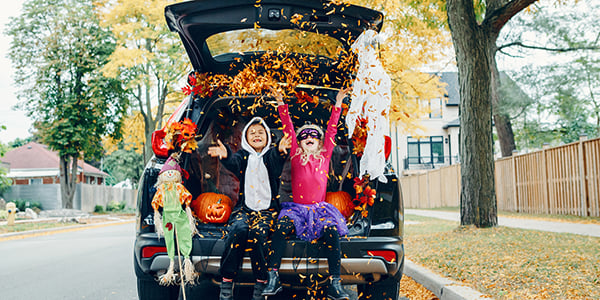 Halloween, as well as our everyday lives, looks a bit different this year. We're navigating through a pandemic and adapting at every turn. Halloween brings a unique set of problems when you have little ones, who sometimes plan months in advance for the big day. The good news is that we can still make it fun and safe for everyone with a little planning and creativity. Here are a few out-of-the-box ideas to consider: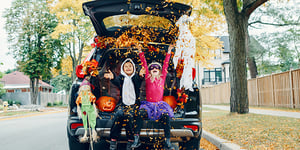 Candy Treasure Hunt: What is the highlight of Easter when you're a kid? The egg hunts! Try a similar idea for Halloween by buying plastic eggs in Halloween appropriate colors and designs to fill with candy and hide throughout your yard. Use glowsticks to light the way, or you can even order glow-in-the-dark eggs online. The kids will love hunting for treasure to fill their candy bags!
Self-Serve Trick-or-Treating: COVID has brought up the idea of physically distanced trick-or-treating, but how to make it special? Deck out the house to invite trick-or-treaters to come by and say hello. Set up a Halloween treat stand in your driveway with individually packaged treat bags and hand sanitizer, which allows you to still socialize with neighbors and praise the kids on their amazing costumes while avoiding or minimizing contact. Keep it simple by setting up camp at a distance and leave a bowl of candy out for easy access, or get creative and make a candy shoot or slingshot for some fun entertainment!
Drive-Thru Haunted House: Create your own drive-thru haunted neighborhood and involve the neighbors! Your entire street/block can participate to create a fun and spooky drive-thru experience. Each neighbor is responsible for decking out their house and yard with lights and inflatables, and they can even play some spooky tunes, or perhaps get some of the neighborhood teens to walk around the streets for an added bonus. Consider taking it up a notch and create one unifying theme that each neighbor plays a role in. Encourage kids to wear their costumes, and send out a flyer or message via Facebook to invite your whole community. One word of warning, however . . . be sure you are stocked up on plenty of candy!
Costume Parade: Get outside and let the kids show off those costumes by arranging a neighborhood costume parade! Social media messaging or invites on the doors on your street are a great way to get participation, and keeping it early allows for little ones to participate safely. Keep outdoors in the open air and at a safe distance so that the whole family can take part, and consider prizes for most creative, most spooky, or best family theme costume.
Host a virtual Halloween Party: Just because you are physically distanced doesn't mean you have to be socially distanced. Throw a Halloween themed Zoom Party with family and friends and let everyone join in the fun. Create a fun virtual backdrop and take turns showing off your amazing costumes, or even turn it into a contest to add a little friendly competition. Bust out the pumpkins and carving tools and enjoy some good company while you create your masterpieces to show off to each other. Enjoy snacks, beverages, and goodies appropriate for the ages of the participants and even incorporate some fun trivia games or share spooky stories.
Halloween in the era of COVID-19 sure isn't what we thought it would be, but with a little creativity and forethought, it can be fun—and might even spur the start of new traditions.