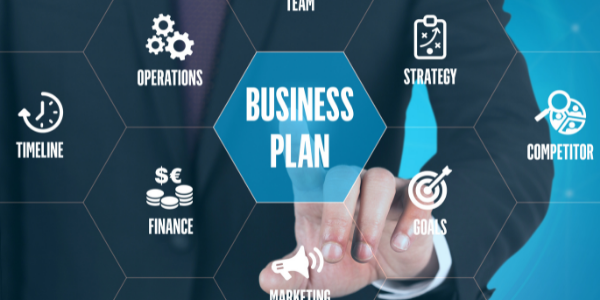 At APM, when we say, "We're 100% focused on making our branches and loan originators look good," one of the ways we do that is by providing extensive regional business planning each year. We're passionate about business planning because we know it's one of the ways to keep your business on track and growing throughout the year, even in a changing market.
Now that we're at the halfway point for 2021, and we know more about what lies ahead for the year, it's time to talk about mid-year business planning for loan officers. The first step is to revisit those plans you made at the beginning of the year to assess where you're at. If you're following our 90-day goal setting, you've checked in on and possibly tweaked those plans at the end of March, and now is your chance to reset again. With shifts happening in the industry and housing market, it's important to check in on your plan frequently to ensure your strategies still work.
This mid-year reset process is important because it will help you stay accountable to yourself and the goals you've set and also highlights opportunities to double down on your efforts or pivot if needed. So, dust off that plan and carve out some time over the next few weeks to review your business growth strategies. Let's talk about the major things you should evaluate.
1. Evaluate What's Working and What's Not
Here's the most important place to start when it comes to mid-year business planning for loan officers—what's working and what's not. Without a clear picture of your successes and failures, it's really hard to know how to allocate time and money resources going forward. This process may uncover things that aren't working as well as you thought they would, but it may also uncover surprising things that are really helping your business grow.
Here are some of the key questions to ask yourself:
What strategies have you implemented that are working?
What strategies do you need to modify?
What is no longer working?
Are you doing anything at all?
There's no judgment in the answers to these questions. Being honest with yourself and your team allows you to know how to best move forward.
2. Evaluate Real Estate Agent and Referral Partner Relationships
Next, here's a perfect opportunity to review your real estate agent and referral partner relationships to make sure they are operating at their full potential. Ask yourself:
Where is your referral business coming from?
Is it up or down from last year?
What strategies are you using to gain more (or consistent) business from your referral partners?
How could you add more value to these partnerships?
Take this one step further and ASK your referral partners to meet for a mid-year strategy session, approaching them from the standpoint of how you can be of service and help them grow their business. Make sure they know you care about how they are doing in this market, too. This strategy is how you cement long-term and highly profitable referral relationships. Read our blog about getting more referral business here.
3. Evaluate What You're Good at in Your Business
Loan officers who are learning, growing, and actively improving their business often find new things they're really good at in the process. What are you good at?
This might seem like an odd question to ask, but as you take on new tasks in your business, sometimes we surprise ourselves by really enjoying something new.
Maybe video marketing is your thing, or maybe it's hosting virtual seminars. If you've found a new part of your business that you love and has a good return on investment, now may be a great time to strategize how to make that activity more profitable for your bottom line so you can spend more time doing it.
4. Evaluate Sustainability
Evaluate sustainability. With each aspect of your business plan, it's important to evaluate the sustainability of the goals and strategies you've set.
For example, let's say that your goal is to close $70 million in production in 2021.
Is this sustainable for:
You and your team? Do you have the personnel to do this without working around the clock?
Is this a one-time or recurring goal? If it's a one-time goal, it might make sense to work around the clock for a year and take advantage of the opportunities the market is producing. If it's an ongoing growth strategy, you need to make sure you have the systems and team in place to help you grow and sustain that level of business.
Is this sustainable for you personally?
Evaluating sustainability is helpful for reducing burnout and being realistic about the current and long-term potential of your business. The answers to this may change as your business changes and the market changes throughout the year, which is why a check-in every quarter is so crucial.
5. Adapt as Needed
Adapt. That's been the name of the game for the past 16 months, and 2021 has already thrown us some curveballs and will likely throw us a few more before the year is over.
It's important that you stay nimble and be willing to adapt. If something isn't working after a couple of months, change it up—don't wait until the end of the year to do something different. Now is the time to cut out what's not working and replace it with a new strategy that can produce results for your business in the second half of the year.
Keep your business plan front and center in your day-to-day operations and set weekly or monthly dates to check back in on it, and then spend a little more time at the end of each quarter. Don't waste time, money, and effort on things that aren't working for you when you could make a pivot to something that is.
Whether you need help creating a business plan or need help pivoting, make sure to download the APM Guide to Business Planning in 2021 by clicking here.
If you're interested in making a move to a company that helps you create goals and plan your business, contact us by clicking here! We'd love to talk with you more about how we can help you grow your business.