Loan officers rely heavily on referrals as a source of business. Luckily, there are some key ways you can maximize your referral partners to keep steady business coming in. Remember, it's more cost effective to work a warm referral than it is to work a cold lead. So, it's wise to invest time and money on your main referral sources.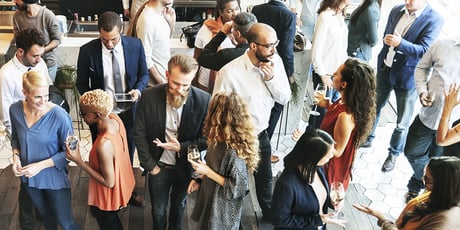 Consistency, as usual, is the key with mortgage referrals. Done right, a consistent referral marketing strategy will lead to a steady stream of business. Once you have a system in place to get loan referrals, the sky is the limit!
Partner with Real Estate Agents
One of the best ways to get referrals is to partner with real estate agents who want to work with a trusted lender, and then you just have to make sure that that lender is YOU! Starting out, it may be easier to target newer agents to partner with. Over time, as you establish rapport in your community and industry, you will likely be able to attract more seasoned real estate agents.
Make sure to reciprocate the favor! Ask the agent what they would like to get from you and how you can be of most help to their business. For more ideas for marketing to real estate agents, check out our article here.
Partner with Home Builders
Partnering with home builders selling new construction developments is a great way to generate new referrals for your business. After all, what they want most are qualified buyers to purchase their homes quickly, and they know that finding qualified buyers can take a lot of legwork.
You can help them by streamlining the buying process for potentially interested buyers. You can offer to qualify buyers so the builder doesn't have to do it. This is a real service to them and also gives them incentive to have buyers work only with you.
The APM Keys on Time program offers something builders want—an on-time closing! This program offers the builder peace of mind with an early or on-time closing. If we don't close on time, APM will issue a closing cost credit to the buyer.
You can also offer to create co-branded marketing materials to help your builder advertise and bring attention to their new home development. Driving new traffic to their site is a big benefit to the builder and shows your commitment to their success.
Stay in Front of Current and Past Clients
Satisfied past clients will be your very best source of loan referrals. And these are usually very warm referrals, too. People place a lot of value on recommendations from friends and family (especially in this day and age, when it's so easy to ask others for recommendations on social media).
If you get a referral from a past client, it's worth jumping on it right away.
But if past clients can't remember what loan officer they used (or don't know that you are still in business), it's impossible for them to refer you to someone else who's looking for help with a mortgage. This is why it's so important to stay in touch and remind people that you're here!
The best way to get a referral from previous clients is to stay in touch with them on a regular basis in a personal way. When someone asks for a mortgage recommendation, you'll be the first one they think of. Don't be afraid to occasionally remind your previous clients that you're never too busy to help friends and family who may be looking for a loan.
Email
One way to stay in touch with all of your referral partners and clients on a regular basis is to send frequent email updates with valuable content. Reach out to them once or twice a month with information they may find interesting. This might be information about a rise in home equity, interest rates that might tempt them to refinance, or a newly released loan program that can help your realtors close more deals. These emails don't have to always be related to mortgage (nor should they be).
Social Media
Another good way to stay in touch with people is to meet them where they are every single day—on social media. Don't be afraid to interact with people on social media on a regular basis. This goes such a long way toward building solid relationships. If people feel like you're a friend, you better believe that you're going to get all of their referrals, too.
Social media platforms are an especially good place to post video, which people are particularly likely to click on. Video does a superb job of connecting with people and building those personal relationships that lead to more loan referrals.
Remember Special Occasions
Don't forget special occasions in your clients' lives like birthdays, anniversaries, and holidays. It's also a nice idea to remember the date they bought their home (and it's a great time to offer them an annual mortgage review).
For more info about connecting with clients on social media, see our article about this topic here.
Talk to Friends and Family
Are you tapping your friends and family with feelers? Do those who know you best know that you are looking to expand your business? Do they know what loan services you provide? Don't assume that they already know exactly what you do.
Plus, people who know you best may think you're too busy to take on more work. Remind everyone that you're never too busy for them or their referrals.
Ask for Reviews
Reviews are the most valuable social currency. While getting a 5-star review is not always within your control, excellent customer service and simply asking for a review can go a long way toward helping you build a referral business.
When someone hears your name and is considering you for a mortgage, do you know what they're going to do before they do anything else? Chances are, they're going to Google your name or visit your Facebook business page to see what people are saying about you. That's why it's so important for people to like what they see (seeing no reviews is not much better than seeing bad reviews). Good reviews will go a long way toward making sure the referral follows through with contacting you.
Have a system in place for asking clients for reviews and then make it as easy as possible for clients to leave them for you. Give them brief instructions on leaving reviews through your review system like Google, Yelp!, or Facebook. If you can, give them several options for places where they can leave reviews. Letting them choose the site they're most comfortable with makes it much more likely that people will take the time to leave reviews. At APM, we have an automated tool that will do this for you and make it easy for your clients to leave reviews on multiple platforms. You just select the review sites and share them to social media.
Also, make sure you're regularly monitoring your reviews. Some review platforms will alert you when new ones come up. You may also want to consider signing up for free Talkwalker alerts or Google alerts, which will let you know when your name or business has any new mentions on the internet. It always pays to know exactly what's being said about you.
Build Community Relationships
Don't underestimate the value of building relationships in your community. Mortgage is a service-based business, and those relationships will continue to cultivate referrals for you.
Spending time at community events means that your name and face are in front of more people in a low-pressure setting. Showing up at these events shows that you care about the community and making it a better place to be. And you just never know when the conversation is going to turn to someone needing a home loan! (It happens more than you might think.)
Partner with Educational Institutions
Partnering with educational institutions is a fantastic way to build a huge network of referral partners for your business.
Contact a local high school or college and offer to come in and talk about building and protecting credit, saving money, and other basic financial topics. There's a great need for qualified teachers to speak about financial literacy in schools.
Speaking opportunities like these are a good way to solidify credibility as a loan officer and get in front of many future homeowners. You could also create handouts with your contact information on them, which may end up in front of parents and substantially increase your network. Professors and teachers may become valuable referral sources, as well.
Partner with Financial Planners
Financial planners can be a particularly good source of high-quality leads. People who have a financial planner are more likely to have their finances in order (including higher assets, higher credit, and well-documented income) and are more likely to qualify for a mortgage or refinance. Plus, they likely already trust their financial advisor, which means that it's more likely they'll trust you, too. As usual, think about what you can bring to the table in this partnership. After all, it needs to be a two-way street.
Financial advisors will be eager to work with you if you bring something to the table that enriches their relationships with their clients. And you know that mortgage planning strategies can help solve financial problems related to retirement, liquidity, taxes, and more. There's so much expertise you can share that will really help their clients.
A quarterly mortgage review is another valuable thing you could add to this relationship. This gives financial advisors incentive to get permission from clients to share their information with you.
It's Worth Taking the Time to Cultivate Loan Referrals
Like we said at the beginning, it's worth taking the time to make sure you've thought through all of your possible loan referral sources and have a plan for them. These are the activities that keep your business going, and you can't go wrong by investing both time and money into them.