If you're wondering how to set yourself apart as a loan officer in the new year, we've got 5 tips that will help you outshine your competitors in 2020. In a world where loan officers offer much of the same information, similar loan programs, products, and interest rates, offering a unique value proposition is important to your success. Luckily, with just a little effort, you'll stand out over your competitors in no time!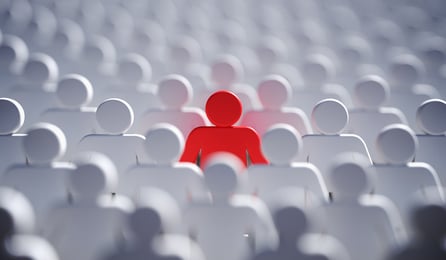 Tip 1: Create a Strong, Consistent Visual Identity
Our first tip is to create a strong visual identity. This visual presentation should be the same in print and online so people can easily recognize you in their feed or in their mailbox. Your branding should reflect your personality and what's important to you, as well as be appropriate for the clients you serve. Your visual identity should highlight what makes you, you.
The stronger your brand, the more people will want your services. In today's world, a crucial piece of that brand is how you look. We're inundated with high-quality elements and photographs, and you can't afford to be left behind. That's true even when you're in mortgage industry. Visual content is often more compelling than written content, and good visual content helps written content get more attention.
Branding for mortgage does not have to be boring. First, think about your audience's needs and wants and how you want them to feel when they come across your content. What's your story, and how do you want it to be reflected? Think of those whom you're speaking to: their age, gender, income, occupation, education level, etc. These are important factors in developing a visual identity that resonates.
To develop a compelling visual identity:
Use a strong logo with a clear color palette and typography
Create a brand statement or tagline that demonstrates how you help your clients
Instead of standard headshots, use lifestyle photos that show off your personality
Weave your personal story into imagery whenever possible
Use both professional and amateur photos and videos—carefully curated photos and videos you create yourself often get better engagement because they're authentic
A cohesive and authentic visual identity will go a long way towards making you quickly recognizable amongst other loan officers. It's easy to forget a loan officer who is only posting company content; it's very hard to forget a loan officer who is sharing real life and their expertise.
Tip 2: Develop a Niche and Become Known for It
Many loan officers are afraid to pick a niche because they don't want to lose business by catering to a select group of people. Surprisingly, narrowing your focus can actually be the thing that brings you a lot of new opportunities. For many loan officers, the saying "if you try to market to everyone, you'll market to no one," couldn't be more true.
Creating a niche for yourself gives you a competitive edge because it helps you hone your messaging (and marketing). You'll improve the experience of both borrowers and realtors by making your talking points more specific. Identifying your niche also helps you allocate resources more efficiently.Are you the VA loan lender? Do you know FHA loans like the back of your hand? Do you have a knack for helping first-time home buyers figure out how to buy a home in a tough market? This is what makes you unique, so sell yourself as that lender.
Think about your specific market, the ideal client, and your personal expertise. What makes you different? What do you want to make you different? What types of clients do you want to work with?
Geographic
You likely have a geographic niche of some kind already, unless you're licensed in all 50 states! You may want to narrow that down further to focus on a radius around your area. Many clients and realtors still prefer to work with a local lender who has a feel for the market around them. Many also want the more personalized service that comes with working with someone in the same community our surrounding area. Think about how you can incorporate your local involvement into your brand.
Client
You may want to market to a particular group of customers. This often increases borrower engagement because you're so laser focused on a specific group of borrowers. The better you get to know the needs and desires of that group, the better you're able to reach them in the future. Some focus on first-time homebuyers, veteran borrowers, retirees, or another group that needs specific mortgage services.
Product
Maybe you're an expert in a particular product, and you know a lot more about getting those loans done than many other loan officers do. If you specialize in FHA, USDA loans or reverse mortgages, don't hesitate to let people know why.
Once you have a niche, work on connecting the dots between your audience's needs and how your services help them (if you have a brand statement like we talked about above, this is likely very similar).
Creating a niche for yourself often also helps you create a name as the go-to person for that niche. Don't miss that opportunity!
Tip 3: Personalize Your Automated Marketing
By now, you likely know what a timesaver automated marketing is. You don't have time to spend all day marketing. If you did, you'd be a marketer rather than a loan officer! In truth, you shouldn't spend all your time marketing. But a common pitfall of automated marketing is that it starts to sound like, well, automated marketing. That canned content doesn't do much to establish rapport with clients, and many loan officers let the pendulum swing too far toward automation.
With a little behind-the-scenes work, you can build out sophisticated marketing automation that will do a lot of the work of staying in touch with people for you in a personalized way. You still need to custom, personalized content to build relationships.
Think about Facebook. Facebook uses a lot of data to automate what feels like personalization to you, even though the process is highly automated. They know that people want to see things that are relevant to them, and your customers are the same way.
Here are some unexpected ways to create a personalized experience for your clients:
Sprinkle some personal touches into automations. If you sent out an email nurturing sequence for new leads, that's great! But you should also have a real, live person follow up with that person at some point—it'll make the emails seem much more personal.
Adding a video to your emails and social posts can make them seem more personal because they feel more like you are actually talking to the people listening.
Build customer personas by asking people questions in your sign-up forms and emails about their interests and needs. Pay attention to your engagement on social media. With that data, you can create buckets of people and serve them content that meets their needs. On the most basic level, this might mean sending different content to renters than you do to homeowners, but with that personalized content, you can take automations to a more sophisticated level.
Set up automatic texting so that leads hear from you within the first five minutes, and then have a real person ready to respond. Today's tech-savvy generation expects to be contacted more quickly than ever. Otherwise, you risk them moving on to someone else.
Automation can help you get someone's attention, but you'll need to add some personal touches to keep it your clients more engaged.
Tip 4: Utilize Video to Connect with your Audience
You may have heard about video platforms that can help you create meaningful relationships with prospective and repeat clients in the mortgage industry. Video is heavily prioritized by social media platforms' algorithms, and people often are more interested in consuming video than they are in consuming written media. (For instance, many of our loan officers use BombBomb because it's a quick way to record, track, and send video messages to clients.)
People find videos more engaging, more memorable, and more popular than any other type of content out there. Video as a means of storytelling and advertising is no longer a nice option – it's a necessity. If you want to increase conversion and exposure, a video marketing strategy is the only way to go. Here are a few ways you can stand out:
Go live: Facebook's Live video feature might not be the hot new thing anymore, but live video certainly has a place in 2020, especially on Instagram. Consider going live to answer questions for people or to share snippets of your day. While we can't say exactly where live video will end up, it's likely here to stay, so keep experimenting!
Teach something: There's a huge demand for videos that educate and train, and as a loan officer, you can help educate people about many things. But these videos can be very dry, so make it fun by sharing stories and information in an interesting way. Also, in 2020, more people are expecting video to SHOW rather than to just explain. You could also create a YouTube Channel and upload educational videos like this weekly—people are already searching for this how-to content, so be the one to teach it to them.
Stories are another thing that are here to stay. These off-the-cuff videos lower the bar for video (in a good way). Nobody expects a professionally shot and edited stories. They also provide an intimate connection through video. It is said that people retain 95% of a message when they watch it in a video, compared to 10% when reading it in text.
Caption your videos. More and more people are watching videos silently and just reading the captions. Make sure you're catering to those people by adding captions to your video. Facebook will autogenerate them for you, but they'll likely need some editing if you choose this option. com is also an inexpensive and quick option for transcription.
Video changes all the time, but one thing we feel confident saying is that you should be doing a lot of it this year.
Tip 5: Build Relationships
Today's marketing is all about who you can build relationships with, including past clients, current clients, referral partners, and realtors. At the end of the day, never forget that the mortgage business is all about building relationships. Are you taking the time to nurture those relationships?
If clients or realtors know, like, and trust you, they'll be much more likely to work with you than a loan officer they know nothing about. Maintaining and building online and in-person connections is well worth your time.
One of the best ways to do this is to share personal tidbits from your life, which people have an easier time engaging with than mortgage-related content (and frankly, they often find it more interesting). By sharing things outside of your industry (in addition to mortgage content), you give people a reason to continue to pay attention to you. To like you, they have to get to know you.
It's also crucial to remember that no matter whom you're trying to build a relationship with, constantly think about how you can serve them. This is particularly true with realtors, who are used to being bombarded by loan officers interested in working with them. For more ideas about marketing effectively to realtors, see this article.
We hope this helps give you some good ideas for standing out amongst other loan officers in a competitive 2020 market. Any of these tactics are sure to give you an edge!