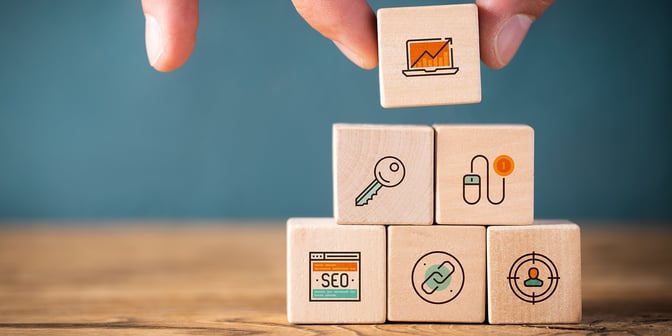 Having a clear mortgage marketing plan is essential for increasing exposure, maintaining an online presence, creating brand awareness, attracting leads and let's not forget, the number of real estate loans you close. To get there, it's imperative to have to have a well-rounded mortgage marketing plan coupled with an effective strategy that is executed daily.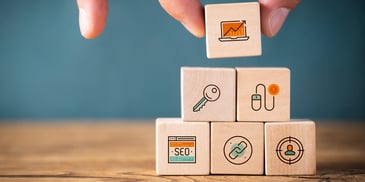 Create a Diverse Mortgage Marketing Plan
A diverse marketing plan is important for several reasons. Marketing efforts that rely solely on one platform are limiting their exposure to different audiences and consumers. Only using Facebook, e-mail marketing, or relying on one or two realtor referrals limits your ability to do business with other people outside of those networks.
So what does a well-rounded mortgage marketing plan look like? At a minimum, a mortgage marketing plan should consist of six components. These marketing tools all work in tandem to give your marketing efforts the most reach possible in the industry.
We've outlined channels that could be considered in your marketing plan, but that doesn't mean you have to do them all. At APM, we recommend picking the channels that work best for you and executing them to their fullest potential.
Speaking
This could include speaking at realtor events, community events, or other places where a lender's expertise is needed. Think outside of the mortgage box—there are many places you may be qualified to talk, including financial and retirement classes at the local community college, at a financial planning event or other events where finances and mortgage products are being discussed.
Workshops
People are always in need of good information about the home buying process. Getting in front of people through first-time homebuyer workshops, a VA loan workshop or something similar, can be a great source of referrals for your business. You may also want to co-host workshops with realtors and other professional partners who would benefit from your expertise about the mortgage loan process. By attending such workshops and open forums, you will be able to learn new tricks of the trade, like loan advertisement ideas for different consumer segments.
Community Involvement
It's hard to replace the credibility and trust that come from being involved in the community. Consider joining a local service club, like Rotary International or Altrusa International (or other service clubs with a visible presence in the community).
Other places where you might be needed are local boards or committees that are looking for reliable professionals.
Community Events
Show your face at local community events to make sure as many potential customers as possible know who you are. Bonus: the conversation could turn toward getting a mortgage any time, so have your elevator pitch ready. Charity events are a nice way to show that you're willing to donate your time and money to better the community, especially if this is one of the core values of your target audience.
Event Sponsorships
Speaking of charitable events, many need sponsorships or donations to hold an event. This is another way to get your name out there as a mortgage originator and support local causes in your community. Sponsorships are a great way to create visibility.
Social Media Marketing
Everyone's talking about social media marketing as a great way to increase brand awareness. APM recommends that you pick a few platforms where your potential customers are—Facebook, Instagram, LinkedIn, Twitter—and use those platforms well. Place some ads, run a campaign, or leverage video marketing on these social platforms as a way to engage your target audience. One of the most important things to remember about social media marketing is to speak to your audience. Your consumers are not always the same from platform to platform so make sure you are paying attention to your content so that it's relevant for your following. To learn more tips on social media marketing check out our post here.
Email Marketing
Email marketing is another great way to stay in touch with past clients, referral partners and prospective clients in the digital marketing world. One or two emails a month, jammed packed with information people actually care about and solidifies your expertise as a lender. And don't forget to acknowledge special events like birthdays, anniversaries and mortgage closed dates for your past clients. This is a powerful way to reconnect and keep yourself top of mind in the industry.
Direct Mail Marketing
Direct mail marketing isn't dead…yet! Sending postcards and flyers about neighborhood news, loan opportunities, or birthday/anniversary cards can be a great way to connect with your non-digital clients. The great thing about direct mail is that it's highly targeted. It's also a natural way to build your brand and trustworthiness over time.
Paid Ads
Paid ads are a must on Facebook and Instagram, and they can be helpful on other platforms (like Google), as well. Paid ads are a way to increase brand awareness to an audience that may not know you. They can also encourage people to take certain actions, like sign up for an email list, call for a mortgage-related service, or opt-in for a freebie from you.
Paid ads can also include TV, newspaper, and other types of print ads, which may be a smart move depending on the demographic you're trying to reach.
Website Marketing
Your website, when done properly, can bring people to it through organic searching (like people who are searching for a mortgage on Google or another search engine). This means you're getting people who actively want your services instead of trying to entice them to come to you.
Blogging regularly on your website is a good way to showcase your expertise, build a library of content for potential and current clients, and have regular content to syndicate on social media and to emails.
So, how do you put all of this together to create a plan that brings in the consistent leads your mortgage business needs? (And if you need more information about marketing, check out our guide to loan officer marketing. A well-written mortgage marketing plan can do just that.
Referral Marketing
Referral marketing is a must! If you don't have referral marketing dialed in, it's unwise to spend money on other platforms because this is the bread and butter of your mortgage marketing plan. This means that you regularly stay in contact with people who you've done business with and refer business.
Referral marketing likely includes creating useful social media, paid ads, email, and print content specifically for realtors and other groups of people who may refer you. It also likely includes going to community and professional networking events to connect with people in these groups. It may mean holding client appreciation events and following up with clients on special anniversaries or dates.
Database Marketing
Don't neglect your database! They are some of the most likely people to give you referrals and repeat business. A good call-to-action can encourage them to reach out to you at opportune times.
Database and referral marketing have some overlap, since you may get referrals from your database. This kind of marketing likely includes email, social media, website, and paid ad marketing to people in your database.
Lead Generation
Lead generation is widening your sphere of influence to reach people you haven't been in contact with before. When done correctly, this can bring you a steady influx of new business, but we recommend that lenders hold off on it until they've got their database and referral marketing down solid.
Lead generation likely includes paid ads of some kind, website marketing (with landing pages), email marketing, and possibly retargeted paid ads or boosted social media posts. This is called creating a sales funnel, where eventually, people will want to do a transaction with you. Check out our article about lead generation.
Putting Together a Mortgage Marketing Plan
Now that you've decided what kind of marketing you want to do, it's time to put together the plan.
1. Strategize
Laying the proper foundation for your marketing plan is critical. This is how to make sure you know what you're doing and why.
Understand your client avatar: Understanding your ideal client is extremely important, especially when you are considering your marketing message. Who are they as a person (married, unmarried, how much household income, etc.), why do they want to work with you and what are their pain points.
Understand how you can help: It's not enough to just consider loan programs and products when you're considering your value proposition. Your ideal client has needs outside of the loan process that should be considered BEFORE you start marketing to them. How do they like to communicate, what's their schedule like, do they have a specific challenge as it pertains to the loan process?
Create the messaging: Connect your ideal client and their needs together and this is what becomes your marketing message. Tell them who they are and why they need what you. This is the overarching message for your marketing.
2. Decide Which Platforms to Use
Next, decide which platforms are best for reaching and connecting with your ideal client. Some of this will also depend on whether you're doing database, referral, or lead generation marketing.
3. Set Marketing Goals
No matter what you're trying to accomplish, it's helpful to set a goal. Whether it's getting a certain level of engagement on Facebook posts or getting a certain number of signups via a landing page, it's hard to measure the success of marketing initiatives if you don't have a target in mind.
4. Pick Content Topics and Create a Calendar
Once you've decided where you will actively market and what medium to use to deliver your message, it's a great idea to come up with a content calendar complete with topics. This doesn't mean you can't do spontaneous posts. It just means that there's good content going out even when there's no time to post.
When creating a content calendar, always keep in mind:
What questions do clients have?

What kinds of things do you explain repeatedly?

What things do clients need to know?

What are current events happening in the mortgage industry?

What are clients talking about on social media?
Now that you've decided who you're marketing to, how to do it, and when to do it, all that's left is to execute the plan! You can always make tweaks along the way and it's a good idea to check in on your mortgage marketing plan once a quarter to measure effectiveness. If something is not working, change it up! If something is working great, you may want to increase your efforts and budget to maximize return on investment.