Not every buyer is in the market for a move-in-ready, single-family home. Just as each borrower has their own unique financial background, employment situation, and credit history, loan officers must also consider property types when matching customers with the mortgage that makes the most sense for their homebuying situation.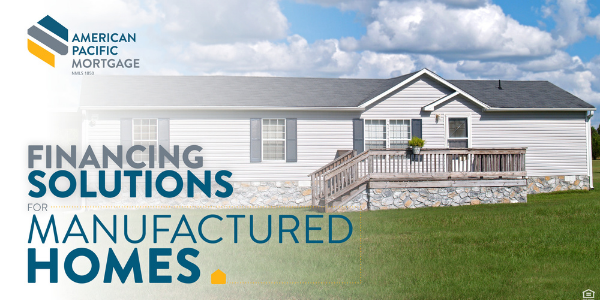 American Pacific Mortgage (APM) provides an expansive suite of products that fit the needs of every property type. From non-warrantable condos to new construction, fixer-uppers to investment properties and manufactured homes, APM provides the lending solutions loan officers need to compete and win business in today's housing market.
Manufactured Housing
According to the Manufactured Housing Institute, more than 22 million Americans live in manufactured homes, and there are currently 8.4 million manufactured homes in the U.S. This home type makes up 9% of new single-family home starts, and 71% of manufactured homeowners cite affordability as the reason they chose to purchase a manufactured home.
As these homes are less expensive to build, manufactured housing continues to be a cost-effective solution to the challenges buyers face in today's market, and they're in high demand.
At APM, we offer loans for different types of manufactured homes, including single-wide homes and manufactured homes that are more than 10 years old. We also provide renovation financing for manufactured homes as part of our specialty product suite.
Renovation Loans
According to the 2021 Houzz Renovation Trends Report, home renovation spending has increased 15% over the previous year to a median of $15,000. Top-10% budget projects grew from a median of $80,000 in 2018 to $85,000 in 2020. The report also noted that 56% of homeowners surveyed planned to renovate in 2021, the highest share since 2017.
With more homeowners opting to stay put and improve their homes, and buyers looking to make renovations to aging homes, access to an expansive suite of renovation products is a must-have in today's market.
Our renovation home loan benefits include purchase and refinance transactions, multi-unit owner-occupied properties, single-unit second homes and investment properties, manufactured homes, fixed-rate and adjustable-rate mortgages, and more.
New Construction
Some homebuyers want an existing home that's move-in-ready, but many others want to build their dream home from the ground up. At APM, our loan officers can work with builders directly through our in-house construction lending department to meet the needs of their new-build buyers.
APM's national construction lending manager has over 25 years' experience running high-volume construction lending and expertly guides our loan officers through the construction loan process, including managing builder approval, draw requests, and everything else between breaking ground and moving in.
With up to 90% financing, post-construction and extended long-term rate locks, and timelines that exceed typical building parameters, we're helping our loan officers dominate the new-construction market.
Investment Properties
Real estate continues to be a sound investment. A recent report published by Zillow.com said U.S. home values went up 20.9% this past year alone—a number that is no doubt catching the eye of real estate investors and those looking to add real estate investing to their portfolio.
Today, individual real estate investors account for 72.5% of rental properties in the U.S. (Pew Research Center). It's important to have financing solutions for your investor clients.
At APM, we provide flexible investment property and jumbo financing solutions designed to fit the needs of today's investor.
Program benefits include:
Loan amounts up to $3 million
Credit leniency for bankruptcy, foreclosure, and late payments
Higher DTI (up to 50%)
Cash-out refinance up to $500,000
Bank statement–based income documentation
And more!
Condo Financing
Condos continue to offer many benefits for buyers—they're often more affordable and require less maintenance, and many come with community amenities that single-family homes can't compete with. But condos also carry their fair share of challenges when it comes to financing.
At APM, we offer solutions for our condo buyers with loans that break the mold of conventional property financing. Our loan officers have access to programs that offer flexibility for various condo purchase scenarios, including foreign nationals, expanded DTI with ample reserves, non-warrantable condos, delayed financing, and gift funds on non–owner occupied purchases.
Luxury Homes
APM jumbo financing solutions were created to support borrowers who are looking to maximize their buying power with flexibility in how they do it. Some of our jumbo financing benefits include higher DTIs and alternative income documentation.
Our portfolio of jumbo loan products also includes 1st and 2nd, more than a dozen delegated jumbo solutions, and delegated underwriting up to $3 million.
APM loan officers also experience the perks of having an in-house jumbo lending team that provides years of expertise in solutioning and supporting all things jumbo financing.
Nontraditional and Specialty Loans
Additionally we've got a suite of non-QM products that help fit the needs of today's borrowers, from ITIN loans to bank statement income documentation to credit and DTI flexibility and so much more. To learn more about our borrower-focused financing solutions, click here.
At APM, we pull out all the stops when it comes to making our loan officers look good and helping them compete and win business in today's market!
If you're ready to grow your business with APM, click here to connect with our team and request a compensation analysis of what your income would look like by partnering with APM.