Video can be an effective marketing tool as you grow and cultivate your business. It allows your personality to shine, while positioning you as a trusted authority for your viewers. Speaking of viewers, this audience will feel like they've really gotten to know you after you've established a solid video bank.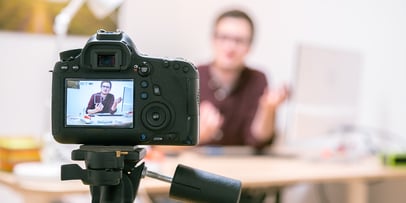 So, let's hop to it and get your video marketing strategy off the ground!
Blocking the Shot
All videos are not created equal, and oftentimes this comes down to production. You don't need a professional camera and lighting display to create an informative video. You can do most, if not all, of the work on your own. That's the beauty of social media marketing. Viewers appreciate the one-person show! Nevertheless, you are a professional, so make sure your mortgage marketing strategy and videos convey that.
This starts with choosing an effective background. A tidy office space works great for this, whether it's a home office or an office-office. You can sit at your desk with a few strategically placed items – neatly organized files, a small stack of industry-related books, a picture of your family or an award – behind you. If you'd rather stand, a bookshelf with similar items works just as well. You'll want to turn off or cover any lighting that is positioned behind you. Close the blinds, turn off any desk lamps, etc.
Next, you want to work on framing. If you're using a smartphone, tap the forward-facing camera to see what your shot looks like. The typical rule for mortgage professionals is to shoot from mid-chest up, with a little room to spare on the sides. You want to take up two-thirds of the frame, but not the whole frame. Sound-wise, lavalier microphones (the ones you see news broadcasters wearing) are cheap enough, but you can also use wireless headphones.
Talking Points for Loan Officer Video Marketing
Once you've settled on a theme – whether it's a loan officer introduction, or a video that focuses on a certain product or housing trend – you'll want to get your talking points in order. Jot down the three major takeaways for viewers, and start to build from there.
For example, an informative video on why this is the best time to buy a home may focus on:
Debt is cheap…"attractively low interest rates"

Prices are negotiable…"sellers are motivated as many fear they may have missed the market high and are anxious to sell"

Less competition…"Homebuilders are extremely active – and with more homes being built, there is less competition and bidding wars"
Your takeaways will vary depending on the video topic. However, you'll want these takeaways to motivate a potential borrower to reach out and make that appointment with you. Loan officer video marketing should focus on a few specific messages, including cost, convenience, customer service, transparency, thought leadership and ease of communication. No video will tackle all these attributes, but if you know what motivates a borrower to pick up the phone, then you know what should come across in your videos. You should also end each video with a "call to action" where you tell the viewer how they can get ahold of you.
Be Yourself
Your mom has been telling you this for years…and she's right! It is crucial that the true, authentic you comes through once you begin shooting. Effective loan officer video marketing clips are all about letting your personality shine. If you're funny, be funny. If you're known for putting your clients at ease due to your confident, knowledgeable nature, then let that come through. If you typically have a casual, laidback attitude with your clients, do that. Whatever makes you feel like you is the effective approach for these videos.
Your viewers can smell inauthenticity a mile away. Videos are no different. You already know you're selling yourself, so make sure your best "product" is front and center. Plus, you'll be more comfortable in front of the camera if you get to be yourself. It's a lot harder to try to portray something – or someone – that doesn't come naturally. So take a page out of Mom's handbook, "Be yourself – everyone else is taken."
Practice Makes Perfect
There is no "right" way to film an informative video when it comes to mortgage marketing. Some mortgage professionals feel they're better if they simply talk off the cuff. Others like to memorize a short script or even use a teleprompter app. The best strategy here is the one that works for you. However, that doesn't mean you shouldn't prepare.
At the very least, you should identify your three takeaways and how you plan to use this video to market them to borrowers. Some people find it helpful to talk in front of a mirror or into a smartphone recording app to see how their speech sounds before hitting the little red record button. Others would rather get right to it, knowing they're free to shoot as many warm-up takes as they like. This is another important thing to remember…people say the camera isn't forgiving. The camera is very forgiving. You're not broadcasting live on CNN. Feel free to shoot – and erase – as many takes as needed. You want to put your best foot forward…that rarely happens on the first try!
Broadcasting to the Masses
Now that you've shot your informative video, you're ready to distribute it. Creating an effective video as part of your overall marketing strategy is an investment in your future success as a loan officer – so make sure that investment pays off! That means getting your video in front of as many viewers as possible, which includes social media marketing. The video (or link) can be distributed to your mailing list, but it should also be hosted on a site of your choice, such as YouTube, Vimeo or Wistia. It should also be featured on your Facebook, Instagram and LinkedIn pages.
Speaking of social media marketing, this can be a great platform once you're comfortable enough with video to shoot them in an impromptu fashion. Facebook Live, Instagram Live, TikTok and SnapChat open up an entirely new way for you to communicate and interact with your potential customers. On-the-spot videos also allow mortgage professionals to respond directly to a publicly posted comment or question. This is one of the most effective uses of video out there today!
As you can see, the world of broadcast opens up a whole new audience to your business, while strengthening the connections you have with your current customers. Though this is not a no-investment option when it comes to time, energy and sometimes actual money (depending – a smartphone and headphones will get you pretty far), mortgage professionals typically find it is well worth the "cost" when you consider its effectiveness. So tap that camera function on, engage the forward-facing lens and start practicing. We know that smartphone is in your hands anyway!