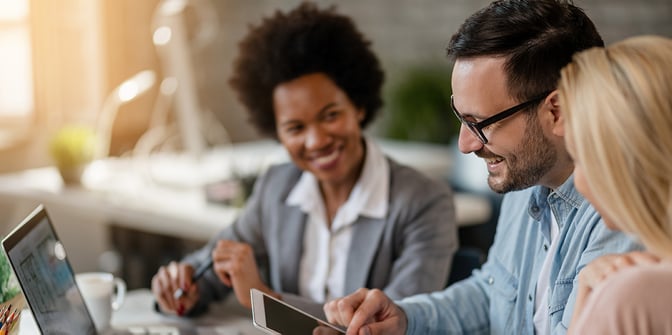 There's no doubt that mortgage technology can improve a customer's experience throughout the loan process, creating ease and efficiency during an otherwise cumbersome transaction. Technology allows you to stay connected through convenient forms of communication like video email, text messaging and social media. That said, relying too much on technology can make customers feel that you're too busy to take the time to sit down face-to-face and answer their questions. Even the best technology can never replace human interaction.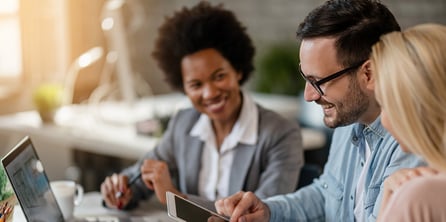 Loan originators should use technology to increase, rather than reduce, their connection with a customer. After all, the mortgage industry is a service-related industry, and it's important to make sure that clients feel comfortable at all stages throughout the process. And let's not forget, buying a home is one of the largest financial decisions most people will ever make. Oftentimes, the decision to buy a home comes with feelings of being overwhelmed, uncertainty, excitement, and a lot of questions. While technology can support the loan originator, it does not replace the need for a trusted advisor to help navigate the mortgage process.
Here are some of the ways our APM loan officers are using mortgage technology to grow their businesses and increase engagement with their clients right now.
Mortgage Technology: ENGAGE
Have you ever gone to a networking meeting, sporting event or community cause and had someone walk up to you, introduce themselves, and say they watch your videos on Facebook and find the information you share valuable? Or maybe they mention that they read your weekly market update email. That's what we mean by engaging with your audience.
Technology has made it easier than ever to engage with prospective, current and past clients, and expand your network of referral partners in a truly authentic way. Engage your audience by providing valuable educational content through social media channels, email marketing and your website. Add in carefully targeted digital marketing efforts, and you can expand the delivery of that message to people, at the right time, on the right channel.
Engage with the Right Content at the Right Time
One major benefit of mortgage technology is that it can collect and store data about clients and potential clients so you can make informed decisions about the kind of content that will be most relevant to them at whatever point they're at in their lives. Nothing will make people tune out faster than irrelevant information, but it's also true that nothing will make them pay attention more quickly than if they need to know what you're telling them. People are trusting you to send them information that helps them right now, so don't ever break that trust.
At APM, we have a library full of content ready to publish at any time, on any platform. Social media content, print fliers, co-branded marketing materials, and customer journeys for first-time home buyers, move-up buyers, past clients with refinance potential, realtors, referral partners, and SO much more. This content is designed to help you engage and connect with customers and referral partners.
You can also engage your audience with hyper-customized content and messaging. For example, send a video email to let your first-time home buyers know about a local down payment assistance program that may be a good fit for them. Or, let a past client know that rates are at their lowest point in the last three years and that they may be able to save on their monthly payment with a refinance. For tips on videos, check out this blog post.
Mortgage Technology: CONNECT
Once you've engaged customers or referral partners, it's time to work on creating a connection that keeps you top of mind. Here are a few of the innovative ways we're using mortgage technology at APM to create connections that matter.
Stay Connected with the APM Mobile App
The APM Mobile App is designed to meet the user where they are at when they need you most…on their phone! With the APM mobile app, customers can stay connected with the realtor and the loan officer in one place at the touch of a button in a unique, co-branded experience. Create ease, efficiency and connection with both the lender and the realtor.
The APM mobile app also allow users to calculate monthly payment scenarios while looking at houses with their agents. Instead of wondering whether or not they can afford the payment the home requires, they can just log in to the app and see it right there. Users can also submit all loan documentation by pointing, shooting and uploading. The process is easy, painless and secure.
Consistently Nurture
Our industry-leading CRM helps loan originators eliminate the gaps in contact throughout the customer journey by nurturing clients before, during and after the mortgage process. This means sending the right message, at the right time, using the right medium, and adding in customization and human connection whenever possible. There are many points before, during, and after the mortgage process where you can make a connection with people, and a customizable CRM and marketing strategy allows you to do just that.
Mortgage Technology: AMAZE
Mortgage technology allows you to create ease through the loan process with tools and resources that make the customer's journey simple and efficient.
Amaze Through Education
There are technology tools available (that are getting more and more sophisticated all the time) that give customers a better understanding of the numbers and loan options available. We've found that these tools reduce rate shopping and increase your pull-through rate. Instead of using standard mortgage forms to explain a rather complex process and multiple loan scenarios, you can educate your customers with side-by-side comparisons, easy-to-understand charts and graphs, and cost-over-time analysis.
By leveraging technology that makes the mortgage process less daunting and easier to understand, you'll exceed expectations right out of the gate. By presenting all the options to your client and allowing them to make an informed decision, they will have a complete understanding of the loan they're getting and look to you as their trusted advisor. And we all know that trust is how you create repeat clients and gain customer referrals.
Become a Trusted Advisor
Speaking of becoming a trusted advisor, people aren't just retiring on 401(k)s and savings; many people are retiring on home equity. That means that loan originators are actually in the business of helping people plan for the future. Being there to help people make decisions throughout the entire life cycle of their home is added value that technology helps us provide.
Innovative mortgage technology allows you to stay connected to customers long after the close by providing tools and resources your customers need and want. For example, present options that help people utilize their home equity. Capitalize on opportunities for them to refinance to a lower rate or term. Understand the income opportunities their home possesses when they are considering whether or not to sell or rent.
Helping people understand and utilize one of their largest assets to create long-term wealth builds long-lasting relationships (the same kind of relationships people have with their financial advisors). It also keeps you as their advisor for all of their homeownership needs, whether it's buying a second home or investment property, refinancing to take cash out for an investment opportunity or helping their son who just graduated college purchase his first home—you are the go-to for all things mortgage because you've built a long-term relationship.
At APM, we're always looking for ways to use innovative mortgage technology to improve the customer's experience, increase human connection and create ease for our loan originators. To learn more about the APM savvy technology stack, visit joinapm.com/thrive.