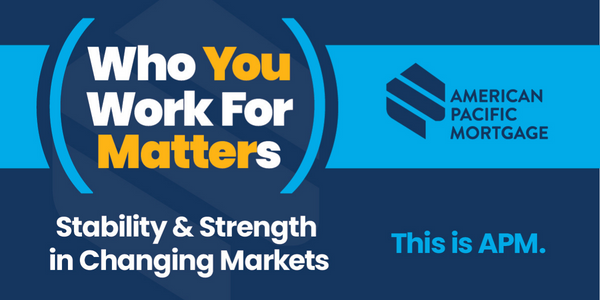 Who you work for matters, especially in today's mortgage industry, where we see lots of volatility. That's why APM has seven pillars of differentiation that are the reason people come to and stay with our company. These pillars define who we are and make us the perfect partner for mortgage loan originators and branch managers nationwide.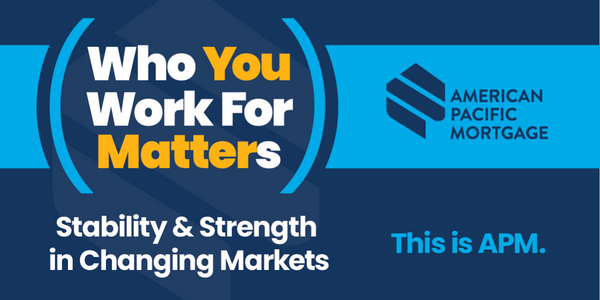 If you want to grow with a company that aligns with and supports your long-term aspirations, you've landed in the right place. Whether you're a solo-preneurer or a leader of many, we have options that empower you to build and lead the business you want.
Before we break down how APM gets checkmarks in all these areas, we invite you to see and hear it for yourself. Watch this quick video from APM Top Producer Kyle Wright on his insight, and this short video from top producing branch manager Brady Thomas on the benefits he's gained from partnering with APM.
Now read on to learn about the traits that make APM the ideal partner for a mortgage loan officer to succeed in any environment, regardless of the ups and downs of real estate.
1. Stability and Strength
If 2022 taught us anything, it's that change is inevitable, and it can happen quickly. That's why partnering with a company with the strength to withstand change is crucial to your success.
When you partner with APM, you don't have to worry about the uncertainty of a merger or acquisition—we're a thriving independent and employee-owned company through and through, and that's our final destination.
We're the first to admit that APM has not been immune to the industry's challenges. However, what made last year different for us was our position going into the transition. Instead of being reactive, we were able to proactively seek opportunities to expand our footprint while protecting our balance sheet.
As a result, APM has acquired two companies and onboarded several large production groups from other companies, resulting in the largest growth for APM in one calendar year. Hundreds of new loan officers and branches now call APM home, and we have more coming!
Our years of navigating changing housing cycles and originating at 18%-plus interest rates prepared us for this moment. Unlike many of our competitors, we're not looking to get out of the mortgage business—but we may look for companies that are.
2. Reputable Retail Lender
91% of consumers trust online reviews as much as personal recommendations, and 97% say customer reviews factor into their buying decisions. Rankings and reviews matter.
It's one thing to say what we do; it's another to back it up with results. Our 4.9-star customer service rating from over 120,000 reviews tells part of that story.
The other part is industry awards. In 2022, APM received these accolades:
Most-Loved Employer (NMP)
Top Employer for Women (NMP)
Top 50 Mortgage Companies to Work For (MEM)
Best Military Lender (NMP)
#11 Top Retail Lender (Scotsman)
The Modernizer Award (TotalExpert)
5-Star Lender (MPA)
3. Smart and Savvy Tech
Technology is more than winning the race to the consumer—it's about meeting the consumer where they're at when they need you most.
It's about providing a seamless experience for one of the most significant financial investments a person, couple, or family will ever make.
It's about ensuring that your customers know you're there for them before, during, and after their closing.
It's about letting your community know your expertise and that you're available to help.
The right technology frees you up to focus on revenue-generating activities, or what we like to call the human side of the business.
APM's technology stack is designed to help you run your business to the highest degree. EDGETech is our fully integrated suite of tools for loan originators. It allows you to streamline operations while amazing your customers and referral partners.
From our state-of-the-art mobile app to AI underwriting with same-day approvals, database monitoring, and more, APM has the technology you need to close more deals and do it smarter.
4. Entrepreneurial
When was the last time you felt truly empowered to build the business you want without all the red tape and limitations? APM is entrepreneurial at heart, and it shows up in how we've built our company.
We are a company built by originators for originators.
At APM, we empower each mortgage loan officer and branch manager to build the business they want, the way they want, and we provide the tools and resources to make it happen. We also embrace DBA and team names, allowing people to brand however it makes sense for them.
5. Making Originators Look Good
We are 100% focused on making you look good. Whether it's the latest technology, assistance with lead procurement, a robust product line, our solutions approach to underwriting, or plug-and-play marketing, we spend every day focused on you.
There are several ways we create efficiencies and close more deals through APM's mission to make our mortgage originators look good:
Seamless onboarding and transitions: Our transitions team is here to help you and your team onboard every step of the way so you can stick to what you do best: originating and closing loans.
Point-of-sale AI underwriting: This platform makes same-day approvals a reality, which can shorten the loan process by up to 18 days and capture more clients.
The APM mobile app: This is our most popular tech tool and one of the ways we help our loan officers streamline their businesses. To learn more about the APM mobile app, click here.
5-Star Scenario Desk: We have resources you can count on to get fast and accurate answers for any loan scenario…answers we stand by when the files get to an underwriter.
APM's open platform: If we don't have the product or scenario you need, you have the green light to broker. You can bank with APM or work with a wholesale partner, supporting you with everything you need to win the customer.
AP Connect lead nurturing: We help convert leads into deals by responding quickly and nurturing your leads for up to 18 months. Once a lead turns into an opportunity, they are passed to you to do the rest. This frees you up to focus on active deals while growing your pipeline.
A robust suite of specialty loan products: From renovation and our in-house construction lending team to bank statement, ITIN, and manufactured home loans—we've got you covered.
6. Employee-Owned
Have you ever wondered what it would be like to get a bigger piece of the pie? To be part owner in a mortgage company—without all the responsibilities of the day-to-day but still reaping the financial rewards?
We know planning for your future and having financial security once you leave the industry are paramount. At APM, in addition to our 401(k) program, we provide financial stability through our employee stock ownership program (ESOP). APM is one of a few mortgage lenders that offer this opportunity, and when you partner with APM, that opportunity is extended to you.
Arguably one of the most important benefits of an ESOP is that the company is protected in perpetuity, and you get a piece of the pie. Our move to an employee-owned company in 2021 was designed to safeguard and reward our valued employees in their retirement years.
Aside from the financial benefit, the company's stability provides peace of mind. We're here to stay and control our destiny, protecting the company culture we've worked so hard to build.
At APM, you're more than just an employee—you're invited to a seat at the table with all of us.
7. Culture, Camaraderie, and Community
We've built a company culture that is unmatched in the mortgage industry and centered around YOU. Our mission is creating experiences that matter, and this extends to our employees and families, our customers, and the communities we serve.
The mission of our nonprofit APMCares is to serve the needs of our APM Family through our family support program, and to support the needs of the communities where we live and work through our community outreach program.
Culture, camaraderie, and community—this is APM. Click here to watch a quick video from top-producing branch manager Melisa Webb on what she loves about the APM culture.
Connect with APM
It's a new season for mortgage loan originators. At APM, we help you build momentum, and we do that by investing in you.
We've got an abundance of support and instruction at your disposal. APM loan originators have access to weekly APM Live webinars with guest speakers and topics to help you win in business.
Our upcoming in-person Spring Sales Summits are also right around the corner. These events provide instruction, ideas, coaching, and collaboration—combined with time together, connection, and high energy. You'll be leaving ready to fly.
In this quick video, top originator Samantha Lindley shares more on the tools and resources APM provides to help her stand out in today's market. If you're ready to connect with our team or download one of our free resources for loan originators, click here.