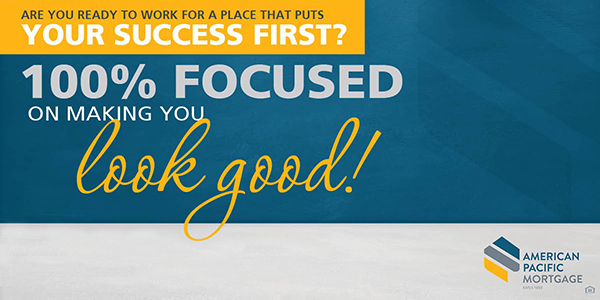 At APM, we are focused on you. You, the loan originator, loan officer, mortgage advisor—whatever the title, your brand is our focus. In fact, our company position statement is that we are 100% focused on making our branch managers and loan officers look good. We wake up every day with one thought: how can we help our sales team succeed? A refreshing approach to doing business in today's environment, don't you think?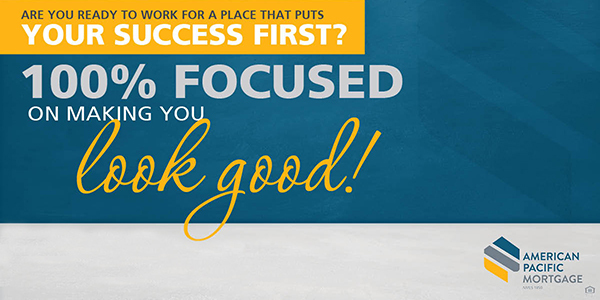 When we say we're 100% focused on making our originators look good, here's how we do it:
Savvy Technology
You need a savvy technology stack that gives you the competitive edge you need to thrive in this industry and earn business every day. Our technology tools are assembled with intention—connecting originators with customers in a variety of ways and automating what we can so you can focus on what you do best. Everything we offer is personalized and curated with you and your customers in mind.
This includes the APM mobile app, APConnect lead nurturing, customized plug-and-play marketing, automated review assistance, monitoring, and so much more!
Collaborative Ops and 5-Star Support
Any mortgage company can say, "We invest in our loan officers," but few actually follow that up with specifics on just how this is done.
Our scenario desk and deal structure assistance, approval call-outs, and appraisal support is there to help both branch managers and originators. It doesn't stop there, either. Our goal is to always provide top-notch support so that you're never scrambling to figure out what's going on or how to get your buyers into homes. We're here to make sure you succeed with your customers no matter what the situation is.
Practical Lending
We bring people home by providing the programs and products you need paired with practical lending to get your loans approved. We have the products, services, and operational support staff necessary to close loans, but we also understand the need to be flexible in the current environment.
If you're wanting the support of an established mortgage lender with the freedom and flexibility that will allow you to never turn down a deal, this is the place for you. Our Open Platform gives you the options you need to compete and win every deal.
Modern Marketing
Stick to what you're good at. You're an expert in mortgages and building relationships, and that's where we want you to focus your time and energy. There's no need to worry about creating dynamic content or cultivating winning marketing strategies. APM has you covered!
Our marketing team has your back and provides polished, professional collateral, content, and strategies to help you grow your business. Every month you get a new suite of materials, all around a theme so that you can hit your market with strategic, cohesive messaging. Loan officers also have access to a personalized content library and an automated CRM to help you stay in front of and nurture prospective, current, and past clients.
To learn more about APM's marketing tools and resources, click here.
Dynamic Culture
When we say we're a culture-driven organization, we mean it. Our core values of Respect, Transparency, and Scrappy are part of the fabric of our culture and are front and center in everything we do. The biggest differential is how we treat our production—as customers. You heard that right! We see, value, and treat our branches and loan officers as customers of the company. This simple approach to business prioritizes what and how we operate, never losing sight on the individuals who serve their communities and help people and families get into homes.
APM Events
Thrive. Isn't this what every producer wants to do? Experience our culture of investing in loan officers through our many events and discover how APM's events can help take your business to a new level.
Regional Spring Summits
Our spring sales rally is packed with leadership messages, sales tactics, and information regarding new releases and content from industry experts.
Fall Symposium
Our fall symposium is a rewarding, two-day event for all producers company-wide. Symposiums include speakers, education, motivation, coaching, and a celebratory after-party.
Business Planning
Business planning strategy sessions help loan officers and branch managers build and achieve strategies in both their professional and personal lives.
Community Focused
As you've heard us say before, "We are 100% focused on making YOU look good." We are also 100% focused on the impact we have on our APM family and in the communities we serve.
For us, community starts at home. The APMCares non-profit was founded to advance the company's social responsibility initiative by providing financial assistance and support for our employees and their family members (through the APM Family Support program) and by serving our communities through financial and time donations.
Independent and Employee Owned and Operated
While others are adapting to new ownership from a public offering or a merger and acquisition, APM is doubling down on our commitment to preserve the dynamic culture and company we've worked so hard to build. APM is now a partially employee-owned company. We believe that some of what sets us apart from our competitors is reflected in our generous compensation and retirement packages. We know how important it is to offer our loan officers competitive compensation and retirement packages, especially in today's market.
We're about people and dreams and pairing those people with those dreams, whether you're a loan officer looking to boost your career or a first-time homebuyer. We're in the mortgage business, yes, but turning visions into reality is our true purpose. It's all about making sure our employees are fulfilled and excited about going to work each day.
Are you ready to make the move to a company that is 100% focused on making you look good? Connect with us today to learn more about working for APM.