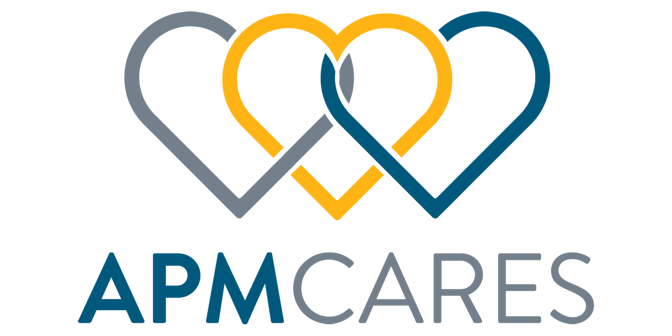 APMCares was founded in 2015 to serve the needs of families and communities where our loan originators live and work. This is an initiative that encourages and inspires our core belief that people matter. Through our community outreach donations, raised entirely by our APM team members, APMCares offers support to nonprofit organizations, charities and private foundations in our local communities.
As our company and our communities continue to navigate these unprecedented times, it is our mission to do everything possible to offer support and aid to those who need it the most. Now, more than ever, what matters most is tangible relief for people in need. One of the best ways we can do that is by making donations to local food banks to ensure that families have food and one less thing to worry about.
Below is a list of the incredible organizations that we've been working with across our company footprint. We are grateful for the work of these organizations and their boots on the ground that ensure that our communities have the resources they need. All of these organizations are making an incredible difference, and we're happy to lend a hand. And our work doesn't stop here! Our local branches and loan originators are submitting requests daily to continue these efforts during these challenging times.
Arizona
Arizona Food Bank Network
Arizona Food Bank Network serves five regional food bank members and a network of nearly 1,200 partner food banks and agencies. They coordinate rescuing, transporting, and distributing food, as well as providing education about hunger and advocating for policy change.
California
Emergency Food Bank of Stockton
The Emergency Food Bank of Stockton provides emergency food assistance to San Joaquin County residents twice a month.
The Food Bank of El Dorado County
The Food Bank of El Dorado County is the largest collaborative charity in El Dorado, California. The food bank collaborates with multiple programs to provide food assistance throughout El Dorado County, including the El Dorado County's Emergency Food Assistance Network, which is the safety net for El Dorado's most at-risk people.
Meals on Wheels
During the COVID-19 pandemic, Meals on Wheels in Yolo County is delivering two shelf-stable meals on Fridays and three frozen meals on Tuesdays to all regular clients. They work hard to make sure no senior is left in need.
Orangevale-Fair Oaks Food Bank
The Orangevale-Fair Oaks Food Bank has a monthly grocery program where those in need can visit the food bank and shop for fresh, healthy groceries. They also have a weekly grocery distribution program. Any resident from Fair Oaks or Orangevale is eligible to receive help.
Placer Food Bank
Placer Food Bank receives donations from food retailers, manufacturers, growers, the USDA, and community food drives and then weighs, sorts and packs the food for distribution. They then partner with food pantries, youth programs, faith-based groups, senior programs and rehab centers to help those in El Dorado, Nevada and Placer counties get the food they need. Each dollar in donations is leveraged to procure $24 worth of food!
Powerhouse Ministries
Powerhouse Ministries is focused on transforming lives by helping women leave abusive situations. Health and wholeness starts here. Women average two years in the program, and their children are also taken care of throughout this time.
River City Food Bank
River City Food Bank offers food as well as diapers, formula and other necessities to families with small children. The food bank also provides cooking classes and extra food for low-income seniors and students who are out of school for the summer.
Sacramento Food Bank
The Sacramento Food Bank & Family Services is the largest provider of basic human services in Sacramento County. They are committed to providing access to fresh food through their distribution network of over 200 partner agencies. They also provide free, fresh seasonal produce to ALL Sacramento county residents with no eligibility requirement.
San Francisco-Marin Food Bank
The San Francisco-Marin Food Bank is currently expanding drastically to meet the food needs of as many people as possible during the pandemic. 50,000 people received groceries last week— 20,000 more people than before the pandemic. In addition to groceries, the food bank offers monthly food boxes for seniors and one-time emergency food distributions.
Trinity Center
The Trinity Center program serves homeless and working poor men and women in Walnut Creek and Central Costa Costa County. They're providing day shelter services as well as overnight shelter services, keeping people safe and serving meals.
Yolo Food Bank
Yolo Food Bank serves over 45,000 people each month through its 72 distribution partners. Yolo coordinates food from distributors, growers, manufacturers and grocery stores, ensuring that everyone in Yolo County who needs fresh food gets it.
Colorado
Food Bank of the Rockies
Food Bank of the Rockies uses each dollar of donations it receives to provide four meals for those in need. The food bank serves over 30 counties in Colorado and the entire state of Wyoming, helping more than half a million people each year.
Florida
Regional Food Bank of Northeast Florida
The Regional Food Bank of Northeast Florida works with grocery stores, manufacturers and farmers to utilize food that would normally be wasted and give it to those in need. They connect millions of pounds of food with over 250 social services organizations who help distribute the food. They donated 14.4 million meals in 2019.
Hawaii
The Food Basket
The Food Basket is dedicated to ending hunger on the island of Hawai'i. They're working hard to protect vulnerable community members by distributing food with drive throughs and scheduled appointments during the pandemic. Food includes locally procured produce and shelf-stable food.
Idaho
Vineyard Christian Fellowship of Boise
The Vineyard Christian Fellowship of Boise provides boxes of groceries for people in need, and they also have a garden plot that provides food for distribution. The organization also serves hot meals all year long, no matter what the weather is.
Illinois
St. Vincent de Paul of Bloomington
The Society of St. Vincent de Paul is a large, customer-choice pantry with meat, fruit, dairy, and vegetables. Families are free to shop and choose items they prefer to eat.
Iowa
Food at First
Food at First is currently providing free meals for carryout. They also have a market where those in need can shop for food.
Missouri
Jewish Family & Children's Services of St Louis
The Jewish Family and Children's Services of St. Louis works hard to alleviate hunger in St. Louis by providing seven to ten days of food for 6,500 individuals each month. Kosher and other special dietary restrictions are accommodated, and they also offer nutrition education on-site.
Montana
Gallatin Valley Food Bank
The Gallatin Valley Food Bank is a critical link between food and those who most need it. Food insecurity impacts people from all walks of life, and the food bank reaches all of them throughout Southwest Montana.
Nevada
Calvary Downtown Outreach Las Vegas
The Calvary ministry is funded wholly with donations and monthly support from individuals and churches who are dedicated to helping the poor and oppressed in inner cities of America. Food distributions are available to anyone who can provide valid proof of residency.
New Mexico
First Nations Community Healthsource Albuquerque
In partnership with the New Mexico Community AIDS Partnership, First Nations Community HealthSource operates Comida Buena, a food pantry for individuals living with HIV/AIDS in the Albuquerque area.
Oregon
South Corvallis Food Bank
The South Corvallis Food Bank provides food for over a thousand people monthly with more than 15,000 pounds of food. They deliver not only a consistent supply of food but also toiletries and cleaning supplies.
Texas
Hays County Food Bank
The Hays County Food Bank rescues food that would otherwise be wasted and distributes it to those in need. Less than 10% of the food they rescue is unfit for consumption. They hold seven food distributions a week and also teach nutrition classes.
Heart of the City/Farmer's Market Food Pantry
Heart of the City's mission is to meet the needs of people within the local community. They provide weekly groceries for families in an easy and comfortable way that makes them feel right at home.
Grapevine Relief and Community Exchange
Grapevine's food pantry is partner agency of the United Way organization and provides emergency food boxes to those suffering from chronic low income and families who have experienced a recent emergency.
St. Vincent de Paul
The St. Vincent de Paul Society of Kyle is there to help anyone in need however they can.
Utah
Utah Food Bank
The Utah Food Bank fights hunger statewide by providing food to 182 emergency food pantries and agencies throughout the state. During the last fiscal year, Utah Food Bank distributed 45 million pounds of food, or 37 million meals.
Washington
HopeSource Washington
HopeSource is part of a vital network of food banks in Kittitas County that makes sure people receive the food they need. They also have a mobile food van that delivers food to those in need, including the elderly, disabled, and homebound.
Overlake Medical Center Foundation
The Overlake Medical Center Foundation provides world-class care and a superb medical staff to patients. This nonprofit hospital receives no public support and relies on donations to help their patients, including those who may not be able to pay for it.
Wisconsin
People Helping People
People Helping People gives direct help to low-income families and disadvantaged job seekers. They provide families with food and children with clothing and school supplies.
We at APM want to give a huge round of applause for all of these organizations doing the hard work to fight hunger and poverty in our communities. We are so grateful for their work!
And, a special shoutout to our APM family, local branches and loan originators who continue to make these efforts possible. We appreciate you! Let's keep up the great work!