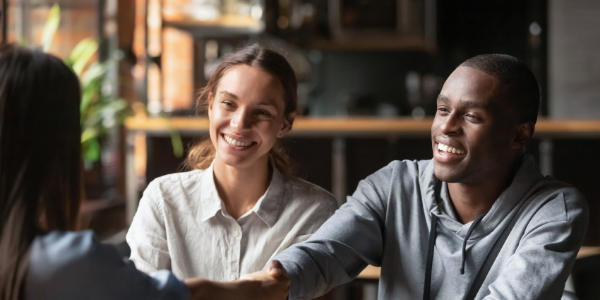 There's a transition happening in the mortgage industry. We all feel it and know this year will be different. Refinances aren't falling from the sky, and while we may get a few more opportunities, we are ultimately headed towards what is primarily a (very competitive) purchase market. Now is the time to double-down on your strengths and implement purchase strategies to help you win more mortgage clients and win over your referral partners.
Here are the top 6 strategies APM recommends for helping your clients and real estate agents get their offers accepted in a competitive market.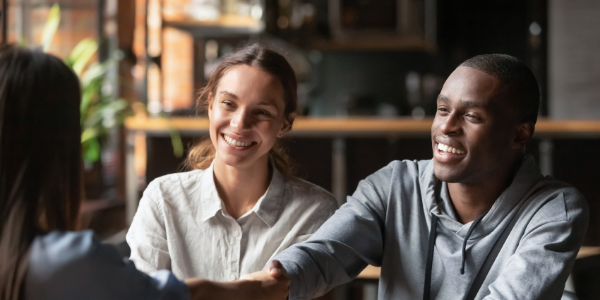 Strategy 1: Offer a Top-Notch Local Experience
Your clients are not coming to you because they want cookie-cutter lending options and call center customer service. They're coming to you because you're a face in their community with local ties and expertise—because they DON'T want a call center experience. In fact, lenders who offer a personal touch are much preferred over online lenders for all age groups, so use this to your advantage.
Something that big-box retail lenders can't offer is YOU. And because of that, you have the opportunity to capture purchase market share by being another resource, possibly the most important one, in helping get your client's offer accepted. This means going the extra mile, something that a .com lender and call center employees can't and won't do.
Remember the days when we used to say, "dialing for dollars?" Well, those days are back, and this is one strategy that can be the difference between your client's offer getting accepted or not.
Take the time to pick up the phone. Making a personal call on behalf of your client to let the seller or seller's agent know that they won't be sorry when they accept your client's offer because they can rely on you to get the job done efficiently and on time. This is the time to overdeliver on communication.
Strategy 2: Show Off Your Reputation
You're a local loan officer, and you've worked hard to build your reputation in the community, and one of our favorite strategies to help you win more mortgage clients is to use this to your advantage.
Don't be afraid to provide online reviews and testimonials with your client's approval letter. This can be as simple as putting a link to your online review platforms or printing out reviews that you feel would showcase your expertise for that particular transaction. Letting the seller and their agent know that they can rely on you to get the deal done on time and without hassle is another way to help your clients get their offer approved.
Strategy 3: Offer a Money-Back Guarantee with Keys on Time™
At APM, our commitment to close purchase business on time, every time is more than just words—it's backed by hard-earned money. Through our Keys on Time™ program, we're helping our LO's stand out in their local markets, gain market share, and get their clients' offers accepted.
The APM Keys on Time™ program provides a commitment to close on time, and if we don't through some fault of our own, we'll credit the borrower OR the seller up to $2,000*.
Keys on Time™ is for:
First-time and move-up buyers

Single-family homes and condos

Conventional, government, and jumbo loan programs

Use with our TBD Loan Approval program
APM's Keys on Time™ program sets your buyers apart from other bidders competing for a house because this program guarantees the seller that they'll close on time. You can't beat that in this market.
Strategy 4: Help Your Borrower Get an Accepted Offer with Our TBD Loan Approval Program
But let's take it one step further. APM has now created the perfect combination of programs to help your buyers to write the strongest offer possible with the APM TBD Loan Approval + APM Keys on Time™.
APM's TBD Loan Approval program can help strengthen your borrower's offer before even finding a property by providing a fully underwritten loan approval, leaving only the purchase contract, title, and appraisal contingencies left before closing. Not every lender offers that.
Benefits of our TBD Loan Approval program:
Allows you and the buyers to work through and address any issues that may hold up the loan process before identifying a property and making an offer.

Helps borrowers write a stronger offer backed by a full underwritten approval and the APM commitment (in writing) to close on time when paired with our Keys on Time

™

This includes a money-back guarantee for either the buyer or the seller of the home.

Gives sellers, real estate agents, and your borrowers confidence in the offer.

Helps you earn repeat business and maintain a stellar reputation for closing purchase business.
Our TBD Loan Approval program can make all the difference for your clients in this purchase market by helping them present a strong offer backed by a reputable lender.
Strategy 5: Build Advice-Based Relationships
Being a great lender is about so much more than completing a transaction. It's about creating an environment where you help clients with more than just shopping for the lowest interest rate or down payment; you actually position yourself as an expert on all things related to mortgage. This includes educating clients about things like:
Strategies to save money
Cost of the loan over time
The right loan program for them
Cash needed to close and choosing the right down payment
Building equity through real estate
Guidance about when it might be time to refinance
The goal is to give your clients all the information they need to make the best decisions for themselves but also feel comfortable coming back to you for advice and guidance whenever you might be able to help. Ensure that clients know you have a lot more to offer than your average lender—you're a trusted part of their network of financial professionals.
Strategy 6: Find New Ways to Get in Front of People
Part of getting more purchase business is just a numbers game; the more people you're in front of, the more potential clients you can have. But it's important to get in front of people the right way. One of the best ways to do this is to host something to get your face and information in front of more people. This could be something as simple as:
Hosting a virtual first-time homebuyer workshop or class
Hosting in-person seminar with a local agent, title rep, or another industry professional
Hosting a show YouTube or Facebook Live
Sponsoring a local event
The key to success is to make sure you get sign-up information (phone and email address) from attendees so you can follow up with a nurturing campaign later. It's also a good idea to offer them an immediate way to set up an appointment with you via a calendar link.
Ready to Implement Strategies to Help You Win More Mortgage Clients?
The market is shifting, but with a few key strategies and a great company on your side, this can be an opportunity to pivot and get more business, not less. If you're ready to make a move to a company that prioritizes purchase business and is 100% focused on making YOU look good, connect with us to learn more!
*Keys on Time not available in Oregon. Terms and conditions apply, visit apmortgage.com/kot for details.