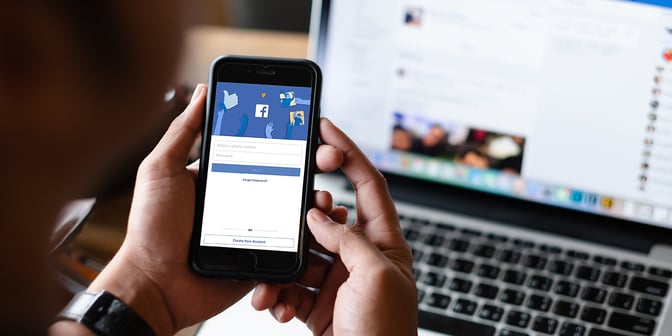 With over 2.1 billion actively daily users, Facebook is by far the most-used social network on the planet. It's hard to talk about mortgage marketing without talking about what a crucial piece of the pie Facebook is. It's a force to be reckoned with and one you should be paying attention to often.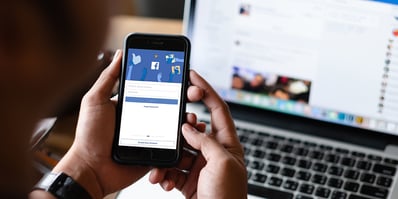 Here are some other fun stats you may not know about the largest social media platform in the world:
Statista found that the highest concentration of Facebook users were ages 18–44

The biggest demographic group are men ages 25–3

4
In the interest of helping mortgage loan officers maximize their marketing efforts on the Facebook platform, we've compiled some of our top Facebook digital marketing tips to improve your social media presence and grow your business in the real estate and mortgage industry.
1. Publish Original Content
It's not uncommon for loan originators at mortgage companies to share related content sourced from third party publications. While this is fine to do occasionally, it should not be your entire content strategy. To establish an effective content marketing strategy, make sure you integrate your own pictures, videos, blog posts, and other content too as a way of engaging potential customers. People are interested in learning about what makes your brand unique, which could ultimately factor into their decision making process when selecting a mortgage loan originator. Consumers are more likely to trust mortgage professionals who can showcase original content as opposed to generic information.
2. Tag People
Tagging people in photos or videos is a helpful way to spread you content far and wide on the Facebook platform. It's a great way to increase a posts' reach because then all the friends of the people tagged will see the post, too. And once people start commenting, the post's reach will get even higher.
It can be difficult to tag from a business page so make sure you are connecting with your referral partners and clients as friends so that you have the tagging capability.
3. Use Your Personal Page and Business Page in Tandem
It's against Facebook's terms and conditions to use your personal page for selling, but you can absolutely use it to share information via social media posts that are related to your professional life. If you want to increase exposure on a post, you may consider sharing it from your business page to your personal profile to engage a separate audience. Don't be afraid to add more personal commentary on the post than you did for the business page.
It's true that posting natively to your personal page will give you an even wider reach than sharing a post from your business page will (but then you don't get the link back to your business page), so it's smart to do a mixture of both types of posting to boost your social media marketing game.
4. Engage with People in a Real Way
Imagine what life would be like if you gave people a flyer about interest rates every single time you saw them. They'd likely start avoiding you, and you probably wouldn't have very many friends. It's the same way with Facebook—ask for people's recommendations, opinions, and guidance to start a genuine, two-way conversation. Then respond like you'd respond to a friend. Mortgage marketing on Facebook should never be all about the sales funnel or business advances.
5. Use a Scheduler
Social media schedulers like SproutSocial, Buffer, Hootsuite, and Social Report are a lifesaver! It's hard to remember to post something every day, especially when you're in the middle of a busy week. A scheduler makes sure content goes out on a regular basis.
Bonus: most schedulers tell you when the best times to post to your audience are, so take advantage of that! Optimizing posting times helps ensure that the most people possible will see and interact with the social media posts. Your mortgage marketing plan, coupled with your Facebook marketing strategy, just leveled up thanks to these schedulers.
6. Respond to Messages and Comments
You know the pesky red number indicating that your page has new messages and comments? As tempting as it is to ignore those indefinitely, those could be leads that you're not responding to. If someone is interested in getting a loan, they may reach out in a casual way on social media. Even if they aren't interested in getting a loan right now, responding quickly is an important hallmark of good customer service; you don't want to give the impression that responding promptly isn't important.
Even better, responding quickly will earn the page a "very responsive to messages" rating that people can see when they're on it.
7. Prioritize Video
As hard as it can be to get in front of the camera and record a video, video does extremely well on Facebook. Just a couple of videos a month can really boost engagement on your page. Once you feel comfortable filming video, try a Facebook Live, which often does even better than a standard video.
Just a note: if you post videos to YouTube or Vimeo, it's worth uploading them natively to Facebook rather than linking to them because they'll perform better.
8. Integrate Your Personality
In a world where loan officers offer much the same rates and loan programs, it's important to differentiate yourself to potential clients. One of the best ways to do that is to share your personality with your followers—it helps them to know, like, and trust you over the competition.
If you love your dog, share her on Facebook! If you are an avid runner, share goals and victories. These things make you so much more than just a loan officer; they make you a human being. So even if someone helps you with your marketing efforts, don't let them do it all for you. This is one of the greatest lead generation ideas when it comes to Facebook marketing for loan officers.
9. Utilize the Page's Cover Photo/Video
Your cover photo/video can help drive action on the page as it is a source of loan officer advertising, so don't neglect it! In fact, you should swap it out every few months to keep things fresh. Here are some ways to use Facebook's cover photo/video as a promotion for yourself or others:
Brand story video
Promoting a mortgage app
Promoting local industry events or charities
Promote a realtor's listing with a beautiful photo of the home
Share photos of things around the local area
Cover photo dimensions should be 720 x 312 pixels.
10. Set the Page's Vanity URL
When you first set up a Facebook page, it has a url that looks something like this: www.facebook.com/fsdlkj5487398475. It looks a lot cleaner if you set up a vanity URL for your Facebook page that includes your name or the name of your business. www.facebook.com/janedoemortgage looks much more professional and clean than all of the letters and numbers in the first example.
To do this, just go to the "about" section of your page and set the username.
11. Profile Picture
Use a recognizable picture of yourself as the page's profile picture, and make sure it's sized correctly and isn't pixelated. A professional headshot is likely the best bet.
Profile photo dimensions should be 320 x 320.
12. Optimize the Page's "About" Section
Optimizing the "about" section of your business page (just go to "about" and go to the "more info" section to edit) is really important. People who Google your business or your name will likely come across your Facebook page as one of the top results, so it's important that the about section reflects what you do. Optimizing the words in the about section will also help the page show up better in Google search results. This concept of search engine optimization can significantly contribute to your social media presence.
It's also important to keep all of the contact information on the page up to date at all times.
13. Custom Page Tabs
Set custom tabs on your page to direct people to places, including for running a Facebook contest, getting more email subscribers, promoting an upcoming event, or for any other way you want to showcase customized content. Get more information about customizing tabs here.
14. Recycle Great Evergreen Content
Evergreen content is content that can be used at any time, like information about loan programs that you always offer. If you have content that is evergreen that has also done very well at reaching people in the past, don't be afraid to repost it for generating leads!
Facebook posts move so quickly that no one will remember that you already posted something, so save some work by recycling.
15. Create Calls-to-Action
People don't always know what you want them to do, so tell them! Using strategic calls-to-action can help people take action when they wouldn't do it otherwise. Calls-to-action should always be related to what you're posting. If you're running a campaign about the value of annual mortgage checkups, ask homebuyers to schedule one by calling or sending a message.
You can also create call-to-action buttons right on the Facebook page, too. Just go here to see how.
16. Format Images and Graphics Correctly
In this day and age, it's unforgiveable to use blurry photos. Make sure that images are sized for Facebook correctly—different social media platforms use different graphic sizes, so it's important to double check.
News feed images should be 1200 x 628, though square images are also just fine.
17. Pin a Post to the Top of the Feed
If you have a post you'd really like people to see when they first come to the page, pin a post or ad campaign to the top of the page! You'll likely want to change the post every few months unless it's something that's evergreen and doing well.
18. Add a Link to the Page in Your Email Signature
Add a link to the Facebook page in your email signature so that everyone who emails you knows about the page and knows how to find it. It's easy to create a link with a logo at the bottom of the email signature. Most mortgage professionals have incorporated a formal email signature to their direct mail accounts for uniformity and consistency.
Here are instructions for doing it in Outlook, but other email clients should have similar processes.
19. Boost Posts to Increase Reach
Even if you don't want to run Facebook ads, it's really smart to think about boosting your best posts, which is the simplest kind of ad to run. Organic reach on business pages is at an all-time low. Depending on how many followers you have, it could be that as few as 1 to 2% of the page's followers are seeing your posts at any given time.
If you want more followers to see what you post, think about boosting the best ones with a $10 to $20 budget. See which posts get the most engagement and boost those types of posts for followers. You can also wait until a post already has some engagement before boosting it, which will help the post do even better.
Following these tips for successful Facebook mortgage marketing will help you have a wider reach and stay in front of more clients and potential clients. When used correctly, these Facebook marketing ideas can serve as useful tools for any loan officer.