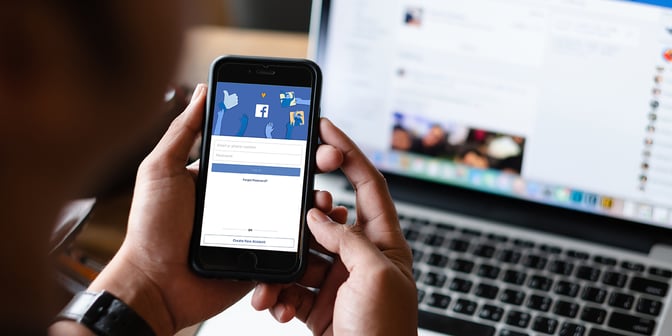 As of 2022, Facebook has more than 2.91 billion monthly active users, making it the most-used social platform on the planet. Love it or hate it, it's the OG of social media, and the channel presents unlimited marketing opportunities for mortgage loan officers.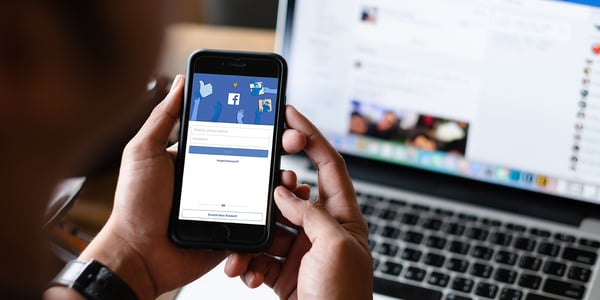 The popularity of social media has forced businesses to rethink their marketing strategies and how they can best use Facebook. Before we jump into the specific ways loan officers can use the platform to grow their businesses, let's look at some of Facebook's fascinating stats:
200 million small companies are on Facebook.
63% of Americans over 12 say they have Facebook.
98.3% of Facebook users are on their phones.
78% of consumers have found a product through Facebook.
To help loan officers maximize their marketing efforts on Facebook, we've compiled some of our top tips on how you can improve your social media presence and grow your business in the mortgage and real estate industry.
1. Publish Original Content
It's common for loan officers at mortgage companies to share industry-related content from other sources, but posting your own original content can promote higher engagement.
As part of an effective content marketing strategy, be sure to integrate your own photos, videos, and blog posts; leverage hashtag features; and create a custom hashtag for your business.
User-generated content is a big theme for social media marketing right now. This is content created by your customers, including images, videos, reviews, and testimonials, which brings more credibility to your business. It also helps with lead generation as others see firsthand how your services can help them.
People are interested in learning what makes your company unique, which factors into their decision-making process. Mortgage professionals must feature original content that leads to customer trust and showcases their industry leadership and expertise.
2. Integrate Your Personality
In the mortgage world, where many loan officers offer the same rates and loan products, it's essential to differentiate yourself for potential customers. One of the best ways to do that is to share your personality with your followers—it helps them get to know you and builds their trust.
If you love your dog, share a picture. If you are an avid runner, share your goals and victories. If you love to cook, share your favorite recipes. These things make you appear more human and likable. So even if someone helps you with your marketing efforts, step in with your own personal content now and then. This is one of the greatest lead-generation tactics when it comes to Facebook marketing for loan officers.
3. Prioritize Video
Until a few years ago, YouTube was the leading platform for sharing videos. But now—as the below Facebook video stats show—video is the king of content on all the major social platforms, and Facebook has already captured a significant share of the market.
More than 4 billion video views take place on Facebook every day.
500 million viewers watch 100 million hours of video content on Facebook daily.
65% of all Facebook video views come from mobile users.
85% of Facebook users watch videos with the sound off.
Native videos get 478% more shares on Facebook than videos from other sources.
47% of the total campaign value of a Facebook video ad is created in under three seconds.
The cost of Facebook video ads is 10% of the cost of carousel or single-image ads.
Posting just a couple of videos a month can really boost engagement on your page. Try a Facebook Live, or use Stories or Facebook Reels. You also can include a Featured Video that appears on the top of your page.
Not sure what to talk about on video? Here are some ideas that are great for a series of videos on YouTube, short videos on Instagram Reels or TikTok, or a two-minute explainer video:
Break down the loan application process for your borrowers in a short video series that walks them through what they can expect, the documentation they'll need to provide, and the difference between a pre-qualification and a pre-approval.
Explain what happens after borrowers make an offer, the loan underwriting process, signing and closing, and when they actually get the keys to their new home.
Talk about the different types of loans, the differences between them, and how they can help borrowers in today's market.
Give your audience an inside look at what goes on behind the scenes during the loan process with short video clips from the office.
Invite a guest to join you. Introduce one of your real estate agents or referral partners, and have them share about their expertise.
4. Engage with People in a Real Way
If you handed everyone you saw in person a flyer on mortgage interest rates, you would probably turn off many people. It's the same way with Facebook—you want to keep the conversations friendly and engaging without being "salesy."
Start by using your personal or business profile to engage with other people's content. From liking and commenting on a post about a past client's vacation with their family to providing recommendations for service providers when someone asks, engaging consistently and authentically is one of the ways to make people remember your name.
When people engage with your business content, make sure to comment back and thank them for their feedback. To generate better engagement on your content, keep the conversation going as long as possible.
5. Use Your Personal Page and Business Page in Tandem
It's against Facebook's rules to use your personal page for selling, but you can absolutely use it to share information via posts related to your professional life. If you want to increase exposure on a post, you may consider sharing it from your business page to your personal profile to engage a separate audience. Don't be afraid to add more personal commentary on the post than you did for the business page.
Posting natively to your personal page will indeed give you an even wider reach than sharing a post from your business page—but then you don't get the link back to your business page. So it's wise to do a mixture of both types of posting to boost your social media marketing.
6. Use a Content Planner and Scheduler
Social media schedulers like Sprout Social, Buffer, Hootsuite, and Social Report can be a lifesaver during the busy workdays of a loan officer. It can be challenging to remember to post regularly, and using a scheduler makes sure you're putting out content on an ongoing basis.
As a bonus, most schedulers tell you when the best times are to post to your target audience, so that's a feature you'll want to take advantage of. Optimizing posting times helps ensure that the ideal customer sees and interacts with your posts.
Schedulers can also help you organize your content and reschedule evergreen content to publish at a later time (say six months from now) so you're not duplicating your efforts.
7. Utilize Your Page's Cover Photo/Video
Your cover photo/video can help drive action on the page. It is a source of loan officer advertising, so don't neglect it. In fact, you should swap it out every few months to keep things fresh. Here are some ways to use Facebook's cover photo/video as a promotion for yourself or others:
Use a brand story video.
Promote a mortgage app.
Promote local industry events or charities.
Promote a realtor's listing with a beautiful photo of the home.
Share photos of attractions around your local area.
Cover photo dimensions should be 720 × 312 pixels.
8. Optimize Your Page's "About" Section
Optimizing the About section of your business page is critically important. People who Google your business or your name will likely come across your Facebook page as one of the top search results, so it's essential that this section reflects how your services can help potential clients and what sets your business apart from the competition.
You also want to optimize the words used in the About section to help with SEO and enhance your social media presence. And, of course, you always want to keep your contact information on the page up to date.
9. Add Custom Page Tabs
Set custom tabs on your page to direct people to additional content and calls to action like reviews, a calendar link to book a call with you, promotions for an upcoming event, or customized content you want to direct them to.
You can get more information on how to customize tabs here.
10. Recycle and Reuse Evergreen Content
Evergreen content, like details about the loan programs you offer, tips on refinancing, advice for first-time homebuyers, and so on can certainly be reposted to help generate new mortgage leads.
Facebook posts move fast, so no one will likely remember something you posted six months ago. Save time and effort by organizing your content in a scheduler and recycling past content that's relevant to your followers.
11. Create a Call to Action
People don't always know what you want them to do, so tell them. Be sure to include a clear call to action related to each post. For instance, if you're running a campaign on the value of annual mortgage loan checkups, ask homebuyers to schedule the checkup by calling or sending a message. You can also create call-to-action buttons right on your Facebook page.
12. Promote Your Facebook Page in Your Email Signature
Add a link to your Facebook page in your email signature so everyone you send an email to knows about the page and can easily click on it. It's super-simple to create a link with the Facebook logo at the bottom of your email signature. Here are instructions on setting it up in Outlook, but other email platforms have similar processes.
13. Increase Post Reach
If you want more followers to see what you post, you can consider boosting a top-performing post through the Facebook advertising platform with a $5 to $10 daily budget. Start by seeing which posts get the most engagement organically—those are likely the posts that would perform best as a targeted ad.
When you boost or promote a post, you leverage detailed targeting options like location and special interests—including targeting people who are interested in real estate, personal finance, home and garden, and other housing and mortgage-related topics.
You can also upload and create custom audiences of your own database (past, present, or prospective clients) and create a lookalike or special audience with that data in Facebook.
14. Paid Advertising and Lead Generation Campaigns
There's no doubt that Facebook's advertising platform is one of the best and most affordable options out there. But having a clear plan and strategy is important.
Through Facebook Business Manager (now called Meta Business Suite) you can set up a variety of different campaigns and initiatives from video views to landing page visits, to conversion on your website, event responses, and more. You can also test various forms of creative, like different ad copy, video vs. images, and calls to action.
Through the robust advertising platform, you can also show your ad in various places on Facebook. From Messenger to Reels, Instagram posts and Stories, the advertising platform on Facebook knows no limits!
Following these tips for successful Facebook mortgage marketing can expand your business reach and keep you in front of your past, current, and potential clients. When used correctly, Facebook marketing tactics can be incredibly useful for any loan officer.
To learn more, download American Pacific Mortgage's FREE Loan Officers Guide for Social Media Marketing by clicking here.