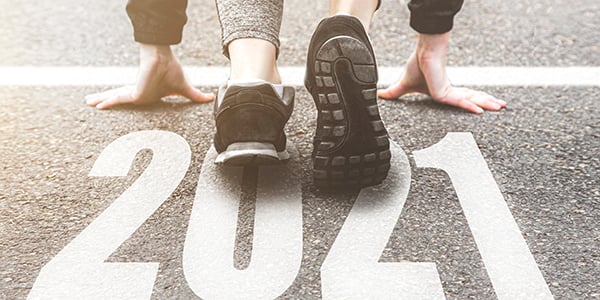 Is your business plan complete for 2021? At APM, we set time aside every year to plan out how we're going to succeed in the coming year, and we encourage every loan officer to do the same. We know that the more intentional we are with what we want to accomplish, the more likely we are to achieve our goals.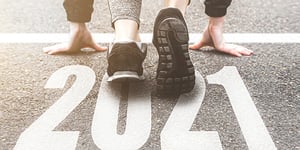 In a rapidly changing industry, it's necessary to set goals and review and re-affirm these goals every 90 days. That's why encourage our loan officers to set a 90-day plan each quarter that helps them achieve their yearly goals.
To that end, we recommend focusing on these three key areas when creating goals for the year—the 3P's, as we like to call them. They are:
Production: Your business and what fuels that business
People: Giving your clients the best possible experience
Personal: Caring for your personal wellness
Focusing on these three areas ensures that you're covering every aspect of your work and personal life, maximizing your chances for success in all areas.
How to Structure Your Goals
Breaking your goals down into action items with strategies will help you achieve your overall goals. Let's break that down a little further.
Goals: A goal is the result you seek to achieve by implementing the necessary strategies to get there. Goals define the destination, help you change your mindset to get to that destination, and create the need for specific tactics to get there.
Strategies: Strategies are the stepping stones for achieving a goal. It's the method or plan that will bring it about the goal, or the specific tactics that will get you from where you are to the end goal.
Action Items: These are the step-by-step actions that have to take place for a strategy to be achieved or implemented. Action items should be organized in the order of ideal execution.
2020 Self-Evaluation
Before we dive in, it's time to do an honest review of your performance over the past year. It's important to look at what went well and what needs to be tweaked before you focus on creating new goals.
Here are some questions to ask yourself.
What was your biggest success?
What were your sources of business?
What were your failures or setbacks?
What strategies did you use last year?
What do you wish you had done but did not?
What was your personal life like?
For more help evaluating yourself (and your team, if applicable), check out our blog post on How to Evaluate Your Team by clicking here.
The 3 P's for Loan Officer Business Planning
As we mentioned earlier, we recommend that loan officers make goals around the 3P's—production, people, and personal.
First, you'll decide on your goals for each of these areas for the new year.
Next, you'll set one to three strategies for each goal every 90 days.
Then, you'll identify the action items that will help you implement your strategies.
Every 90 days, you'll make adjustments as needed and plan your next 90 days.
This allows you to make large goals but break down the things you need to do to achieve them without getting overwhelmed. It also builds in a specific time for you to review and reset course, which is so important in a fast-changing, dynamic industry like ours.
Production Goals
Let's get started! Pick a production goal for the year and break it down into four even parts. Then, decide on the strategies you'll use to reach that production goal for the first 90 days.
Strategies to meet production goals could include things like:
Specific marketing goals, both online and offline.
Utilizing specific technology to drive higher customer engagement.
Using a CRM to increase your referral and repeat business.
Spending time weekly being present with your audience either online or in-person.
Shadowing a top producer, or hiring a coach.
Working on team processes to eliminate any friction in efficiency.
Committing to lead generation and building a sales funnel.
There are any number of things you can do to increase production, but doing all of them at once isn't the way to success. Decide which things you will do first, and then commit to doing those strategies (and action items to go with those strategies) for 90 days. Remember, in 90 days, you'll be able to re-evaluate and decide if it's time to try something else.
People Goals
So much of what makes you successful as a loan officer is the experience you offer the people who come to you for help. At APM, we talk about Creating Experiences That Matter. For you, that may be simply said—create raving fans. However you describe this, setting goals about the customer experience ensures that we never forget how important that is.
Here are some ways you could focus on your customer experience in the coming year.
Each week, take the time to evaluate the experience you're offering your customers. Are they getting the best experience possible?
Deliver personalized services, how and when your customers want them. Change your approach to meet their expectations for communication, technology, and experience while getting a loan.
Utilize a mobile app to drive customer engagement and make the process of getting a loan as hassle-free as possible.
Dedicate

time each week

to managing your online reputation. Choose a platform to share and display reviews, and cultivate more reviews of your services (read more about that in our blog post here).
Build an online community that knows, likes, and trusts you by spending time with them wherever they spend time.
Just like with production goals, there are any number of ways to improve your customers' experience. The important thing is to make sure that you're tailoring the experience to what your specific customers want, and that won't look the same for every loan officer.
Personal Goals
It's hard to do the best work you can do if you're not also thriving in your personal life. That's why one of our 3 P's for loan officer business planning includes personal development.
That includes setting goals around several main areas of your life, including:
Health and Wellness

Professional Development

and Learning
Financial Security
Relationships and Work/Life balance
Personal goals for the year may include things like:
Creating a consistent schedule for daily exercise and wellness checks or other health needs.
Making sure you and your family's mental health needs are taken care of.
Finding a work schedule and sticking to it. Decide when you do your best work and when you should take breaks, and stick the schedule as much as you can.
Dedicating time each week to increasing your learning and skills with podcasts, books, and online courses.

Investing in professional development, coaching, or cohort groups.

Scheduling time for reflection and/or meditation.
Setting a monthly budget.
Setting yearly financial goals for savings and retirement, as well as for big things you want to buy or do.
Creating the time to nurture personal relationships by regularly connecting with those most important to you.
Allocating consistent time for your spouse/partner and children.
Committing to a charitable cause with donations or volunteering.
There are no right or wrong answers when it comes to your personal goals. What matters is that you take the time to be intentional about what's working and what's not and how you can make positive changes in the upcoming year.
By focusing on the 3 P's of loan officer business planning, we think you'll find that you accomplish more than you ever have before and feel better while doing it.
For more help on the 3 P's of loan officer business planning, download our business planning book here! It's a fillable PDF that you can use to get started on your new goals (and the strategies and actions that will help you get there) right away. Here's to your success in 2021 and beyond!