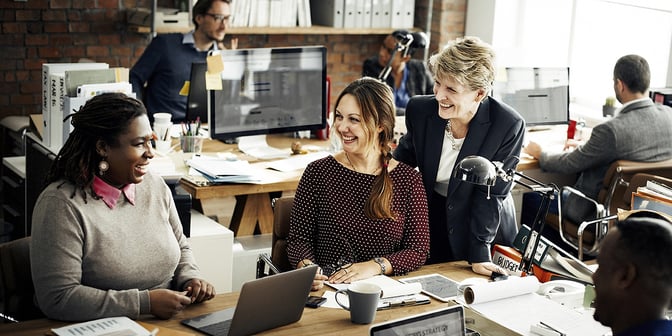 We all know you're only as successful as your weakest team member, so you've got to make sure your deck of cards is stacked deep with the best players in the business. When you think about how to build a mortgage business, it isn't all about numbers. That's only one part of the equation. It's the quality of those singular loan officers that really does the trick. It isn't quantity vs. quality when it comes to growing your mortgage branch business. They're actually two sides to the same coin as you strive to recruit the largest number of high-quality loan officers in the mortgage industry.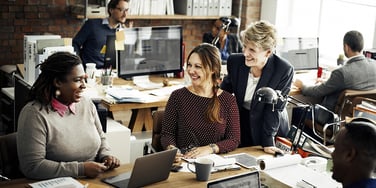 Now, if you want the best, you have to be the best. That work starts with you.
Put Your Best Foot Forward
Building a mortgage business starts at the top – and that's with you. Make sure your website is up to date, and develop a habit of regularly posting content on social media sites like Facebook, Instagram and LinkedIn. Videos also provide an excellent view into who you are, what kind of mortgage branch you run and whether someone can see themselves joining your mortgage business.
You'll also want to do a social media review audit. This means combing all social media review sites, such as Yelp, Google, Facebook and Glassdoor. Take this feedback to heart, and act on any comments, if needs be. You should also encourage current and past clients, as well as your referral partners, to leave you feedback since reviews are such a crucial influencer on potential clients in the mortgage business.
Now, we also live in the real world, where we're not always universally beloved. Address any negative comments ASAP, and do your best to make it right. This shows both the reviewer and the general public that you're committed to maintaining excellence, that you do not get defensive when confronted with a less than five-star review, and that you take any and all feedback seriously.
Who wouldn't want to work for a mortgage team that maintains that level of quality control?
Be Clear as a Bell
Transparency isn't just important with potential clients. It's crucial with loan officers as well. How to build a team begins – and, sometimes ends – with trust. So, lay out what you're all about.
Devote a section of your website to what it's like to work not just in the mortgage industry, but with your mortgage team. Share teambuilding exercises, holiday get-togethers, sales rallies or whatever collaborative efforts allow your team to thrive.
You'll also want to tout the benefits of working with your mortgage team. Maybe it's the awesome support staff, lack of administrative "red tape," innovative tools and resources, forward-thinking approach to technology and digital marketing. Whatever gives your mortgage business the advantage is likely the secret sauce when it comes to growing your mortgage team.
Speak Their Language
Members from every generation add a valuable component to the mortgage industry. However, it's only natural to target the up-and-coming generations, who will comprise the majority of our workforce now and in the near future.
This currently includes Millennials and Gen Z. So, study up. It's hard to know how to grow your mortgage business if you don't know the core values that these generations hold dear. For example, Millennials value their free time and flexibility. They're often willing to compromise on salary and certain responsibilities if they can maintain this quality of life. Gen Z, on the other hand, is very committed to being good and doing good, meaning philanthropic endeavors, sustainable workplace practices and diversity advocacy are of paramount importance to this generation.
Though every person is different, it would behoove you to do your research and find out what generally makes the various age brackets tick. Then determine how your mortgage team exemplifies these values and tout them as you work to grow your mortgage business.
Motivate with Meaning
We all need to feel inspired now and then – especially if we're considering a major life change, such as switching careers or companies. Being the great mortgage team leader that you are, you already know how far a little inspiration can go…but does that inspiration go beyond the four walls of your office or the members of your mortgage branch?
If not, it should. Blogs, social media, videos and email campaigns are a great place to start. You don't have to become the next Tony Robbins. You simply have to show that keeping your mortgage team inspired and motivated is important to you. Post a few inspirational quotes, share a story about how invaluable homeownership has been to one of your mortgage branch's clients, send out a video link of your team participating in a volunteer project or other community program.
The strategic aspect of the mortgage business shouldn't be left out here. Be sure to share success stories from your mortgage team that involve difficult closings, transactions that took the extra mile or deals that were all but dead…until your mortgage branch stepped in. Books, blogs, podcasts and TED talks that focus on growing your business, expanding your network and reaching your goals should also be a wealth of resources for your branch…and a sense of support for those who may be thinking about joining it.
Expand Your Reach
It's hard to grow your mortgage business if you don't know who the best in the business is…or where to find them. This is true whether you're looking to sway a top performer at a competitor or if you're interested in raw talent that has the potential and drive you know you can develop.
So, go where the people are. Commit to attending more networking events, or to sticking around for the networking component of conferences and events you're already attending. Get involved in the community, whether that's through your kids' sports, a mentorship opportunity or volunteer programs.
Cultivate your own hobbies to meet like-minded people who share your same passions. Join a basketball league, go on a hike with a Meetup group or take your kids to an esports event. College campuses and job fairs are also fertile grounds for the mortgage industry superstars of tomorrow.
Whatever you do, realize that the more interactions you have, the more opportunities you have to engage with individuals who just may see the value in you and your mortgage branch.
Growing your branch is all about strategy and playing an active role in your future. You can't simply sit back and wait for the next great talent to find you; you must go seek it out yourself! With a little effort, however, it will become easy to see how and where you can find those unique individuals that can add tremendous value to your mortgage team!