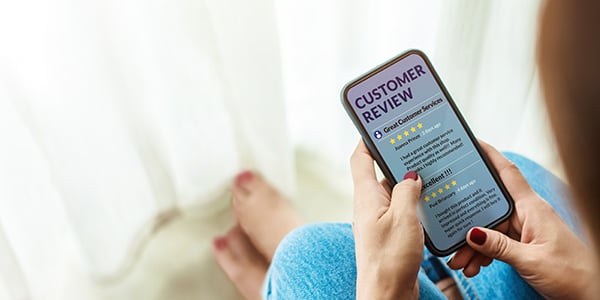 At APM, we talk a lot about developing a business plan in the new year. We develop our leadership plan, setting our course as a company for the coming year. We also encourage our loan officers to have a plan where they set goals around three key areas—Production, People, and Personal. People focuses on the customer's experience. Giving your clients the very best possible experience should be a top priority, so it's helpful to review, plan, outline, and set the course for achieving your goals in this key area.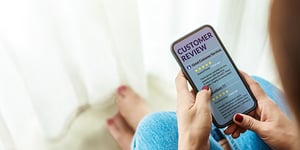 What people say about you online is a key part of the customer experience. In today's hyper-digital world, your online reputation can make or break you when people search you out. So, let's talk about how to manage your mortgage reviews so they work better for you.
Why Online Reviews Matter
Online reviews matter for many reasons, but here are two of the most important.
First Impressions: These days, searching you online is likely the first thing someone does when they get a recommendation to get a loan through you, and first impressions are everything toward establishing enough trust and confidence for someone to reach out.
In fact, 92% of people are more likely to buy after seeing a positive review online. Social proof is key.
Brand Exposure: Good reviews also boost your brand's exposure online. Reviews improve search engine optimization (SEO) for your business. Plus, reviews give you updated content on a regular basis, which is just want you want for SEO.
Note: If you want to up your SEO game, think about tracking common words your customers use when they're talking about you and your business online. Put those keywords into your tags, keyword research, and content creation to take all of your SEO efforts one step further.
Do an Audit of Last Year's Customer Reviews
First up, it's time to make sure you know what others are seeing when they search your name or your branch—what do they find on Google or Facebook? Evaluate what you find. Is it accurately portraying you?
While you're reading reviews, consider these things from your customers' perspective:
What was your customers' experience with you and your team?
What was your responsiveness and engagement?
What was your method, style, and frequency of communication?
You need to know what people are saying about you in order to be able to address any issues, but you should also know what you're doing well so you can keep doing it!
If you haven't yet, make a plan to address and correct any issues regarding customer experience in 2021. Make sure you're not giving people a reason to leave you a bad review. As for what's going well, make sure to share those things with the team so everyone can keep providing awesome customer service.
Know the Important Review Sites
When it comes to online reviews, we talk about the "big three," which are Google, Yelp, and Facebook. Zillow is also incredibly important in our industry, so we're including it here as well.
Google: Google reviews pop up first when someone uses Google to search your name—Google uses a snippet to display your reviews right at the top of the search results page. These reviews tend to carry the most clout with potential customers. Be sure to claim your Google My Business page so you can manage your reviews.
Yelp: Yelp reviews also frequently show up in search results. Again, make sure to claim your business's profile so you can manage reviews.
Facebook: Facebook reviews carry a lot of weight since they are attached to your social media presence. Facebook reviews are fast approaching Yelp and Google in importance.
Zillow: This is the top dog in the mortgage and real estate industries, and if you're like many loan officers, you probably have some reviews here. This is also one of the most highly searched-for sites for our industry, and some people even start there when searching for a real estate or mortgage professional, so don't overlook it!
Create a Process to Manage Your Mortgage Reviews
Now that you know what's being said about you, it's time to create a process to manage your mortgage reviews going forward.
First, you should create a way to alert yourself when you're mentioned online. Both Talkwalker and Google Alerts are good, free options. There are also a plethora of online review monitors that will alert you when a new review comes in.
Many review platforms, including Google and Facebook, will also notify you when you get a new review (just check your settings).
You may also decide to purchase a service that displays your reviews on your website—this can be helpful especially if you have reviews across several different platforms. At APM, we leverage Birdeye for our review collection and management.
Responding to Reviews
One key aspect to reputation management is responding to all reviews that are left for you, regardless of what they say.
For negative reviews: If you do find negative reviews, consider leaving a thoughtful comment the encourages the customer to contact you to review their experience. A simple apology can go a long way. Done correctly, this shows that you care about the customer's experience, even if they weren't happy.
For positive reviews: Build brand loyalty by responding to positive reviews. Thank the customer for the time taken to leave a review, acknowledge any feedback, and mention something slightly personal that makes it clear you're not just copying and pasting. The reviewer will feel seen and heard, continuing to cement that relationship you've worked so hard developing throughout the transaction.
Create a Process for Curating More Positive Mortgage Reviews
Now, we get to the fun part—curating more positive reviews. This is especially important if you don't yet have any reviews.
Consider sending out an email to ask past clients to rate their experience with you (if you had an especially negative experience with any clients, skip them during this process). It's important to make leaving you a review as easy as possible, so include links in the email to all of your review sites, and tell people to choose the platform they want to use. As a bonus, this is another interaction with your clients, and that's always a good thing.
In the future, send this email after every time a transaction closes—a week or two after the transaction closes is a good time to do it.
There are many review management systems that help automate this process and make it even easier for customers to leave reviews and for you to share them. But keep in mind, even with an automated system generating the requests, it may take your follow up to get the customers to engage and actually leave a review. Sometime that extra step is all that's needed to raise your review count.
Setting a Regular Goal to Manage Your Mortgage Reviews Really Helps Your Business
We live in a world where people research, read reviews, then select a product or service. Being a loan officer is no different. People will research and read your reviews before they commit. We recommend that loan officers dedicate a certain number of hours per week for online presence and reputation management. Make the time to choose effective platforms for sharing and displaying reviews, and work toward building your social likeability factor.
Go here to download our 2021 Business Planning Book, which will help you create goals around the review management process.
Setting goals around the customer experience will help ensure that you have recent, positive reviews for both possible clients and referral partners to see whenever they look for you online.