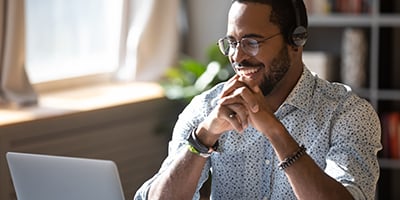 In an era when so many of the marketing activities you use to connect with realtors and clients aren't an option due to social distancing and working from home, what can you do to continue to grow your mortgage business while also staying safe?
It's time to think about leveraging technology to hold virtual workshops for realtors and customers. In fact, there are actually some pretty big benefits to doing events virtually, and it's not as hard as you might think to get started.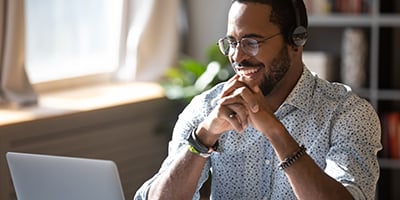 Benefits of Virtual Workshops
First, you can reach a much bigger audience with virtual events than you can with in-person events. If you're a loan officer in Sacramento, an in-person event would likely be limited to those in Sacramento and the immediately surrounding area. But since you're licensed in the state of California, you can open your virtual workshops to anyone in the state without having to travel to all of those locations, potentially giving you a much bigger client base.
Virtual workshops can bring you more business than you could ever get from in-person workshops at half the cost (or even less). And let's not forget, virtual meeting options allows you to meet people where they are and when it's convenient for them. Last but not least, leveraging technology allows you to use your time in the most productive and cost-efficient way possible.
1. Create a Presentation
It's time to get started, so first, think about your presentation for the workshop. Remember that holding an online event isn't the same as an in-person event, so if you have a presentation you already use, you'll likely want to tweak it.
Your goal should be to create an open, comfortable environment where people feel like they can keep up with the material you're presenting, ask questions and offer feedback. Engaging with people and making them feel included is key, especially in a virtual environment.
Here are some of the best ways you can create a successful presentation:
Use Visuals Strategically: Visuals can be very helpful when you teach, but make sure you know exactly what visuals you'll use ahead of time and where in the presentation they'll be.
If you're using content-heavy visual material, give participants time to read. You can also send reading material to people ahead of time, which helps participants who digest information at different rates feel included. Sending material in advance also allows you to take a deeper dive into the material because people will already have a foundation for what you're talking about.
Be Concise: Being concise is much more important in an online meeting because it keeps people engaged rather than distracted by the kids, their dog, or their lunch. Use short messages, short sentences and bullet points. In fact, we suggest cutting your presentation time in half, since live events are around 50% non-verbal and social interaction, which you don't have online. Compress your content and make sure people are hungry for more.
Leave Space: At the same time, leave space where people can interact with you and ask follow-up questions. You don't want to blaze through your entire presentation without giving the audience a chance to talk with you and give feedback. You can even consider asking people to use the chat feature to ask you questions. If you're going to have more than 10 to 15 people in attendance and plan to ask for audience interaction, it can be very helpful to have a co-facilitator on board to help you field comments and questions.
Showcase Your Personality: One of the things you want to do in a virtual event is to start to build that know, like and trust factor. Tell some jokes and some stories, and don't be afraid to show off your personality. With the camera on, you can easily connect with your audience by simply being you.
2. Pick a Webinar Platform
Picking the right webinar platform is one of the most important parts of planning your workshop. There are many out there to choose from, including Zoom, WebinarJam, GoToWebinar, BigMarker, Demio, Google Hangouts and more. Do your research and pick a platform that meets your needs. Some things to consider are budget, attendance size, features, analytics, personal branding, integration with YouTube and more. Nothing is more important than ease of use, so start there. Nobody wants to join a workshop where the host is fumbling around. Your performance and connection with your audience goes hand-in-hand with selecting the right platform.
3. Set Up a Registration Form
Now that you've crafted your presentation and picked your platform, it's time to set up a landing page where people can register for your workshop (you can also set up reoccurring workshops this way).
Make sure to clearly explain what the webinar will be about and how the information you're presenting will help your attendees.
By having people register for the event, you'll have their contact information and can follow up with them after the event is over. You'll want to ask for a full name and email address, but depending on your goals for the event, you may want to ask for a phone number or other information to access their lead potential.
You can also use the registration form to decide when and how to send people reminders about your upcoming event, as well as give them any information they'll need to attend (or any information about the event you want to give them in advance).
4. Giving Your Presentation
There are a few things you can do during your presentation to keep your audience engaged and make connections with them.
Ask for Feedback: Ask for audience feedback, especially when you first begin the workshop. Ask if everyone can hear and see you, if they can find what they need on the interface and if they have any questions. You don't want anyone to feel left behind because they don't understand what's going on.
Be Lively: Nothing is worse than a dull, monotone voice talking about mortgages for an hour. You should change your speech rhythms, modulate your voice, and yes—throw in a joke or two. Being unpredictable is really helpful in virtual settings.
Encourage Audience Participation: Encourage your attendees to participate through the chat feature. Though this does interrupt your flow, it also gives your attendees a chance to ask questions and interact with you. This creates those important connections and keeps people from getting bored. If the chat will be too distracting, consider asking people to use it only at certain points during the workshop, or include a co-host to monitor the chat box.
Enjoy Yourself: Instead of lamenting that you're doing the event virtually rather than in person, show some excitement! Enthusiasm is catching, so enjoy connecting with people over the Internet. Being positive can go a long way toward creating a good environment for your event.
Hold a Q&A: It is important to always leave a few minutes at the end for participates to ask questions. Research confirms that 92% of webinar attendees want a live question-and-answer session at the end.
5. Provide Ongoing Value and Support
It's not over when the webinar is over. Don't miss the opportunity to follow up with people and to provide valuable support.
First, leave the webinar with a clear call to action. If you're holding another meeting in a series of courses, encourage people to attend. If you'd like them to connect with you for a free first-time home buyer consultation, share a link to your calendar to schedule the call. Tell them about your online application process and then send a follow-up email with a link to the application. Don't leave it to chance that your attendees will know what to do next and follow through.
If your attendees aren't ready to do anything like apply for a mortgage, that's OK! It's important to send them regular and consistent follow-up material and keep in touch, nurturing them throughout the process before they're ready to transact with you. Don't forget to add them to your CRM!
Bonus Step: Advertise Your Virtual Event
If you want to increase the attendance rate for your virtual event, one of the best ways to do that is to advertise it! There are several ways you can do that.
Send Out an Email: If you have any people in your database that your webinar would be appropriate for, send them a link to the email with the registration page.
Post on Social Media: Create a post for your webinar and link to your registration page. If you'll be working with any realtors or referral partners on the event, ask them to post about the webinar and tag you. Don't forget to post about your webinars in Instagram and Facebook stories!
Paid Social Advertising: Of course, few things get the word out better than paid advertising, so don't forget this option if you want to reach people outside your network. Run an ad that clearly explains to people what they are going to get from your workshop, and make sure you're targeting people that are likely to be interested in whatever your topic is (if you're targeting future homebuyers, you should target people who may have recently been looking for homes).
Virtual is the new way of doing business, and there's no reason not to jump on the bandwagon. You can stay connected with prospective clients, current and past clients and referral partners in a face-to-face format with key technology, all at the touch of a button. We hope these tips help you begin hosting your own virtual events.