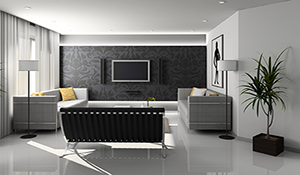 One of the best things about owning a home is that you can make it yours, which is hard to do in a rental.
Don't like that carpet? Rip it out! Hate the tan walls? Paint them whatever color you want. Don't like the wall between the living room and kitchen? Tear it down (as long as it's not load-bearing!).
Some Questions to Consider

Before you ask what home improvements add value to your home, it's smart to sit down and think about the answers to some important questions. These questions will help you personalize your home to truly meet your needs.
How long do I plan to keep my home?
If the answer is 1-3 years, you may want to consider the next few questions BEFORE you start your home improvement and remodeling projects:
Will these home improvements be attractive to prospective buyers?

Will these updates increase the equity in my home, or what will my return on investment be?
If you plan on staying in your home for more than 3 years, the questions to consider are a little different:
What do I keep wishing my home had?

What do I value most in my home?

What makes me feel relaxed in my home?

What inspires me and makes me feel happy?

Do these renovations meet my personal needs?
If you love to cook, you may want to focus on a kitchen remodel. If you love hosting parties and get-togethers, you may want to create a great outdoor entertaining area or focus on the flow of your house. If your biggest wish is a relaxing bath at the end of a long workday, a spa-like bathroom may be just the ticket for you. The remodeling possibilities are endless!
Paint
Paint is the simplest way to make the largest impact on the way your home looks on the exterior and interior, and it's one of the least expensive changes you can make. Whether your reason for painting is to add curb appeal for prospective buyers or simply to brighten up the interior for yourself, it's an easy renovation that is sure to add value. If you're tired of the previous owner's paint choices, swap them out with a color you love. Many people even opt for painting their home neutral colors to give it a timeless look or to have the freedom of switching up the decor. There are also a lot of stylish wallpapers on the market right now if you'd rather go with a pattern. Note: if you are in the "selling in the next couple of years" category, you might consider new peel-and-stick or easy to remove wallpaper if you're going to go big with a bold pattern.
Light Fixtures
If you have a room that looks dated or just doesn't feel like you, consider swapping out the light fixtures. There are many types of lighting fixtures that can give you the look you want, from ceiling mounted to wall mounted – extravagant to simple, and nearly any room can benefit from upgraded lighting fixtures. From the standpoint of return on the investment, your primary focus should be the kitchen and bathrooms.
For the kitchen, think about under-the-cabinet task lighting, pendants over an island, recessed lighting on a dimmer so you can adjust the brightness as needed, and a statement piece over the dining table. Any of these lighting fixtures can really transform your cooking and dining space into a high-end kitchen. Be sure to pay attention not only to how the light will look in the evening while turned on – but also how it looks during the daytime when it's turned off and the sunlight is streaming in.
In the bathroom, try to mimic natural light as closely as possible with white wall sconces or vanity lights on a dimmer switch. A small chandelier or semi-flush ceiling light is a nice way to make a statement in your living space.
Customized Storage
Everybody has slightly different needs when it comes to storage. If you have young children, you may want to think about installing a mudroom with cubbies and hooks. If you do a lot of sewing or crafting, a room with custom-built shelves to store all of your supplies may be the perfect fit for you. If you love to cook, a pantry with lots of shelving and hooks for all of your cookware would be a great idea for a kitchen remodel. Built-in cabinet organizers and shelves can make your life a lot easier if they fit the needs of those in your home. There are a multitude of options available that work for various purposes and help maximize the square footage of your home.
Flooring
If you don't love your flooring, it can be hard to feel comfortable in your home. Hardwood floors are an upgrade that always looks fantastic—maple, oak, and hickory (if you want something more rustic) are durable choices, in addition to bamboo, cork and other options that are newer and more eco-friendly. But if you have small children, you may want to consider upgrading the carpet instead (don't forget a cushy pad underneath), to keep little crawlers and walkers more comfortable and safe. Luxury vinyl tile and wood-look tile are very durable options, especially if you have pets or a swimming pool as they're nearly indestructible and waterproof. Not to mention, these two options are a lot more cost-friendly than true hardwood floors. Today, you can get almost any look you want at a cost that's appealing as well.
Bathroom Remodel
If you don't love your bathroom, it's time for an upgrade! A new vanity (with a large surface area, if possible) and a sink complete with fixtures you love will completely change the look of the room. If you have a standard builder-grade mirror, swap it out for something framed, and put some updated lighting on either side. If you're in the market for a bigger upgrade, consider surrounding the shower with tile, or even installing a freestanding soaking tub if you have space and extra money in your budget to spare. If the floor has seen better days, there are literally hundreds of tile options ranging in style and price for everyone. Cement tile is the new hot trend, but can be a bit pricey – consider porcelain tile as a substitute – it is durable and newer styles can mimic some of the more expensive trends.
Outdoor Upgrades
Everyone uses their outdoor living space a little bit differently. If you want to upgrade it, think about adding a feature that you'll use frequently, as well as one that would add value. A fire pit, deck addition, barbeque area, or even an outdoor kitchen can give you and your guests hours of enjoyment, and add value as well. Updating the outdoor area of the front of your house can also be beneficial to add more curb appeal.
Renovation Financing
If you want any help with the financing side of your renovations, be sure to contact us today! No matter what remodeling projects you decide to take on, we have some great home renovation loan options to help you with the cost and get you started on personalizing your home right away.